After a lot of speculation and inevitable delays, Breeze today announced their inaugural schedule and opened their website to ticket sales.
Breeze only got their Airline Operator's Certificate (AOC) last week. A pandemic might not seem like a great time to launch an airline. But counter-intuitively perhaps, it's not a terrible time, either. Breeze had to postpone its original launch plans by a few months. But unlike existing airlines, they didn't need to worry about sitting aircraft fleets and furloughed staff. Or mounting debt.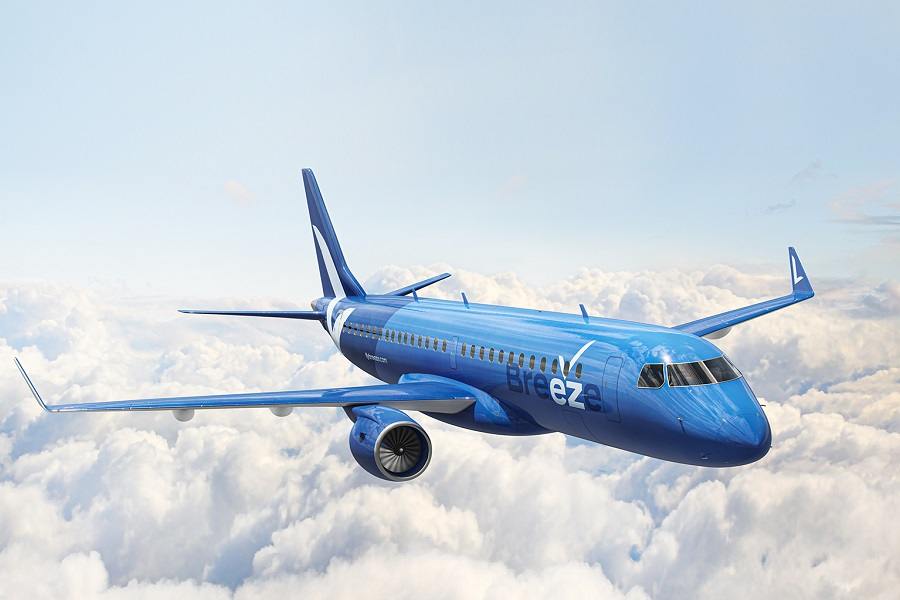 Breeze today announced their route schedule, knowing that they'll stay in the green even if they can't fill all seats immediately. The airline will eventually have a fleet of ultra-efficient Airbus A220-300s. A BIG one, at 80 aircraft, including 20 recent orders! But for now, Breeze will operate the schedule they just announced using older Embraer E190s.
But these planes really aren't old; the six they have at the moment average 11.7 years, according to planespotters.net. Unfortunately for Embraer, the ERJ-190 is not an aircraft in high demand today. Embraer is contemplating the creation of a second-hand market for them, in the freighter role.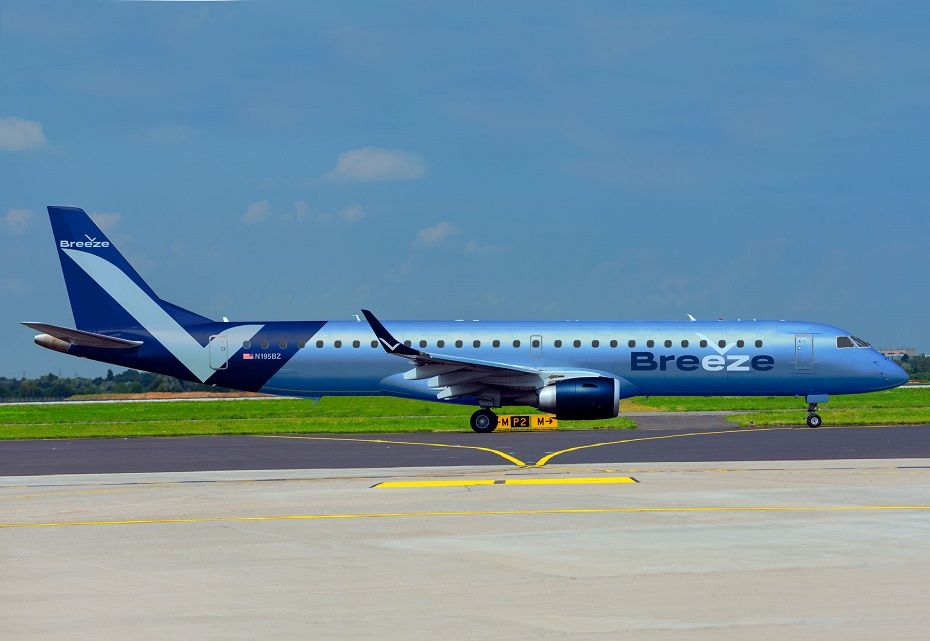 Fitness For Purpose
The reason these aircraft work well for Breeze's announced schedule is their low trip cost, compared to 737s or A319s. The airline aims to serve smaller airport pairs, with direct flights. With attractive pricing, they can provide potential customers the prospect of an affordable AND convenient flight. And they should face little competition doing so.
David Neeleman, the Breeze's CEO explains, as the airline announced its schedule and routes:
"If I'm charging $39, are they going to charge NO dollars and fly you through a hub? People focus on fares, but it is equally important to have a convenient flight, where you can get there in an hour instead of three hours."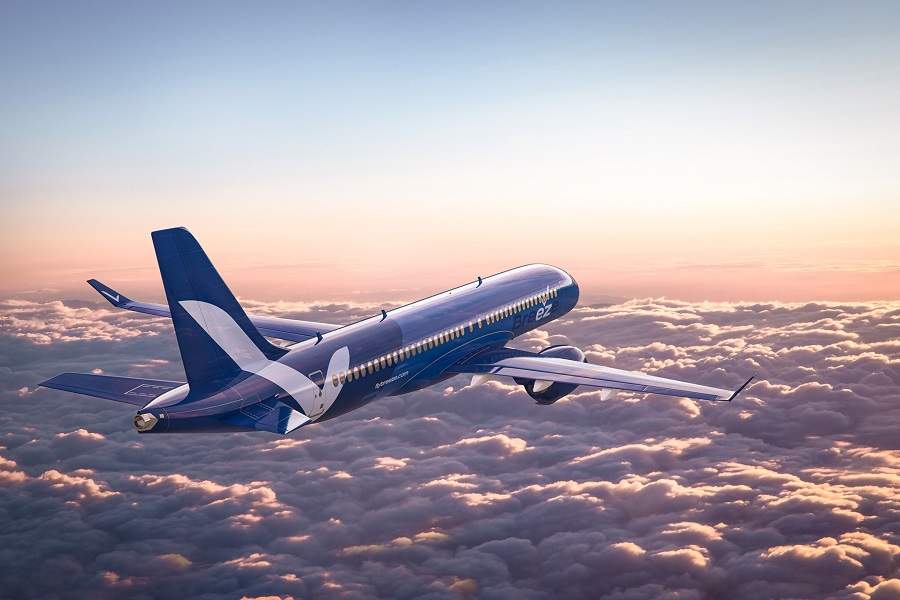 The airline also claims to serve smaller communities, enabling people who need to travel to stay there, rather than move to bigger towns and cities: "…by flying a smaller aircraft with a lower trip cost, there are hundreds and hundreds of city pairs that can support a nonstop flight." In a very real sense, the route schedule that Breeze announced, is possible thanks to airline consolidation in the past couple of decades.
This is interesting, because it is the reverse of what many predicted at the start of this pandemic. Many thought that the consolidated airlines would consolidate further. And that markets where this didn't happen, like in Europe, would see a real carnage. This didn't happen. If anything, some airlines that struggled before the pandemic, may be about to make a return.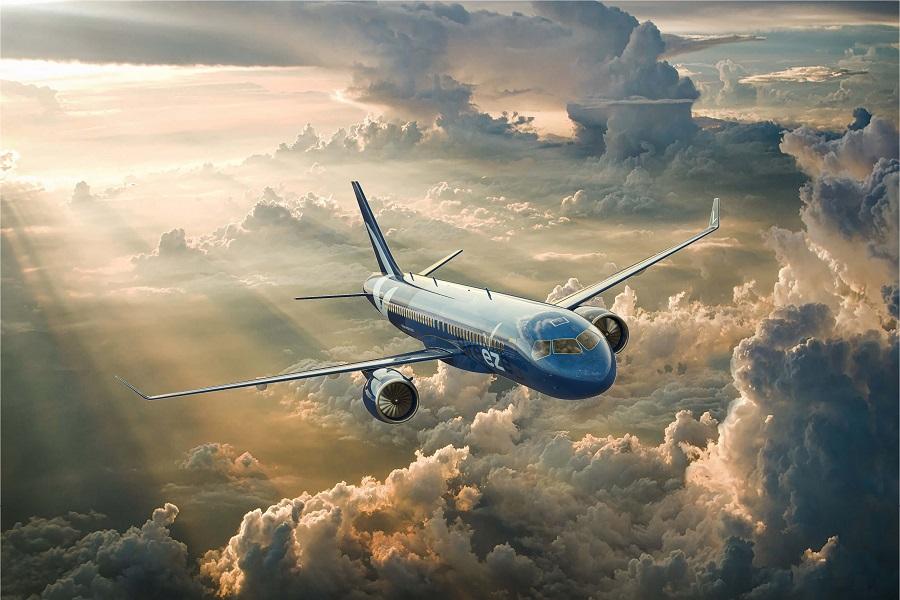 The Schedule That Breeze Announced
So what are the routes that Breeze announced? Broadly speaking, they are joining the Rust Belt with the Sun Belt with direct routes – with a few exceptions. The first three airports they will operate from will be Tampa in Florida, Charleston in South Carolina and Hartford in Connecticut. These flights will begin next Thursday, on the 27th of May. The next day the airline will add Louisville, Kentucky in their routes.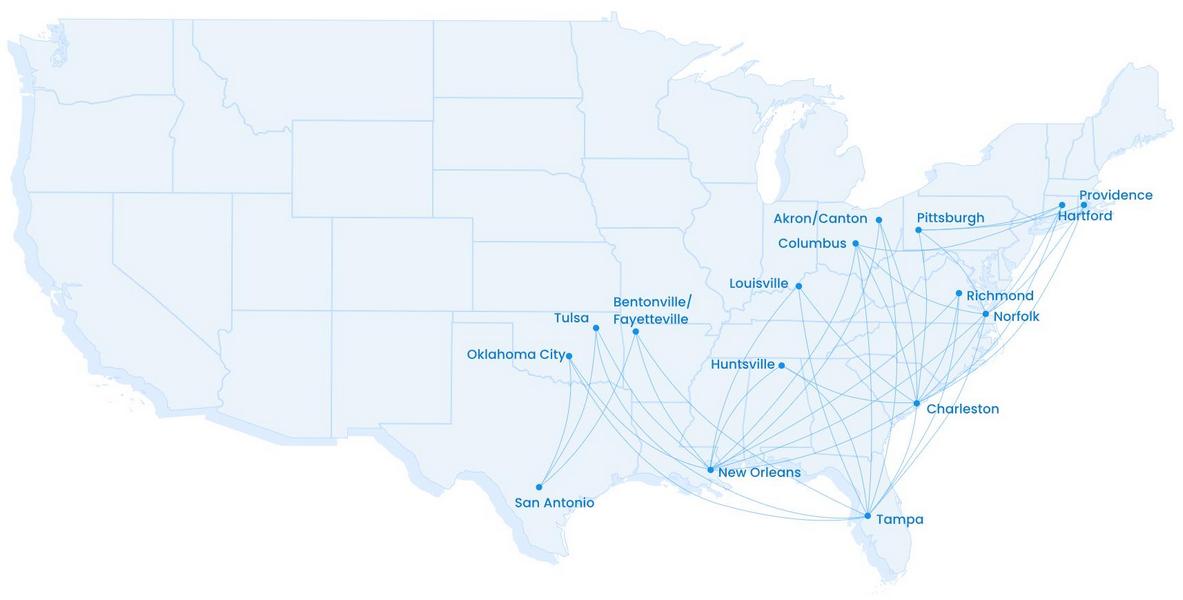 Breeze also announced its flight schedule to/from Tulsa, OK, Norfolk, VA, Fayetteville, AR and Akron/Canton, OH, in June. And there will be more cities and pairs coming in July. For more details, the airline's website lists its schedule and destinations, here.
Before its schedules, Breeze announced its fare levels. They call their base fare 'Nice', while they also have 'Nicer', with more perks and extra legroom. The fare names reflect Breeze's desire to make a name for itself as "A nice airline". This is a trait not always associated with smaller or low-cost airlines.
Mr Neeleman has previously said: "I don't start an airline just for the sake of starting." It's a statement that needed saying. Breeze is the fifth airline he is launching. Previous efforts included Azul, JetBlue and WestJet. The only one that doesn't operate any more is Morris Jet – because Southwest bought it!
If there is a "successful airline" secret sauce, Mr. Neeleman seems to have the recipe.