Keen to create an image as "a nice airline", Breeze Airways is recruiting pilots that will also be brand ambassadors. And the job comes with some unusual perks!
We have already discussed that the pandemic is likely going to change the shape of the aviation industry. New players could replace older ones, especially in places where there was no previous consolidation. The United States saw a fair amount of consolidation over the last couple of decades, but perhaps that, in itself, can create niche markets. And Breeze Airways is recruiting pilots, to begin an operation that will explore a niche.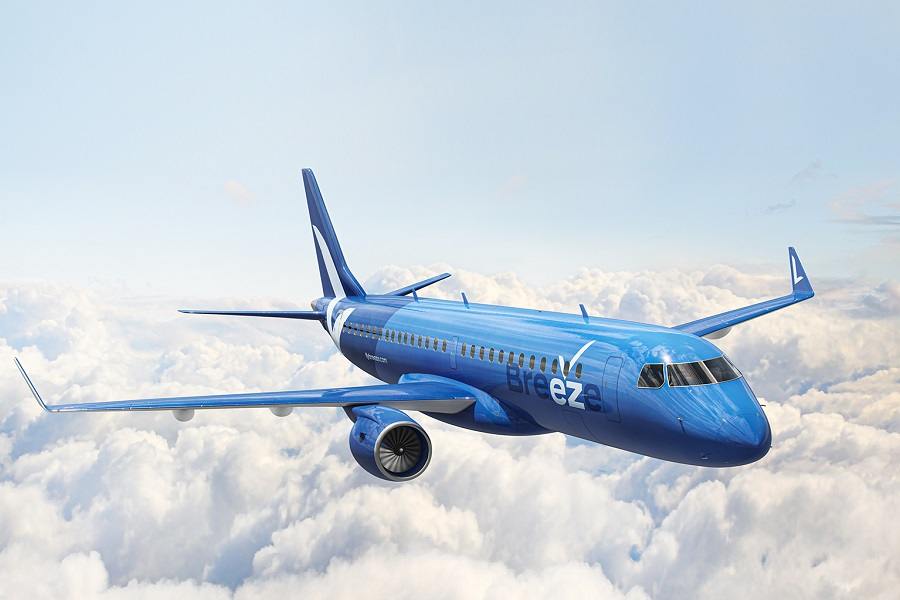 And apparently Breeze's pilot recruiting is going rather well. The airline has 85 available pilot spots at the moment. They already have around 4,400 applicants, despite the fact that they are looking for experienced pilots. The airline is hiring for two aircraft types. They first need pilots for the Embraer 190/195 fleet that they are already introducing to service. But Breeze are also recruiting pilots for their upcoming Airbus A220 fleet.
Breeze Recruiting Two Kinds of Pilots For Two Planes
The airline is hoping to use these two fleets differently. The Embraer fleets will operate from fixed bases. So the pilots it is recruiting for these aircraft will return to their home base at the end of each day's shift. This is something that we have already seen in Europe, with certain low-cost carriers. This way airlines don't need to worry about putting crews in hotels, or creating multiple service bases. So the pilots Breeze is recruiting for their Embraers may appreciate a more stable quality of life.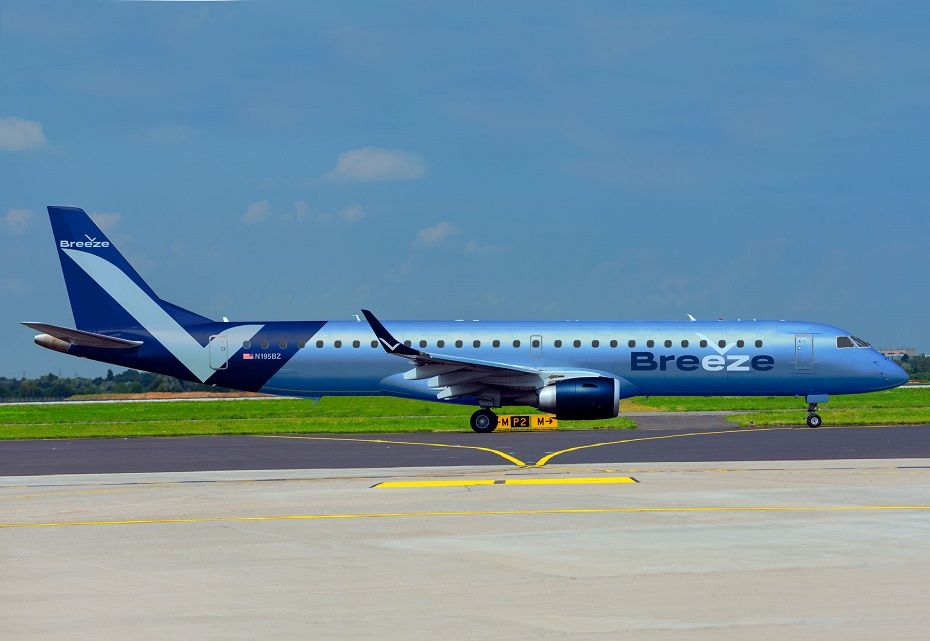 And it is quite likely that the pilots who would appreciate such a perk, would already be in the industry. So Breeze is recruiting pilots that already have Embraer type ratings. The E190 and E195 that Breeze has is the larger variant of the E175, with the same type rating. This helps a lot, because a lot of regional airlines in the US employ these jets. So the airline has a large pool of pilots to choose from – as the numbers show.
The Airbus A220 is a much newer aircraft. So, Breeze is recruiting pilots who don't have this type rating. These aircraft will fly using more traditional multi-day trips. However, the airline still expects applicants to have significant experience. They are asking for a minimum of 1,500 hours, but with at least 1,000 hours of turbine time. These minimums also apply to Embraer applicants, alongside the type rating. Breeze makes an exceptions for military pilots, if they have a total of 1,000 hours in high-performance military aircraft.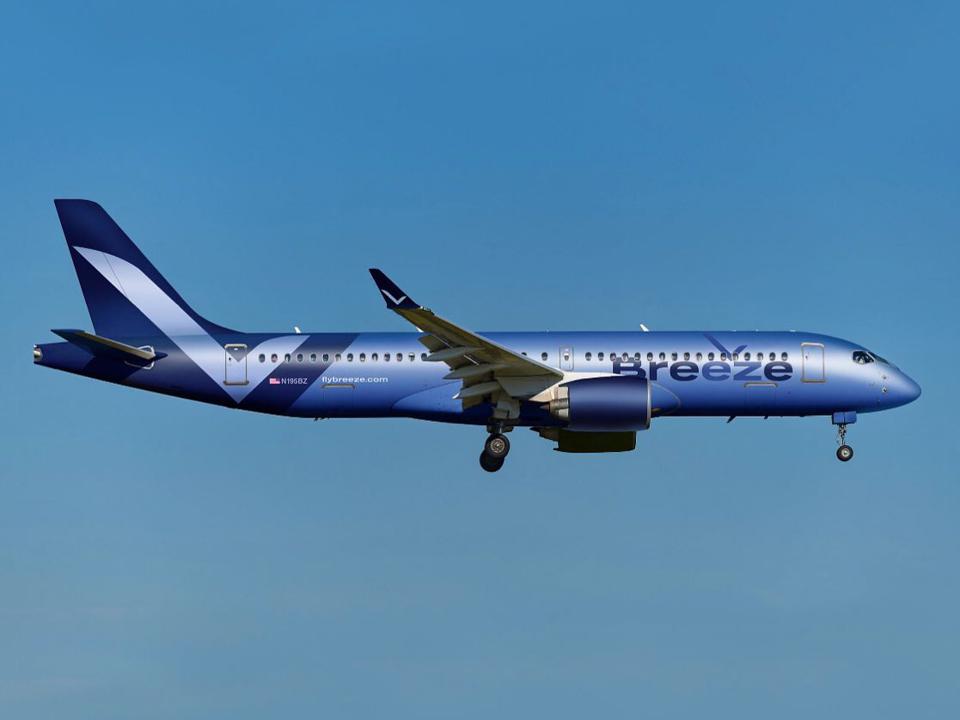 Short And Long-Term?
But there is another, simpler reason why Breeze is recruiting pilots with different criteria for its new aircraft types. Originally, they planned to start operations as an A220-only airline. As we have seen, the A220 has enjoyed a lot of success as a jack-of-all-trades kind of aircraft. But the airline soon decided to accelerate their launch plans – which required a new aircraft. The pandemic slowed down those accelerated-start plans, but the dual fleet is still coming.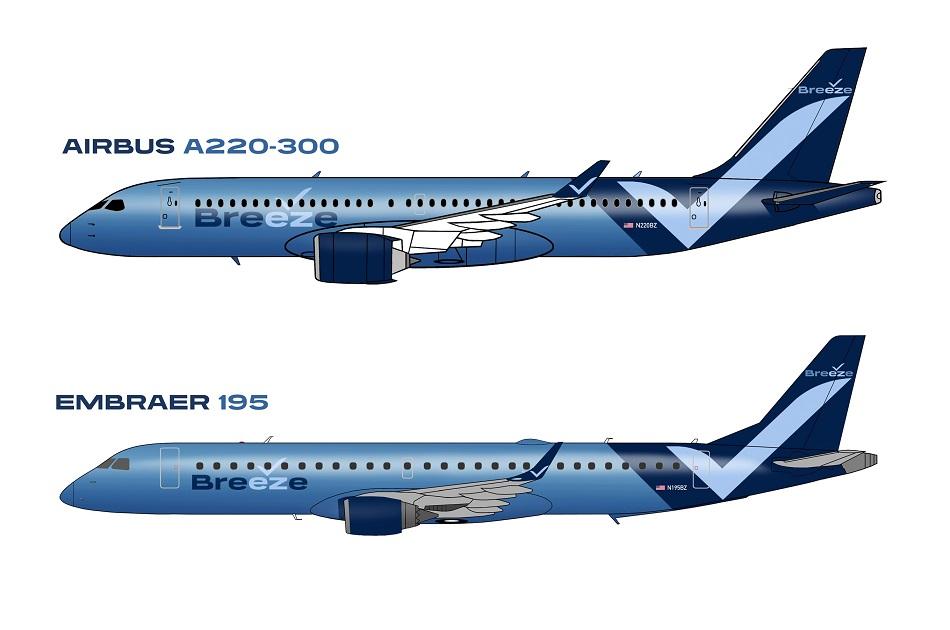 However, pairing the A220 with the Embraer E190 and E195 models seems a bit unorthodox. But this is likely only a temporary arrangement. While the two types aren't quite direct competitors, there is little point in the airline maintaining both, in the long term. And the A220-300s are clearly the new, efficient type – plus they've ordered 60 of them. So Breeze's long term pilot recruiting plans are already different.
The airline is looking to start or create college aviation programs, finding pilots from a young age. Also, this isn't just for pilots, Breeze will employ a similar strategy, when recruiting cabin crew. And finally, there's that 'nice' thing. The airline wants pilots that will be visible parts of the crew, that will interact with passengers before and after the flight. That will be nice to crews and to passengers, helping the airline build its identity.