They kept the public guessing for a while, but JetBlue finally revealed what the transatlantic version of their Mint cabin will look like, for flights to London.
We saw that when JetBlue requested slots in London airports, they listed some unusual details. One detail, in particular: the number of passengers per flight. We already knew that the aircraft JetBlue intended to use in these transatlantic flights were their new Airbus A321LRs. These long-range neo variants have the legs for the job.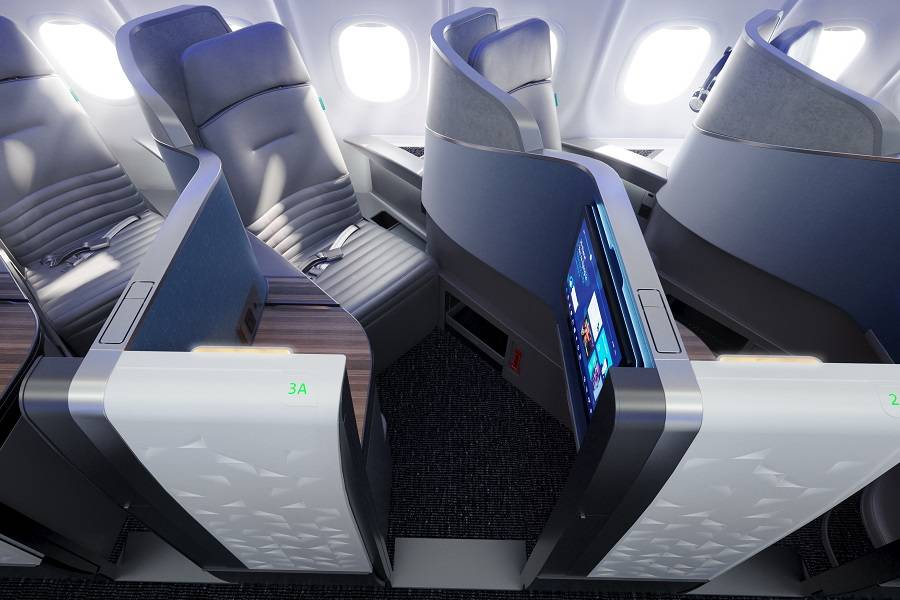 They also have 240 seats – or at least they CAN have that many of them, in a single-class configuration. Many users operate A321s with 190 to 206 seats, in two or three classes. In transcontinental US flights, JetBlue's A321s have 159 seats, in a two-class layout, with the initial 'Mint' version. By most accounts, this is 'premium-heavy' configuration. Well, for their transatlantic flights, JetBlue's A321LRs will have all of 138 seats!
JetBlue started out as a low-cost carrier (LCC). But they have moved to more premium offerings, for some time now. Many have tried to do transatlantic and other long-haul routes as LCCs, but JetBlue is doing something else. We have seen LCC bosses like Ryanair's Michael O'Leary point out that long-haul, low-cost doesn't really work. This is because premium offerings are a big part of how long-haul carriers stay competitive. True LCCs don't compete that way.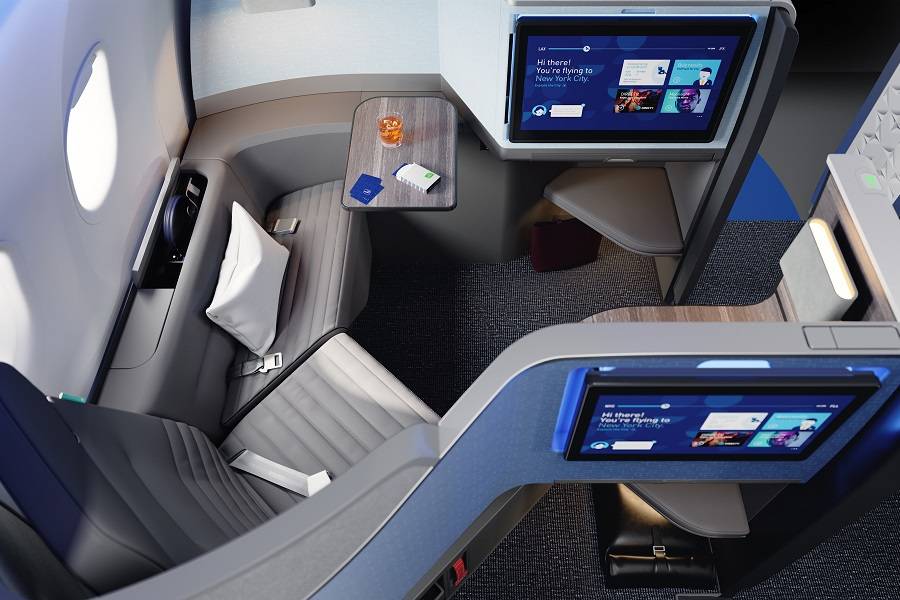 JetBlue's Low-Cost Transatlantic Business Class
JetBlue seems to agree with this assessment, so their transatlantic flights will reflect it. The airline won't try to compete with any LCCs over the ocean. They will compete with traditional carriers, on affordable business-class offerings! And with this transatlantic Mint cabin, JetBlue have a single-aisle plane that might just entice those that can afford it. In an interview last fall, CEO of JetBlue Robin Hayes explained:
"The big opportunity for us in Europe is that we can come in, and we can significantly reduce the price. And so we actually think that will be a stimulant to getting people to fly again, because they're going to look at this amazing product, they're going to look at the price point and probably do double take, thinking 'am I really going to get business class for that?'"
Other airlines have tried to do low-cost transatlantic flights, but not like JetBlue. Norwegian used a different aircraft type. That didn't work well for them – although they probably had more pressing obstacles. Aer Lingus was (and is) more successful, but they really only apply their LCC model on short-haul. This could change now that they are scheduling A321LRs from Manchester, UK.
Looking closer at JetBlue's transatlantic Mint cabin, it follows some very clever ideas, tailored to single-aisle jets. We saw a very similar idea recently from STELIA Aerospace, called the 'Opera'. This employs a similar, diagonal setup, but with passengers facing towards the windows. Frankly, given how small all airliner windows are, this would offer passengers a very small field of view out. But of course not everyone places the same significance to looking outside.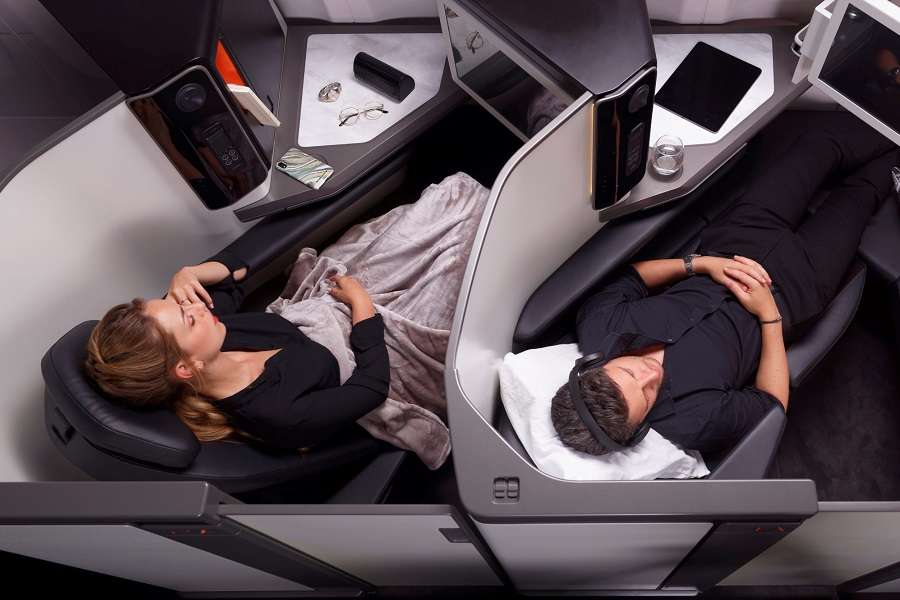 An Efficient Business Layout?
By contrast, JetBlue's latest Mint offering in these transatlantic flights, has passengers facing towards the aisle. This probably minimizes people's tendency to startle and look over their shoulder, when someone walks by. And it would help any incurable aviation geeks among us, to look outside easily. JetBlue arrived at this design in partnership with Acumen Design Associates.
At the release of JetBlue's transatlantic Mint, Joanna Geraghty, President and Chief Operating Officer, said:
"Mint was an idea to make premium travel across the U.S. less stuffy and more affordable, and its performance has exceeded even our most optimistic expectations of going beyond New York, Los Angeles and San Francisco.

"We put our heart into this redesign of Mint and were inspired by our original vision of offering customers an exceptional experience at a lower fare – which is what JetBlue is all about."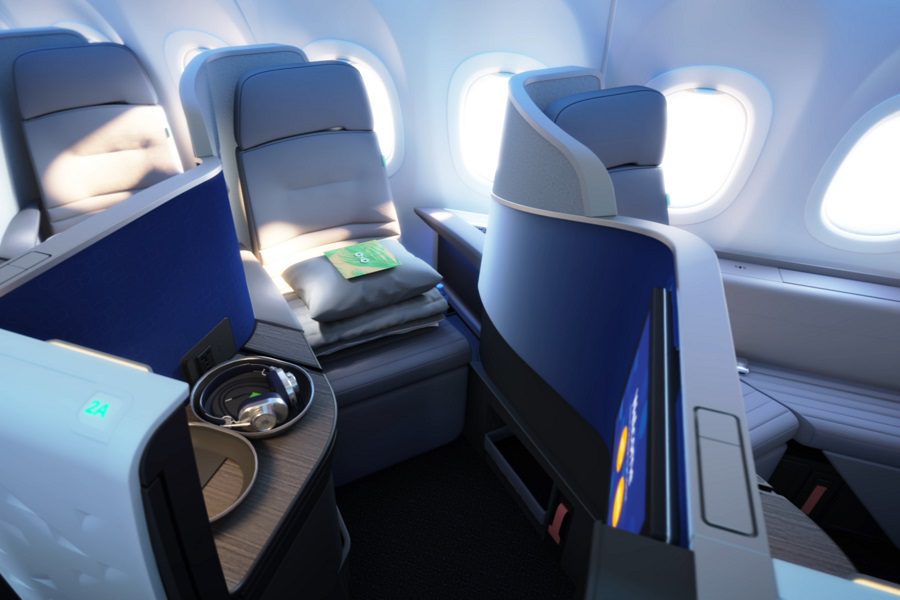 Each of JetBlue's transatlantic A321LRs will have 24 individual Mint 'suites'. They will also have two even bigger Mint 'studios'. These are the two front-most seats, with 'guest' (!) seating and a bigger TV screen – 22" instead of 'only' 17". Both designs have plenty of storage, charging ports for anything you could bring on board and of course the seat unfolds to a lie-flat bed.
But if this sounds intriguing, you will need to wait a bit. JetBlue will schedule its first transatlantic flights towards the summer. But they plan an early introduction of the new cabin in some transcontinental flights, as well.
Until then, we will have to keep guessing about those prices. And wonder where the pilots flying those A321LRs will rest, during the flight. Probably in one of these cabins, actually…