Given current events, could Russia accelerate the "Russification" of its upcoming MC-21 airliner, to get around international sanctions?
As we have seen, Russia's invasion of Ukraine has caused an international outcry. The immediate result was the implementation of a series of sanctions. And some of these sanctions severely impacted Russian aviation. Airlines in Russia will have to return hundreds of aircraft to lessors. Or, Russia could forcibly nationalize them, entering a commercial stand-off with lessors.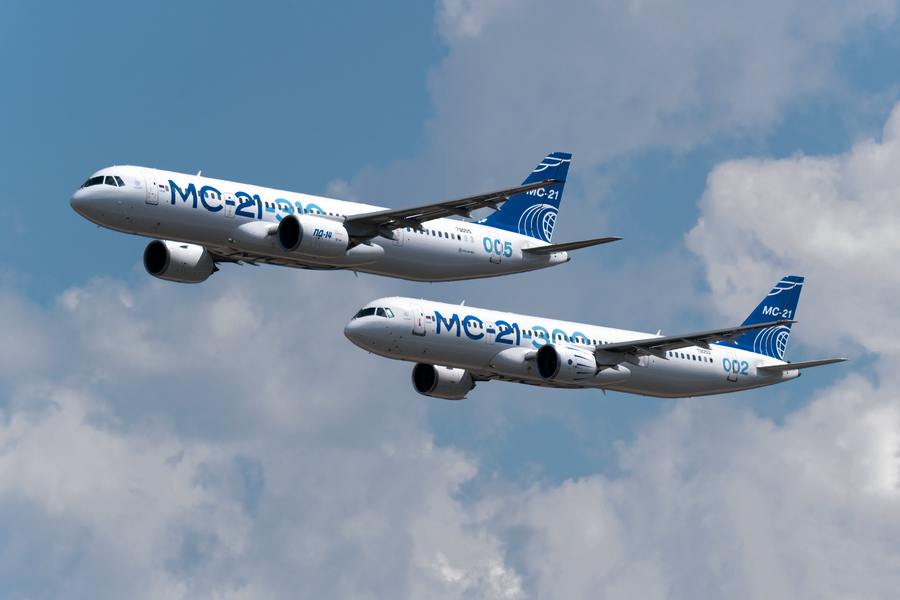 But even aircraft that Russian airlines own outright, could soon face a lack of spare parts. Even access to suitable maintenance/repair centres might become doubtful, to start with. Russia and its airlines could certainly use a Russian aircraft – and they could soon have one, in Irkut's MC-21. There's only one little problem with that: the MC-21 isn't entirely Russian.
Irkut, a subsidiary of UAC (United Aircraft Corporation) is planning two versions of the MC-21 airframe. The first to enter service will be the MC-21-300. Size-wise, this plane is about the same length and capacity as a 737-9, and a bit smaller than an Airbus A321neo. The smaller MC-21-200 will come at a later date. This one is somewhere between the 737-7 and 737-8 (closer to the former), or between the A319 and A320.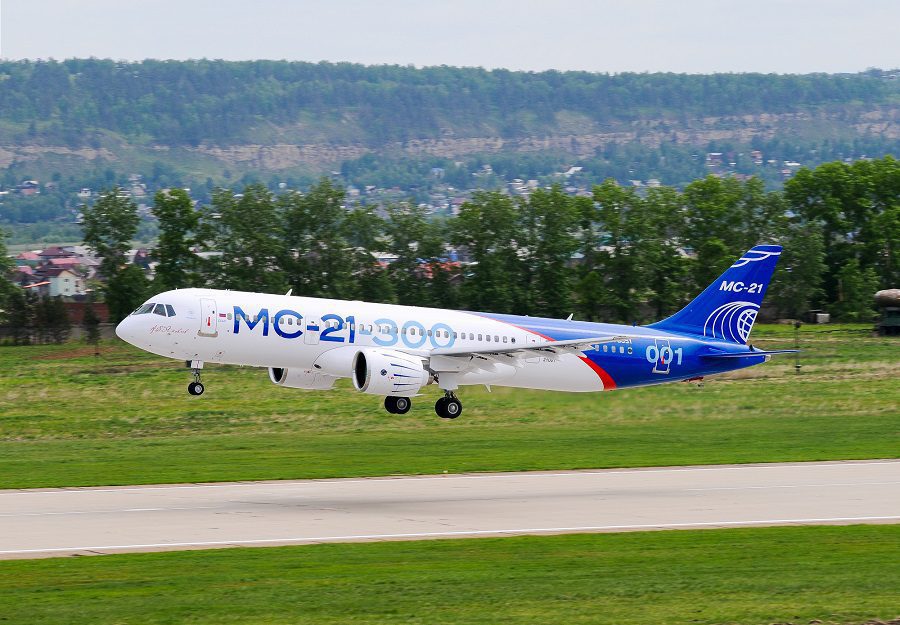 Russia Certifies The MC-21
Aviation authorities in Russia (Rosaviatsia) awarded type certification to the MC-21 just before the end of 2021. This type certificate is for the MC-21-300. The launch customer for the plane will be Rossiya. UAC/Irkut aimed for the type to get EASA type certification when it enters service. But in any case, the MC-21-300 would certainly face sanctions. This aircraft has Pratt & Whitney PW1400G engines.
These geared-turbofan (GTF) engines are very similar to the PW1100Gs that are an option for the A320neo. Obviously, Pratt & Whitney is an American engine manufacturer. However, there is a variant of the MC-21 with engines made in Russia. This is the MC-21-310. The first development aircraft with the Russian Aviadvigatel PD-14 engines flew in December 2020. But certification of this aircraft version is some time away.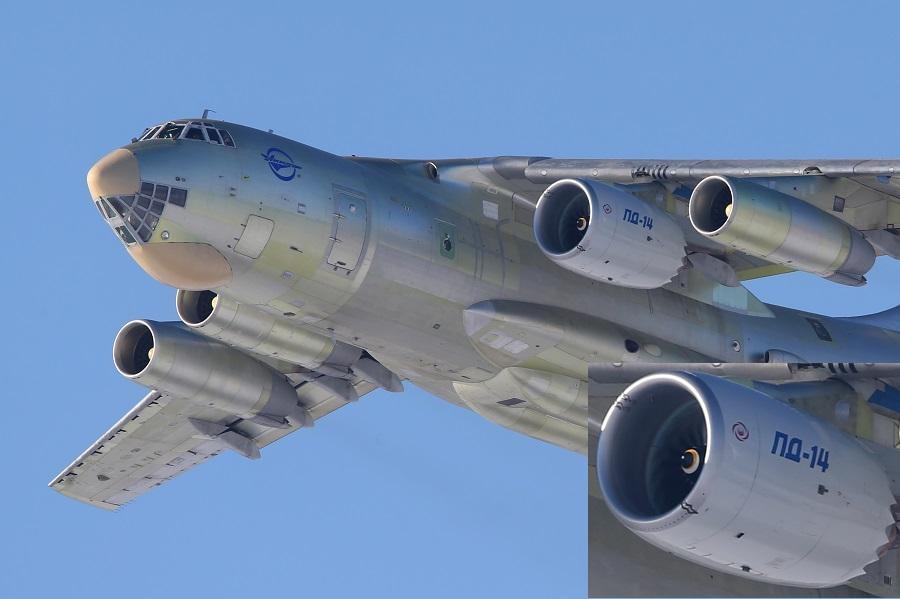 Certification of a complex new system, like an engine, takes a lot of time. Very simplistically speaking, there are two certifications: one for the new system, and another approving it for use on a particular aircraft. Aviation authorities in Russia certified the PD-14 engine in 2018 – but they have yet to certify the MC-21 using it. It's not clear how long it will take for this additional certification.
Many More Foreign Parts
And even when the MC-21-310 gets the all-clear, its "Russification" will still face plenty of other hurdles. The plane also has an American auxiliary power unit (APU), from Honeywell Aerospace. A Russian company is working on an alternative option, but this isn't ready yet. There's much more. Western companies, often working with partners in Russia, make many other critical systems for the MC-21.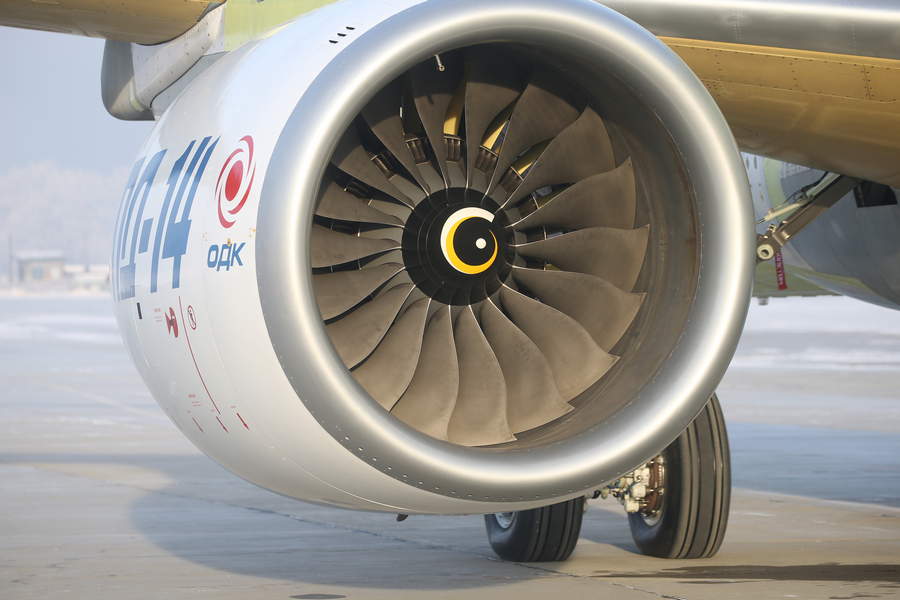 The MC-21 will incorporate a number of impressive state-of-the-art design features. It will be the first-ever commercial airliner with active sidesticks. These sticks still won't have mechanical connections to each other, but they incorporate force feedback. So one pilot will know if the other is making control inputs. Pilots will also feel aerodynamic forces through the stick. The first planes to feature such a system are the Gulfstream G500/600 corporate jets.
And the company supplying this technology to Irkut for the MC-21 in Russia is Ratier-Figeac. It is a French company, also supplying sidesticks to Airbus. Its parent company is USA's Collins Aerospace, itself a Raytheon subsidiary. Honeywell (the APU maker) is supplying more avionics, along with Thales-Alenia (Franco-Italian) and Israel's Elbit. Other foreign companies are providing power distribution systems, actuators for flight control surfaces and even cabin interiors.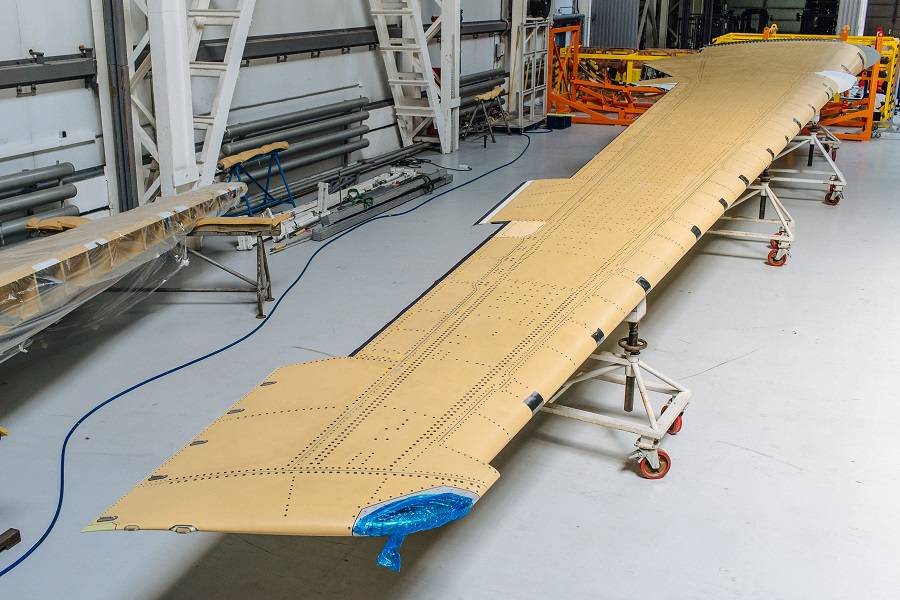 UAC/Irkut first faced the prospect of sanctions affecting the MC-21 after Russia annexed Crimea in 2014. As a result, the company developed carbon composite wings and wingbox, both using out-of-autoclave technology. This is a technological leap that both Airbus and Boeing are also busy working on, as we've seen. The first MC-21 with fully-Russian wings flew last December.
The MC-21, Russia And Sanctions
By all accounts, it seems that Russia will have a modern and efficient single-aisle aircraft in the MC-21. But even without sanctions, it would have taken many more years before this plane could replace a meaningful number of aircraft. The sanctions will only push back this date further. On the plus side, the sanctions will probably boost the aircraft's orders, from Russian operators. But this will have to wait until they've recovered from this crisis!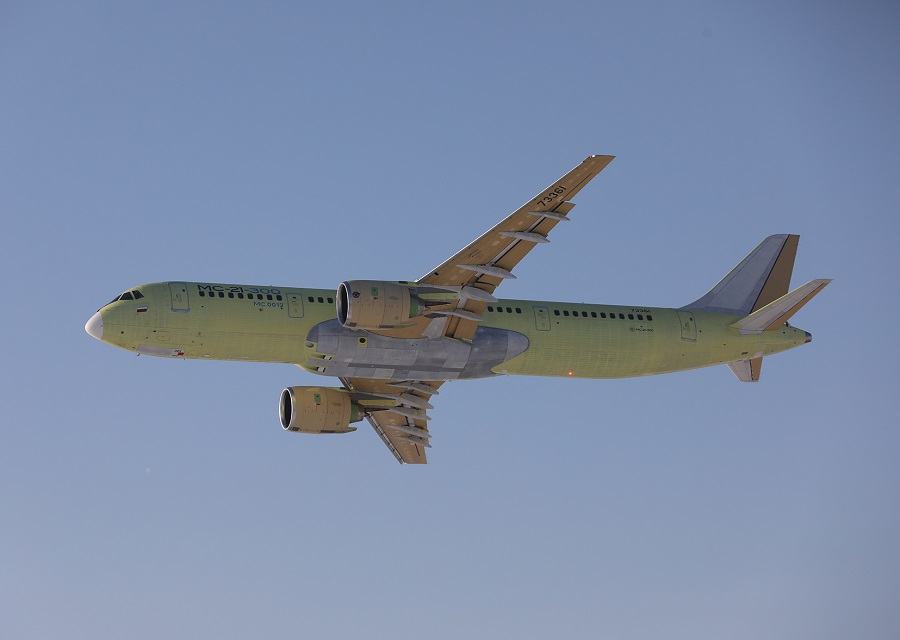 But in the meantime, the sanctions mean that Irkut will have fewer planes in the air. So the manufacturer will gain less experience with the current aircraft version, as it tries to replace multiple crucial systems. Some of these parts may seem simple, but developing, certifying and incorporating replacements, is difficult and time-consuming. Beyond the MC-21, Russia is working with China to develop the CR929, a future widebody.
Perhaps a Sino-Russian partnership to develop alternative systems for both aircraft might be an option. But given the sheer number of systems involved, this is a long-term proposition. China also depends on many American and European companies for its C919. This single-aisle jet may achieve certification later this year. It has CFM LEAP-1C engines.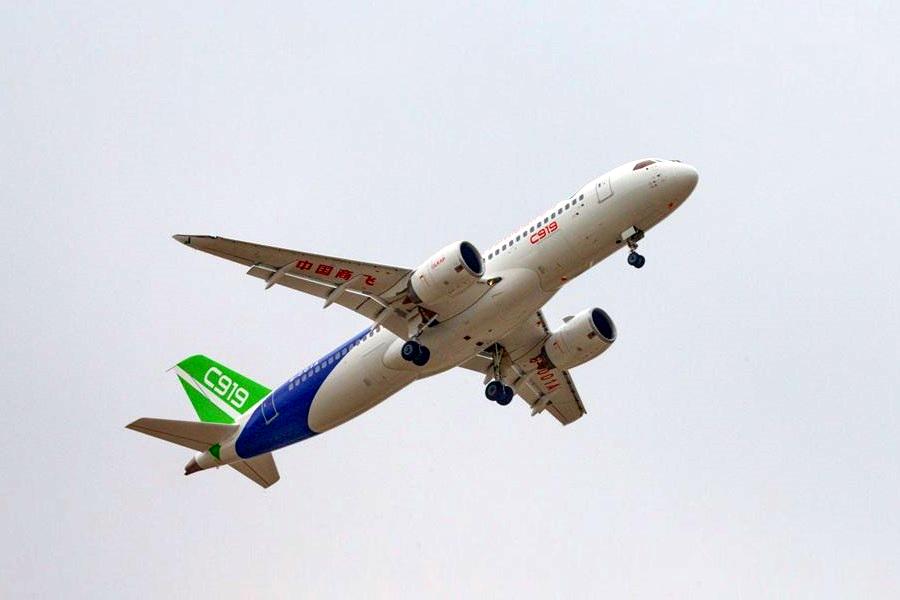 Overall, Russia can't depend on the development of the MC-21, to get around sanctions. The sanctions will almost certainly push back the plane's entry-to-service date. But it will be interesting to see what the long-term prospects of the plane will be. UAK/Irkut also hope to make a cargo plane, with the same Russian engines. Before the latest developments, the schedule was for the first development aircraft to fly in 2023.