In July this year, Airbus tested a new firefighting kit for the A400M transport aircraft. Could this make it a popular firefighting option?
Like many other parts of the world, Europe is currently in the middle of another fire season. All countries fighting fires are using a variety of aerial means, both civil and military. Some of these means are dedicated, purpose-built platforms, but a lot are conversions of existing aircraft types. And somewhere in the middle (but closer to the latter), we find aircraft with temporary conversions, that can return to their normal roles after the fire season.
This latter category is what Airbus is working on, adapting its A400M cargo aircraft for the firefighting role. The A400M is perhaps the least-known big aircraft that the European manufacturer makes. Currently, its only customers have been military forces around the globe. And while it doesn't resemble other Airbus products externally, its cockpit and other avionics are very Airbus-like.
On the 26th of July, Airbus tested what it calls "a removable firefighting demonstrator kit" on an A400M 'Atlas' airlifter. The manufacturer developed the design in collaboration with a Spanish Air Force unit and other authorities with firefighting experience. The system Airbus developed is a roll-on/roll-off (RORO) kit. So when it enters service, it should fit any Airbus A400M without modifications, giving it a firefighting capability.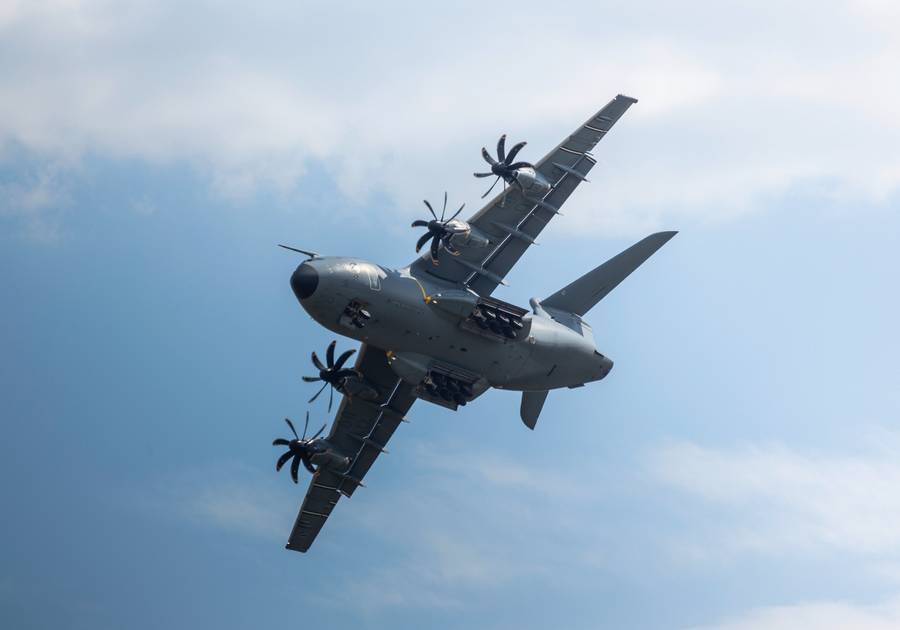 The Airbus A400M Firefighting Kit
This system certainly isn't unique. Similar kits have been available over the years for aircraft like the C-130. But Airbus claims that its kit allows water drops from as low as 150 feet, with speeds as low as 125 knots. Crucially, the aircraft can carry as many as 20 tonnes (5,280 gallons) of water in the current tank. And it can release this load in under 10 seconds.
The single tank has two flood pipes, that discharge water through openings at the end of the open ramp. However, this isn't necessarily the final, production configuration of the firefighting system that Airbus will offer to A400M users. The European manufacturer is working on a variety of improvements to the system, along with the possibility of operating it at night.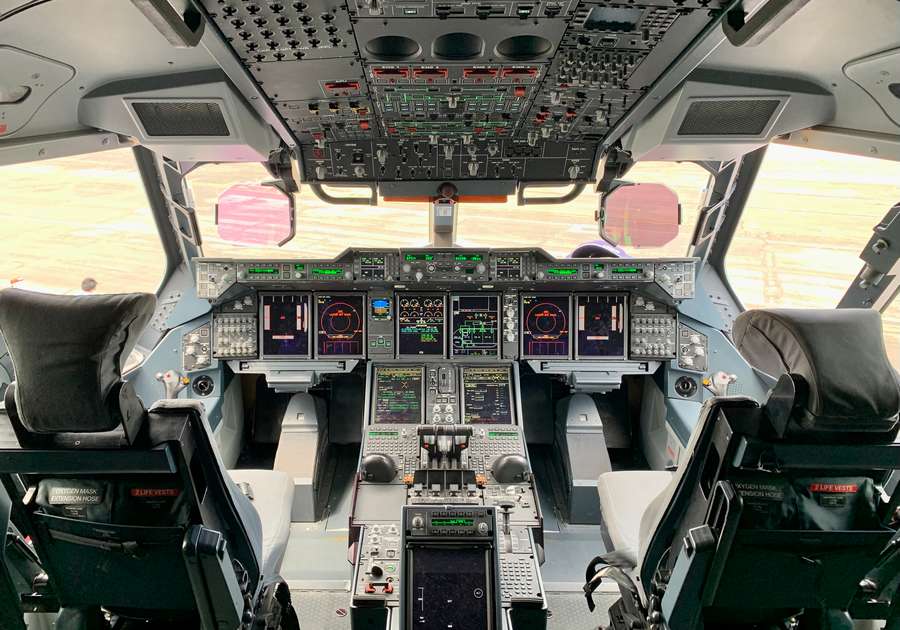 Mike Schoelhorn, CEO of Airbus Defence and Space, said this about July's test:
"The development of this firefighting kit is an intrinsic part of our journey towards helping to create a more sustainable and safer world, not only by our actions but also through our products. We strongly believe the A400M can play a vital role in the fight against the ever increasing threat posed by wildfires and support the restoration of social and environmental systems."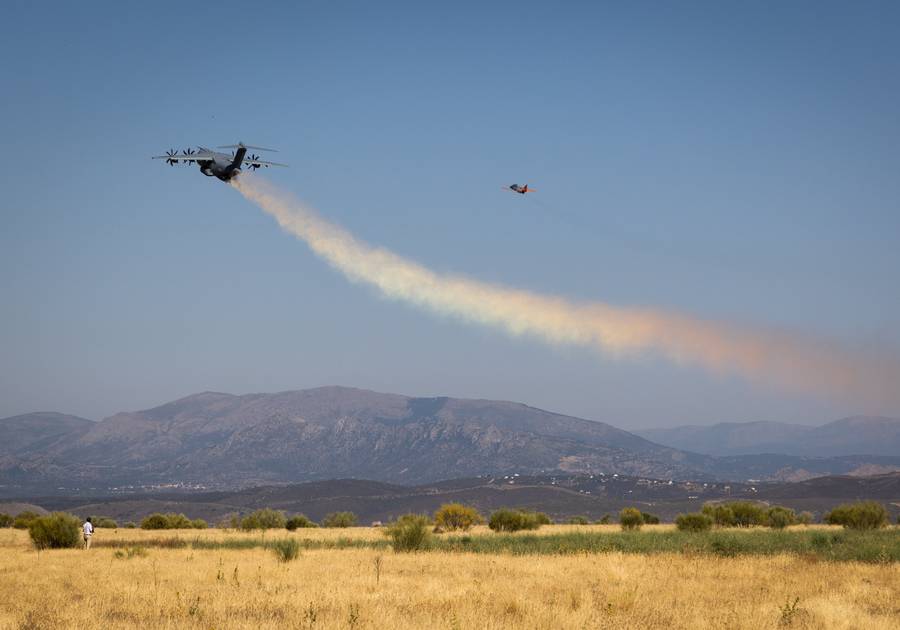 Again, for many people around the world, the Airbus A400M featuring in this firefighting test won't look very familiar. But other than Tom Cruise hanging off its side in a "Mission Impossible" movie, the aircraft has had some moderate commercial success. So far, 10 countries have ordered a total of 178 of these aircraft, with 110 of those already in service.
Different Operators, Different Methods
The European manufacturer hopes to score more sales of the type, particularly among existing buyers of Airbus Defence aircraft. Whether or not the existence of this kit could generate more interest, remains to be seen. Worldwide, there are some… doctrinal differences in aerial firefighting strategies. These depend on the nature of the landscape, as well as some historical preferences.
Operators in countries like the United States prefer to use large, land-based aircraft. In its firefighting role, the Airbus A400M would fit in this category. These ground-based aircraft require suitable ground installations in key airports, to make them effective. Filling up so many tons of water at once isn't something you can do using a town's water supply.
The other school of thought is to use smaller aircraft and helicopters, that can refill quickly from a body of water near the fire. They carry less water, but refilling quickly can often make up for this. Examples of such aircraft include the Canadair (later Bombardier, now De Havilland Canada) CL-215/415 seaplanes. There are also smaller aircraft on floats and a multitude of helicopters in such roles. The higher manoeuvrability of smaller aircraft can also have some advantages.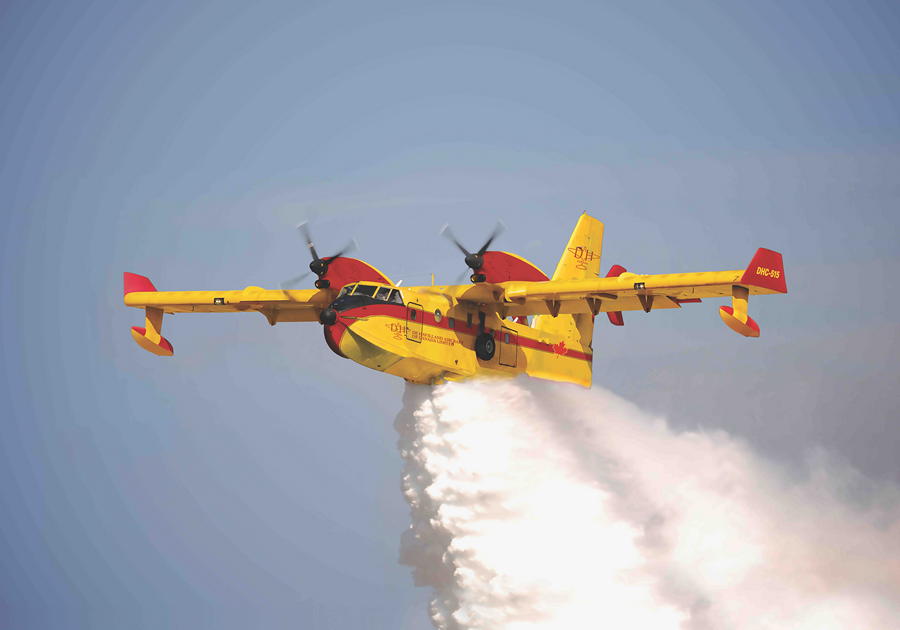 This author is not qualified to discuss the pros and cons of these firefighting schools of thought. But scale in operations and available infrastructure appear to be strong influencing factors. In any case, implementing a removable firefighting kit for its A400M makes sense for Airbus. We now have to see how long it takes to certify a definitive version of the system.