JetBlue is inching closer to entering its Airbus A220 to service, and so decided to tweet pictures of its cabin interior, earlier in the week. It had previously kept the layout of its new jet a secret.
The airline has now published full details, of what its newest jets will be like to travel in. A220 cabins are always interesting (to the nerdiest among us) with their 3+2 layout, and JetBlue is no different. Travelling with a companion makes the 2-seat side the preferred choice. If travelling solo or in bigger company, the 3-seat side works fine. That's if you book in time and can pick your seat, of course. And they're wider than seats in 3+3 cabins, too.
The seats in the A220 cabin will be familiar to JetBlue fans. They are a Collins Aerospace design, that the airline first used in its updated A320 fleet. They are a thin (front-to-rear) design, which matters. Some airlines squeeze another row of 5 seats in their A220-300s, beyond JetBlue's 140. This, plus being thin, promises adequate legroom for taller passengers.
Keeping Busy And Entertained
The seats also have some nice toys. JetBlue's A220 cabin crew will no doubt want their passenger to behave and stay busy. So their seats give them some interesting options. Some older long-haul jets still have screens in economy that many phones can beat. JetBlue's A220s may not cross oceans (although you never know these days) but passengers still have many entertainment options.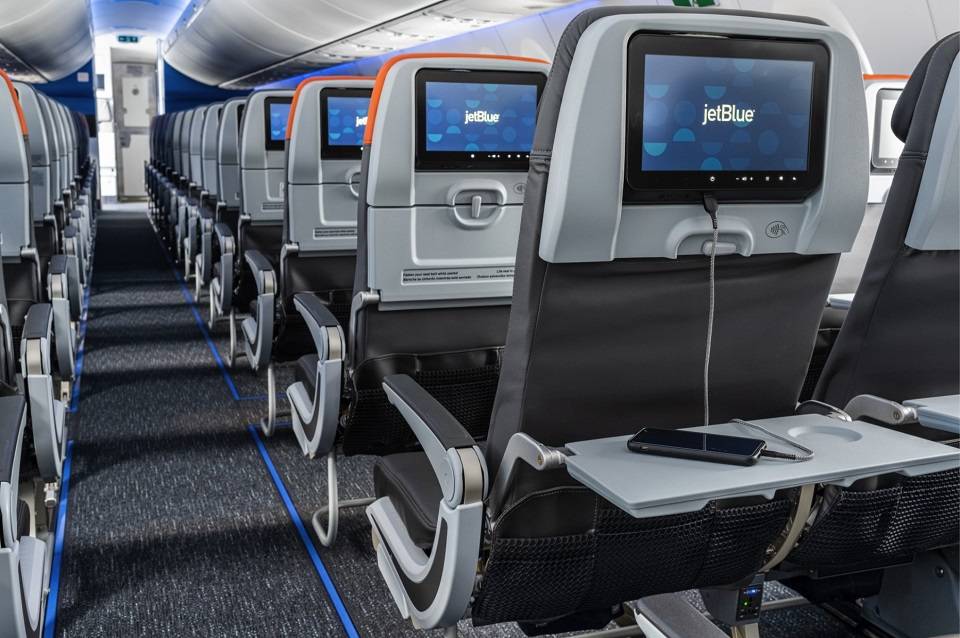 The 10.1" screen gives passengers access to the usual movies, multiple TV options and the airline's app, Fly-Fi. Among other things, this allows passengers to use their phones to make more selections. The system runs on an Android platform. Oh and the seat has USB, USB-C and AC power for your laptop! It really looks like JetBlue is bent on making people not want to leave their A220's cabin. And a contactless payment logo on that seat, may make JetBlue's accountants a bit happier. Very pandemic-appropriate, too.
As we have already seen, JetBlue may well have some interesting plans about its new aircraft. The Airbus A220's narrower cabin (and cross-section) and geared turbofan P&W engines, give it great efficiency. The airline first wants to replace its Embraer E-jets with this aircraft. But its order choices suggest they may have bigger plans for the 'small' Airbus.
The A220's Cabin, Engines And JetBlue's Finances
The airline did not order any A320neos yet, only A321neos and LR/XLR versions of the latter. The new, slender-cabin A220s could well replace the A320ceos in many JetBlue routes. It will be interesting to see what the airlines next purchasing move will be. In the pandemic, this probably won't come quickly. So, the airline will have plenty of time to evaluate its new jets.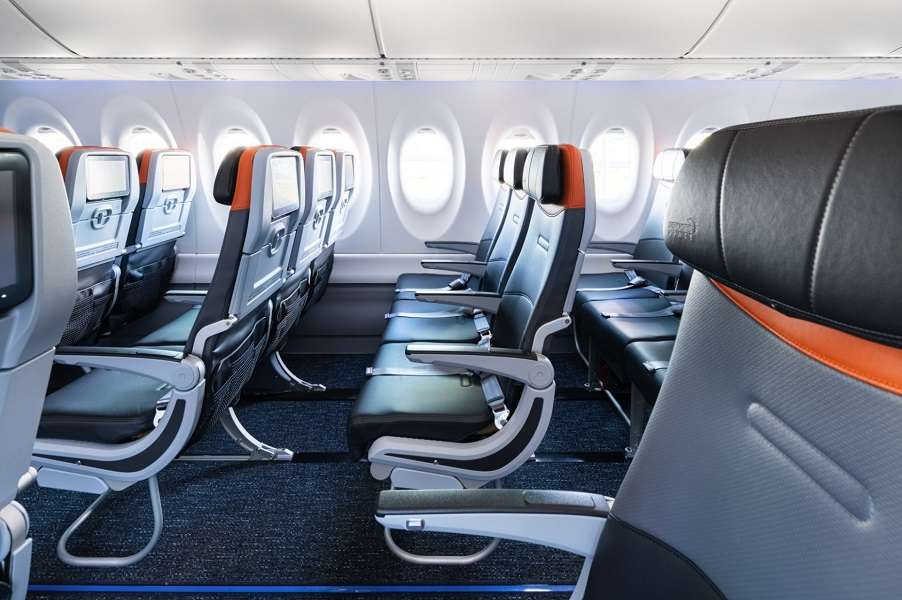 We also saw how Delta may be onto something. The airline still blocks middle seats, but they also use smaller jets, when possible. The cabin of the A220 has some interesting implications for Delta – and perhaps even more so for JetBlue. Keeping open alternate seats in a 3+2 layout may 'cost' some more capacity (60% Vs 66% full), but the plane's efficiency more than makes up for it. JetBlue don't block seats. So, when capacities go up, they will benefit more…
And it is really details like these that JetBlue and others care more, rather than the A220's seats and nice, big windows. As for their passengers, they will have to wait until June. The airline will launch the jets then, in the Boston, MA, to Ft. Lauderdale, FL route.