Last week, IAI in Israel began the structural modification phase of the 777-300ERSF conversion program, in partnership with lessor GECAS.
In 2019, IAI and GECAS signed an agreement to launch the 777-300ERSF program. The value of the agreement was $400 million, and would include Kalitta Air as launch customer. With no pre-existing 777 conversion program, IAI and GECAS could have a very strong position, when the project starts to bear fruit.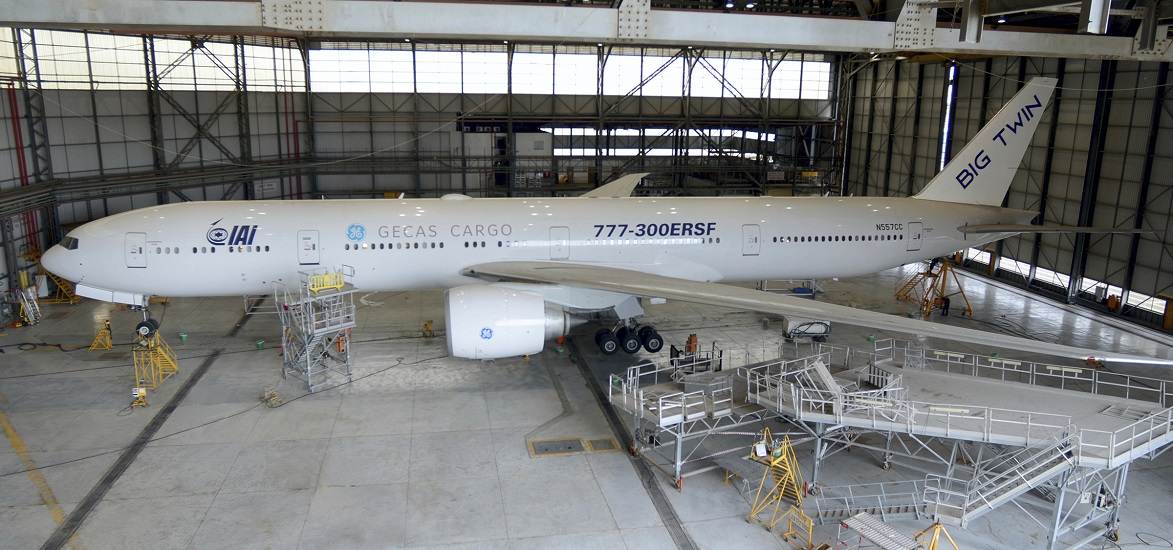 Sequoia Aircraft Conversions along with the Kansas Modification Center in the US are also working on a 777 freighter conversion. But their project is still at an early stage. IAI has decades of experience in these programs, the 777-300ERSF joining their 737, 747 and 767 conversions. And with many ageing 747 conversions out there, they believe they have a solid market.
Thanks to their unique front-loading door, factory 747 freighters have a valuable role in transporting oversize loads. But many cargo operators use large freighters in more conventional roles. This is a role that factory 777 freighters have been performing well, and more efficiently than four-engined 747s. IAI believes their 777-300ERSF can do the same thing. But with a twist.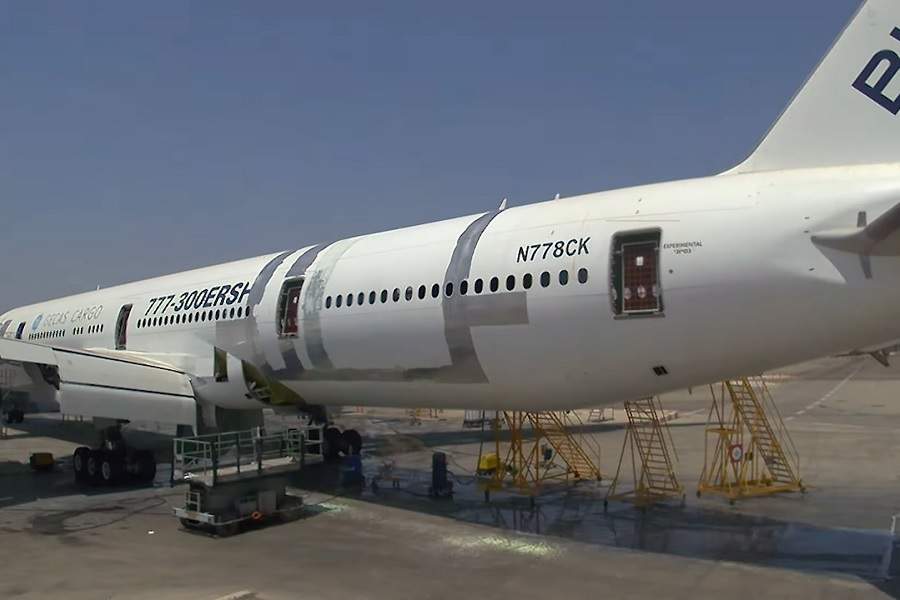 IAI 777-300ERSF And Size Versus Weight
Factory 777Fs have the external dimensions of the smaller 777-200, generally following the pattern of the 777-200LR. And as its name suggests, the IAI 777-300ERSF prototype began life as a 777-300ER. Boeing saw little value in making a factory freighter at this size. That's because such an aircraft wouldn't carry significantly more weight than the 777-200F.
However, we are currently living an e-commerce boom. Increasingly, freighters are limited by volume, not weight. This is because the stuff we order on-line are bulky, but not heavy for their size. This changes the way cargo airlines are using their aircraft. And it is making manufacturers scratch their heads. This is something we saw with Airbus, trying to figure out the ideal size for their upcoming A350 freighter.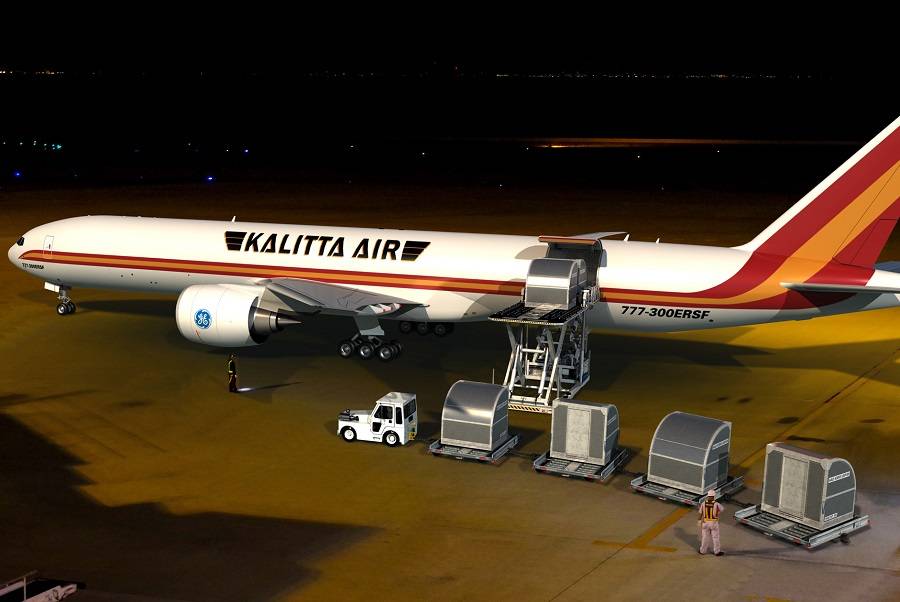 With the 777-300ERSF, IAI is catering to this e-commerce market. The aircraft will have the same range as 747 freighters – including conversions without that all-important front door. And IAI and GECAS are expecting plenty of demand. GECAS itself has 15 orders and 15 options. And last May, IAI announced plans and agreements for a second 777-300ERSF conversion facility in South Korea.
Two Birds With One Stone (again)?
But the two partners also hope to find customers among cargo companies in more traditional, non-e-commerce roles. So besides the 777-300ERSF, IAI will also build a conversion for the 777-200LR. This is essentially the same aircraft the factory-built 777 freighter. IAI has used a similar strategy with their 737NG conversions, offering them both for the 737-800 and the smaller 737-700. Nobody else makes a 737-700 freighter conversion, world-wide.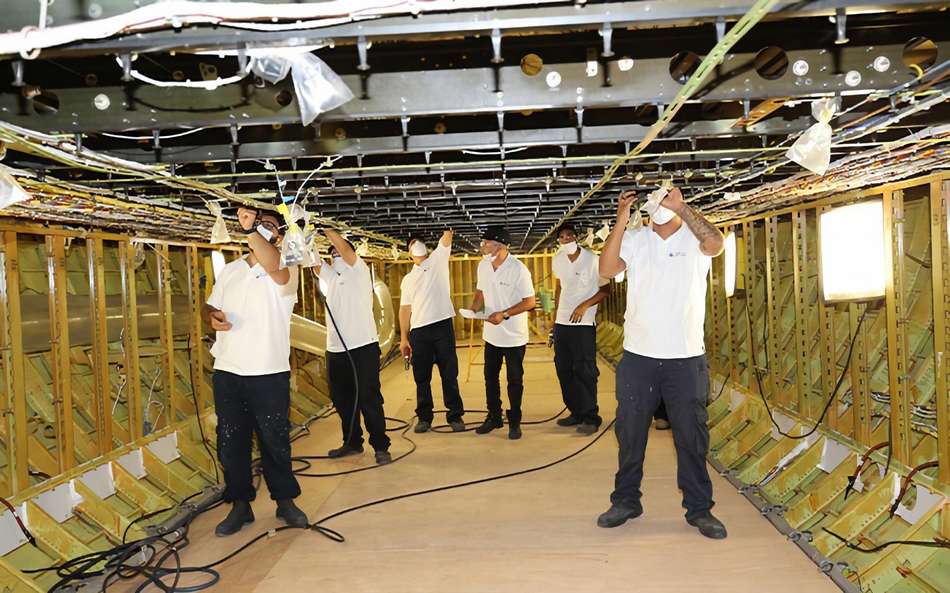 Currently, IAI personnel are already working on fitting the 777-300ERSF prototype with a stronger aircraft floor. They will also install the cargo door, reinforcing the airframe around it. IAI aims to get certification for the plane from the Civil Aviation Authority of Israel (CAAI) and the FAA. Yossi Melamed, Executive Vice President of the Aviation Group at IAI, said this about the 777-300ERSF project progress:
"Today, we are beginning the structural modification phase of the conversion. The demand for converting the B777 aircraft is high, and I expect that the open spots for conversions will be quickly filled. Since IAI does not have wide competition in the field of passenger to freight conversions, we expect to receive over 50 aircraft that will undergo conversion. I would like to thank GECAS for believing in IAI's abilities and vision…"