Today, Airbus released a picture of the first Breeze A220, fresh out of the paint shop. They also confirmed a Breeze order of 20 more A220s!
Breeze had circulated plenty of artists' impressions of both its aircraft types. But nothing beats the real thing. So today is an exciting day for 'Breeze watchers', with the first image of an actual Airbus A220 in their colours. The pictured aircraft is just out of the paint shop, still missing some components, like the horizontal stabilizer leading edges.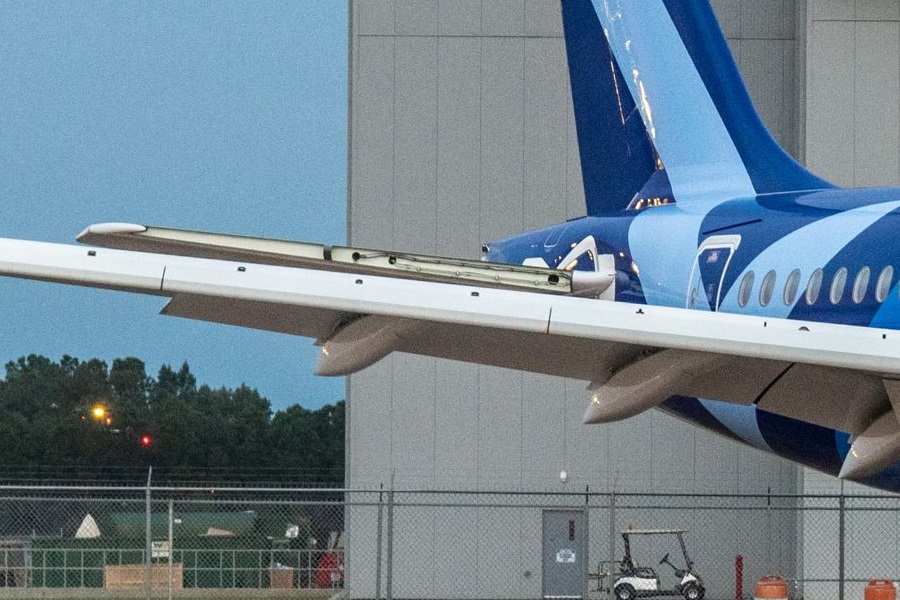 Breeze won't take delivery of its first Airbus A220 for another month or two. Airbus completed it in their facility in Mobile Alabama. Originally, Airbus had sixty firm orders and sixty options for the A220-300 from the promising startup. But these numbers have now officially changed.
Breeze Becomes Biggest Airbus A220 Customer
Airbus and Breeze today confirmed the addition of 20 A220 aircraft, to the original order for 60. These jets represent firmed-up options, leaving another 40 of the latter. Overall, Breeze's order book means Airbus will be busy building one Breeze A220-300 every month, for the next 6.5 years. These jets will predominantly come from Airbus' Alabama assembly line.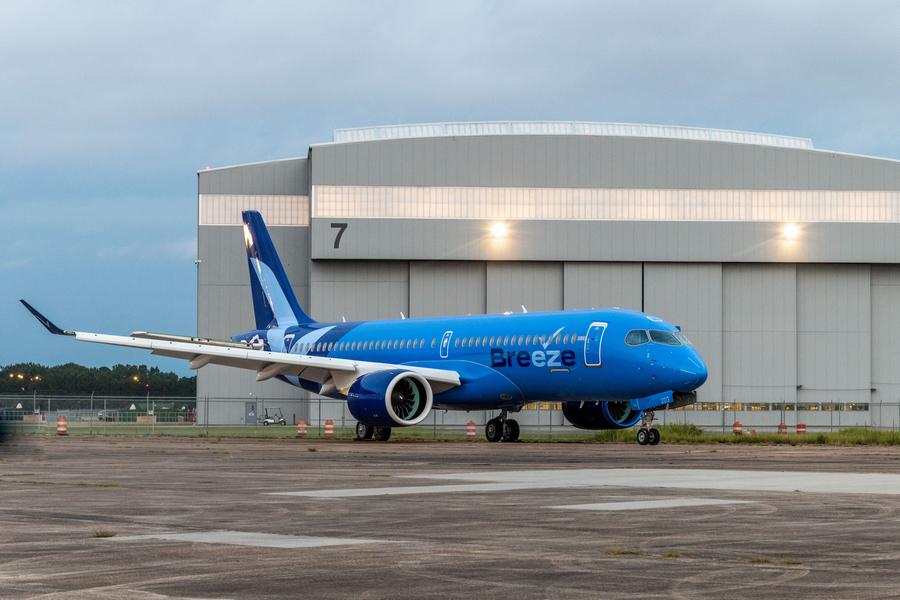 This addition of 20 jets makes Breeze the airline with the highest number of orders for the A220-300. In terms of overall orders for A220s, only Delta Air Lines is ahead, with 95 total. But 45 of these are for the smaller A220-100. JetBlue is third, with "only" 70 A220-300 orders.
These are mighty impressive numbers, for a "pandemic startup" airline! But it's possible you're wondering if this story really is news. If so, you have a good memory. We first wrote about a possible order for 20 more Airbus A220 aircraft from Breeze, back in April. That story broke about a week after Airbus announced an order for 20 jets for an undisclosed customer.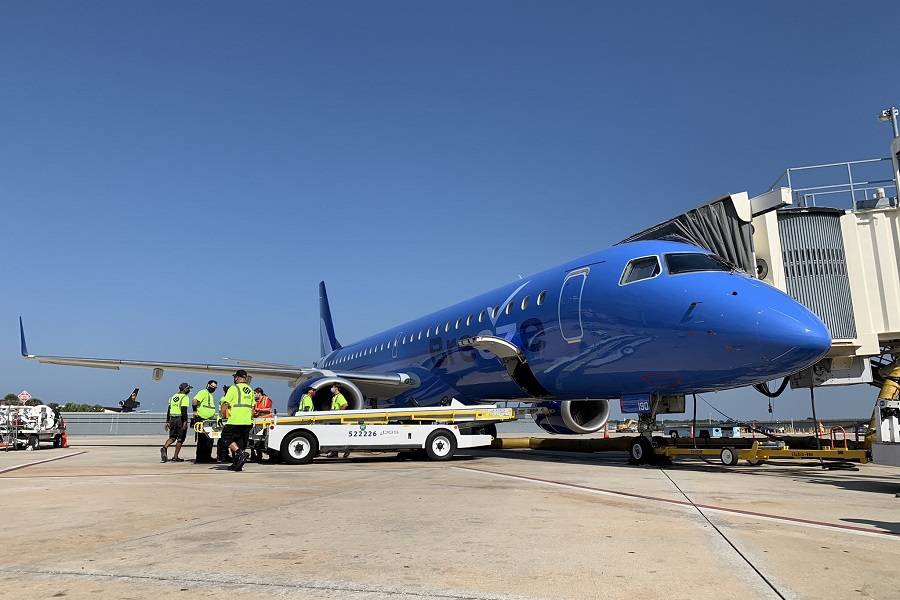 Interestingly, at the time this additional order came with rumoured discussions about a range extension for the A220-300. Breeze aims to use this jet for longer trips than those its current Embraers are undertaking. But it's not that simple. The A220 already has the range for Breeze to do transcontinental US trips if they want to!
Putting The Funds And Strategy Together
Breeze is confirming this purchase of 20 extra Airbus A220 aircraft a month after a $200-million Series B funding round. This is on top of its inaugural $100 million capital. But the funding and arrival of their new A220s, doesn't mean that Breeze will replace its 13 Embraers E190/195s. On the contrary, the airline will pick up even more of them, from January.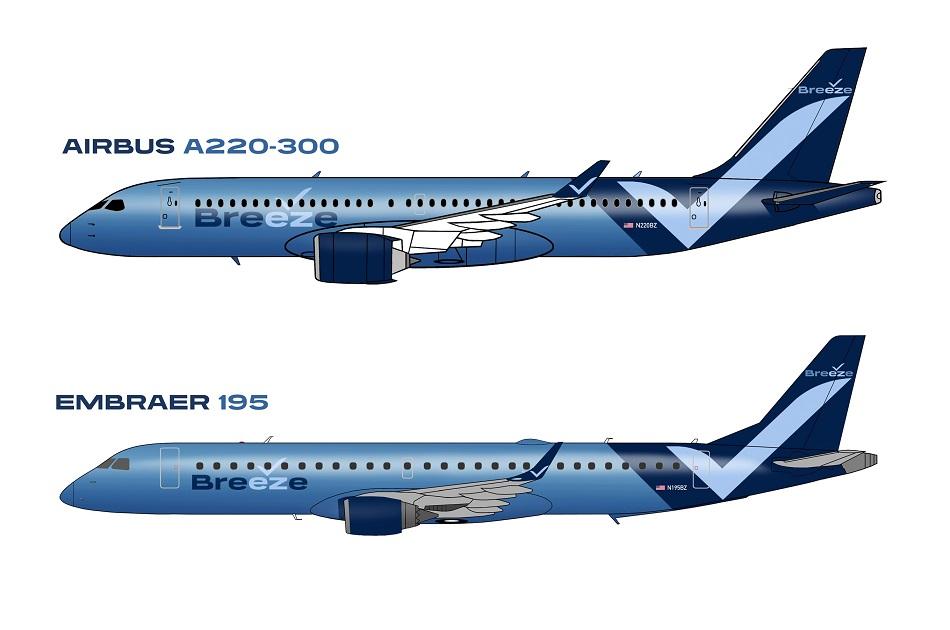 As we saw, these larger Embraer models see relatively low demand today. So the airline could secure very favourable lease terms for them. The Airbus A220 fleet is more efficient, but Breeze could still depend on its Embraers for many routes. The company's two-pronged utilization strategy uses a similar principle to what we saw in our 'new Vs converted' freighters article.
Breeze is David Neeleman's fifth airline startup. From the previous four, three (Azul, JetBlue and WestJet) are doing fine today, while the fourth (Morris Jet) is now part of Southwest! The airline's aggressive launch and rapid expansion plans have raised some eyebrows. But it's difficult to argue against Mr Neeleman's success rate. Neeleman acknowledges a 10% hit in short-term bookings due to COVID-19 rates and restrictions. But he reports stable bookings for future dates.