Alaska Airlines will donate a previously-retired Q400 to ZeroAvia, to help develop a hydrogen-electric powertrain conversion for the type!
We have seen the work of ZeroAvia before. The company has been working on a hydrogen-electric powertrain, using a Piper Malibu for their tests. Unfortunately, this aircraft crash-landed into a field, close to Cranfield Airport (EGTC), where the company conducted its testing. Fortunately, there were no injuries among the two occupants or to anyone on the ground.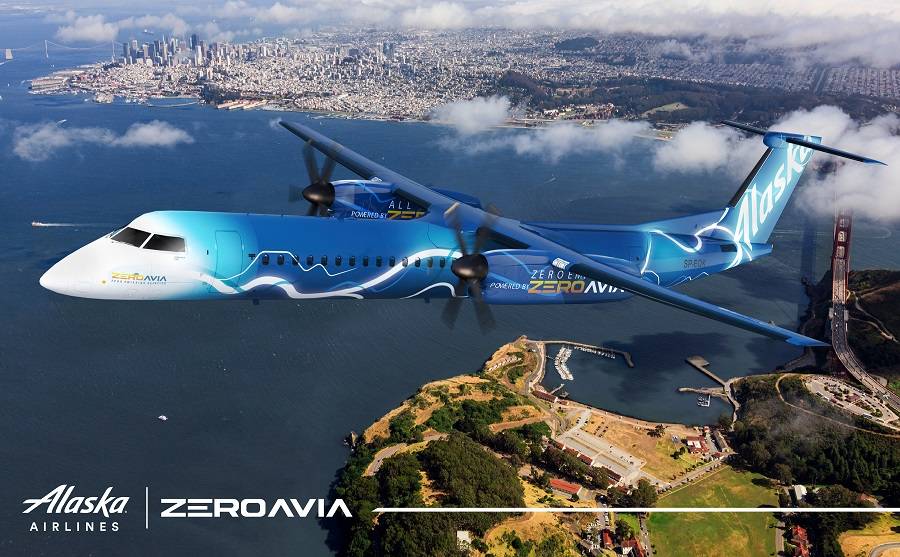 Even before the accident, the company planned to scale up its efforts quickly. ZeroAvia talked about a 50+ seat (just shy of the Alaska Q400) hydrogen-electric aircraft being possible within 5 years. Then in July, the company announced that they are moving ahead with two Dornier 228 test aircraft. ZeroAvia would work on one of them in Kemble Airport (EGBP) in the UK, the other in the US.
The Do-228 is a 19-seat, twin-turboprop aircraft. And in terms of power, it would require two 600kW (816hp) motors, to the Piper Malibu's single 250kW (340hp) motor. This represents a jump in power, and therefore in energy requirements from the hydrogen fuel cell. But now, with this new Alaska Airlines project, ZeroAvia will need something substantially more powerful.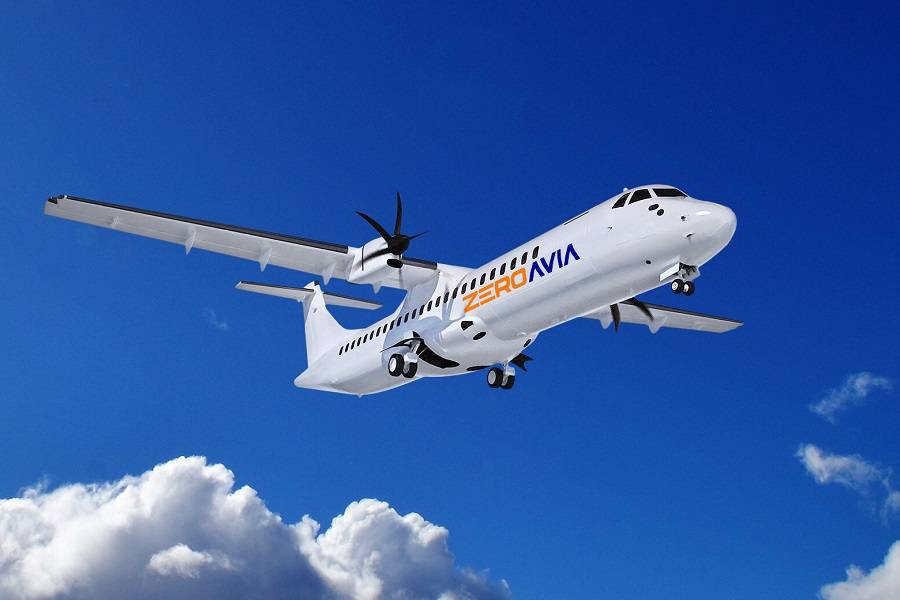 In previous renderings, ZeroAvia and its partners envisioned the 50-seat aircraft as an ATR-72. Presumably, the new powertrain and its fuel would take extra space in the cabin, reducing the aircraft's seat capacity. The de Havilland DHC-8-400 (Q400) is an aircraft in the same class. So Alaska gave ZeroAvia a representative base, to work from.
ZeroAvia And The Power Requirements of the Alaska Q400
In terms of power, this aircraft will require a powertrain that ZeroAvia calls the ZA2000. The number in previous models generally reflected the power, in kilowatts. Alaska and ZeroAvia state that the ZA2000 powertrain will produce between 2,000 and 5,000 kW (2,720 – 6,800 hp). So the goal is to create a hydrogen-electric conversion kit, allowing the Q400 to have a 500-mile range. But it seems that Alaska wants to plane to still have all 76 seats.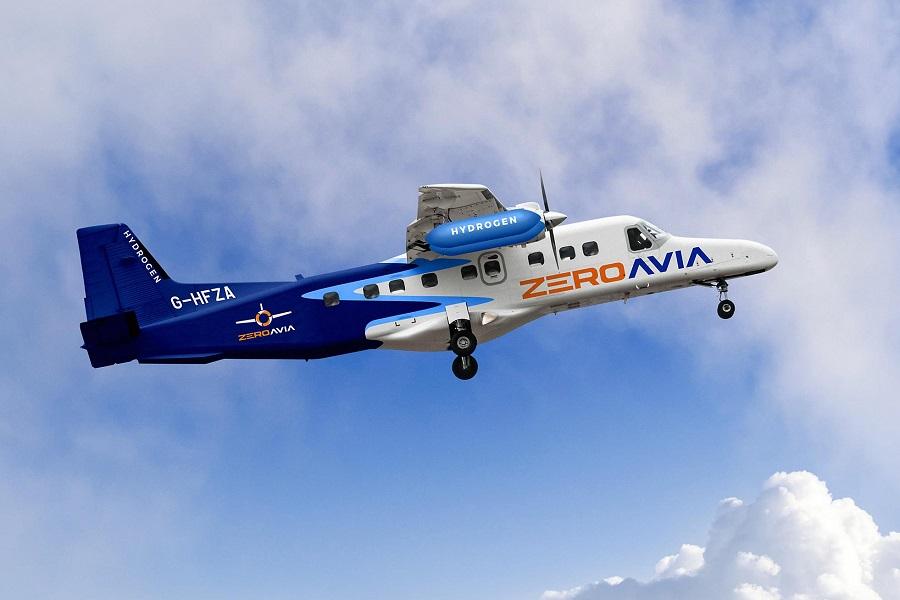 Alaska Airlines will become an investor to ZeroAvia, joining an already impressive list of backers to the project. Commenting on this development, Diana Birkett Rakow, Alaska Airlines Vice President of public affairs and sustainability, said:
"Alaska is committed to creating a sustainable future for aviation, working on all aspects of a five-part path toward our goal of net zero by 2040. We are honored to partner with ZeroAvia's innovative and forward-thinking team, to support their progress developing zero-emissions aviation, and to collaborate for real-world hydrogen aviation success."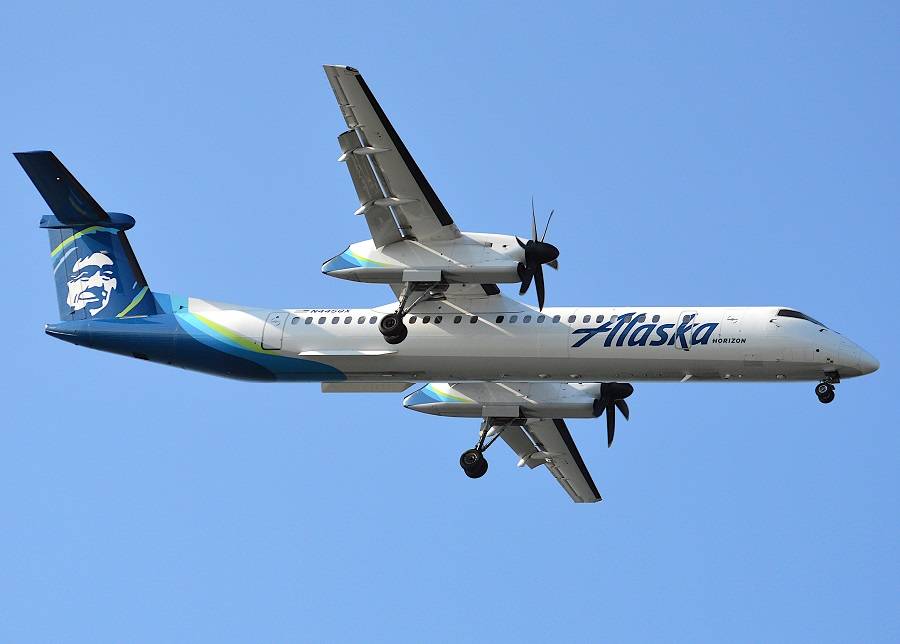 The Q400 that Alaska will provide to ZeroAvia used to operate for Horizon Air, an Alaska subsidiary. And crucially, ZeroAvia will set up an operation in the Seattle area, to base this Q400 project there. Also, the airline now has options on 50 conversion kits, for its fleet of regional aircraft.
From its side, ZeroAvia is still aiming to prioritize a 9-19-seat hydrogen-electric aircraft, as a first step. The company now aims to have this 600kW powertrain and aircraft ready for commercial operations as soon as 2024. And the 2,000-5,000kW plane should follow in 2026.