The A321 was Airbus' and ST Engineering's first narrowbody "P2F" freighter conversion, but now there's also the A320P2F. But why go smaller?
Whenever there is a generational change in airliners, users of existing models need to find new roles for them. And the aircraft manufacturers themselves have a pretty good motive to help in this regard. If their airline customers (and lessors) can use old planes elsewhere, they can buy newer ones more easily!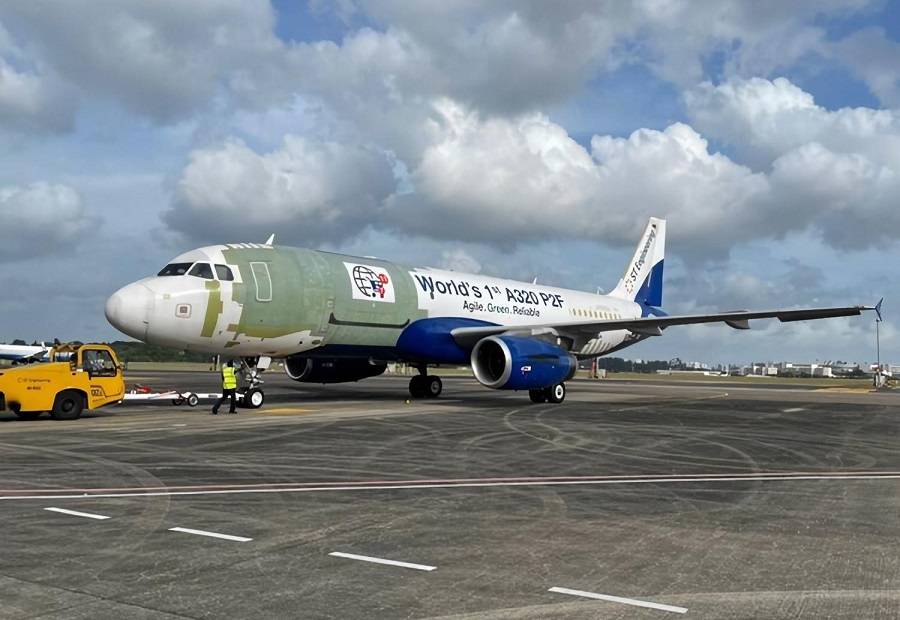 This is something Boeing understood and began doing decades ago. Airbus, on the other hand, put less emphasis on cargo than Boeing, for many years. But as we have seen, this is definitely changing. Before the A320P2F (Passenger-To-Freighter), Airbus introduced conversions for the A321P2F, the A330-200P2F and the A330-300P2F.
Some may ask, why develop a conversion for the smaller A320 when an A321 conversion is an option? It's safe to assume that for most operators, the bigger A321P2F is the way to go, especially if they value volume. But there are definitely arguments in favour of the shorter, smaller A320P2F. For one thing, there are more 'donor' aircraft to choose from. This could mean that the price of the finished freighter will be lower.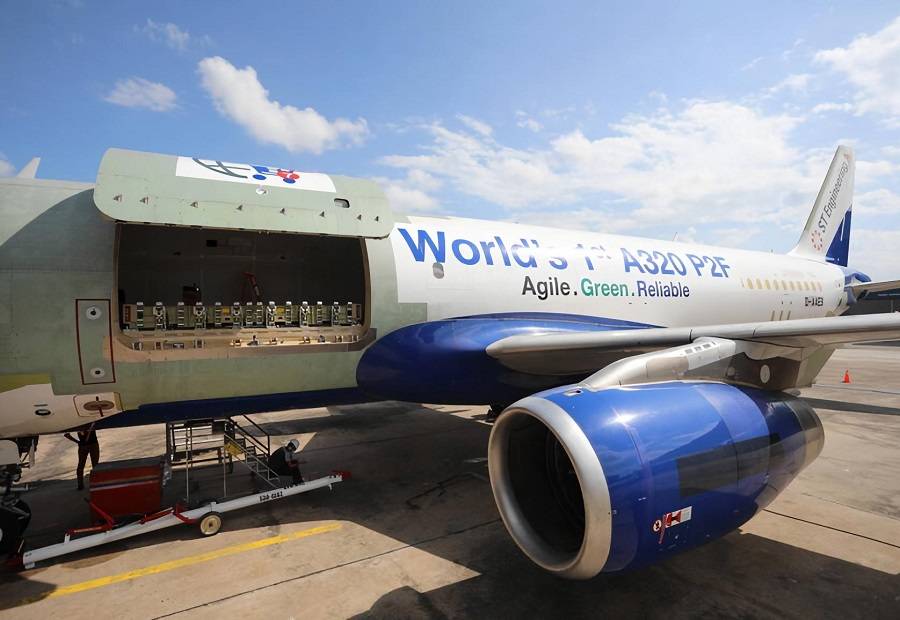 A320P2F – Closer To The 737-800BCF's Size
Furthermore, the smaller aircraft could simply be a better fit, for the needs of its operator. This could be either because of their freight volumes or because they value weight more than volume. Also, the smaller aircraft could have better performance from shorter runways, which some freighters find themselves in. And finally, this plane can still carry as much as (or in some cases, a bit more than) Boeing's 737-800BCF.
The conversion of the A320P2F includes all the usual features. The aircraft now has a rather prominent main deck cargo door, a lightweight 9G rigid cargo barrier, a lightweight cargo lining, a manual cargo loading system for narrowbody ULDs (unit load devices) and a reinforced floor. And like any A320-family aircraft, it can still carry smaller ULDs in the hold. That's a trick that 737s can't pull.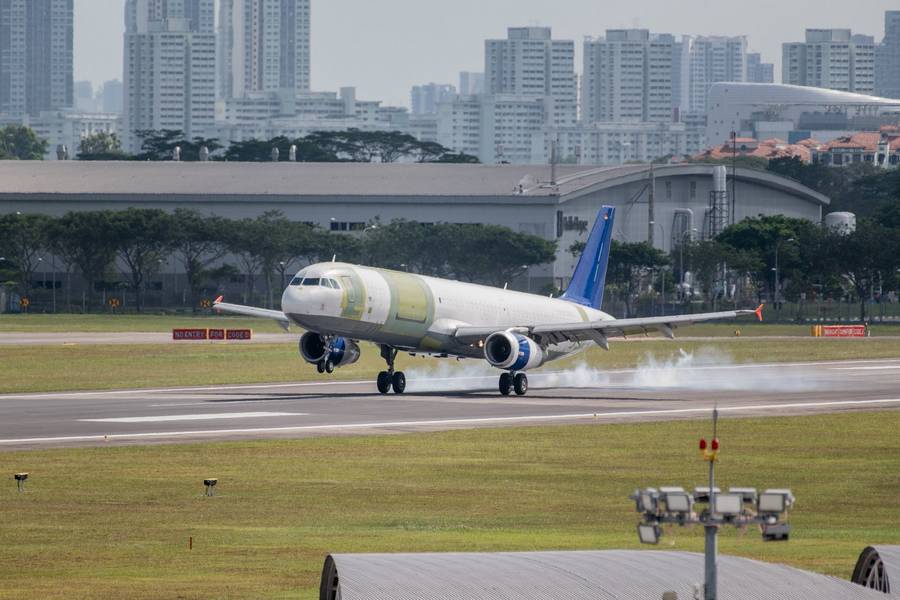 But one feature of the Airbus A320P2F and A321P2F conversions that we sometimes skip is the new passenger/crew door. This is now smaller and further forward than before. This allows one extra ULD or pallet in the A321P2F, compared to a conversion without it. Presumably the same would be true for the smaller freighter if another company made conversions based on it! The A320P2F can carry 10 ULDs on the main deck, to the A321P2F's 14.
Flexibility In Sizes?
Interestingly, Boeing itself doesn't offer a 'BCF' (Boeing converted freighter) version of the 737-700, focusing solely on the 737-800. The latter can carry 11 narrowbody-size ULDs, plus a smaller one, on the main deck. However, IAI in Israel offers a 'Bedek' conversion of this jet, which it calls the 737-700BDSF. Again, the smaller jet would interest a smaller niche than the bigger variant. But it can only carry bulk cargo below-decks. But the A320P2F competes reasonably well with the 737-800BCF.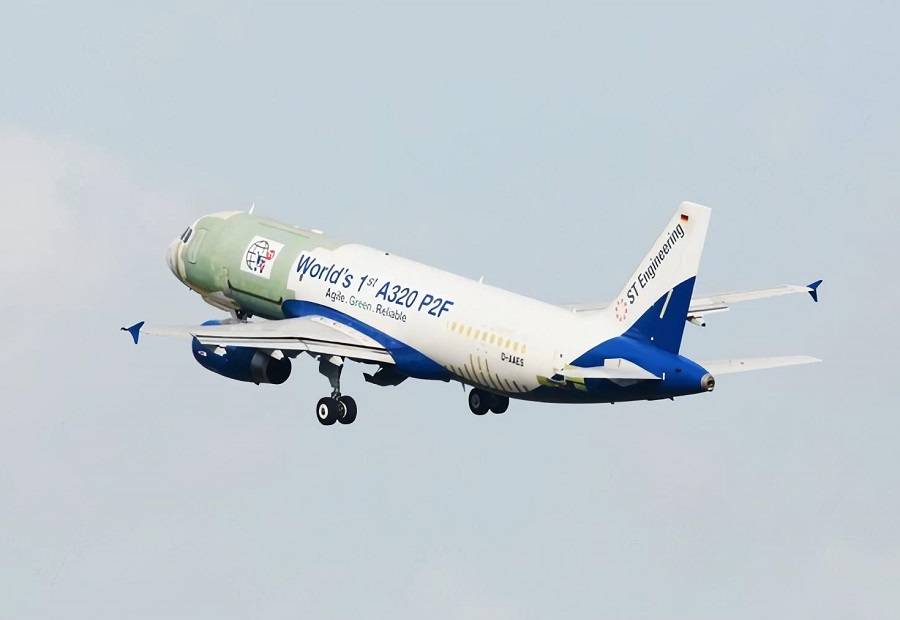 The first A320 to undergo this A320P2F conversion has serial number 2737 and first flew in 2006. Its first operator was TAM Linhas Aereas (later LATAM) in Brazil. Its second operator was IndiGo, whose livery we can partially see in these pictures. ST Aerospace then picked it up for its conversion. ST Aerospace is Airbus' partner, in their EFW (Elbe Flugzeugwerke) joint venture.
This A320P2F freighter is the first of its kind. Its conversion took place in ST Engineering's installations in Singapore. It first flew (as a freighter) on the 8th of December, but it still has a few obstacles in the way, before entering service. EFW and EASA (Europe's aviation authority) will put it through its paces so that it obtains its Supplemental Type Certificate (STC).
The aircraft will then go to its customer, the Vaayu Group. The company will get five A320P2F conversions in total, leasing them from ST Engineering's leasing arm. Airbus believes that the market for single-aisle converted freighters over the next 2 decades, will number 1,000 aircraft. The manufacturer hopes to grab a big chunk of it, with its two offerings.