JetBlue has had an exciting couple of days, as they picked up first an A220, then their very first 'transatlantic' A321LR with the new Mint cabin! They will use these planes in transcontinental routes, and to London.
In a lot of people's minds, JetBlue is another low-cost carrier – maybe one that is getting a bit fancy. Even early rumours that they would fly to Europe didn't impress – low-cost/long-haul isn't new. Or particularly successful, frankly. But unlike others, JetBlue will make its transatlantic crossings with the same single-aisle jets it always used. Well – almost the same.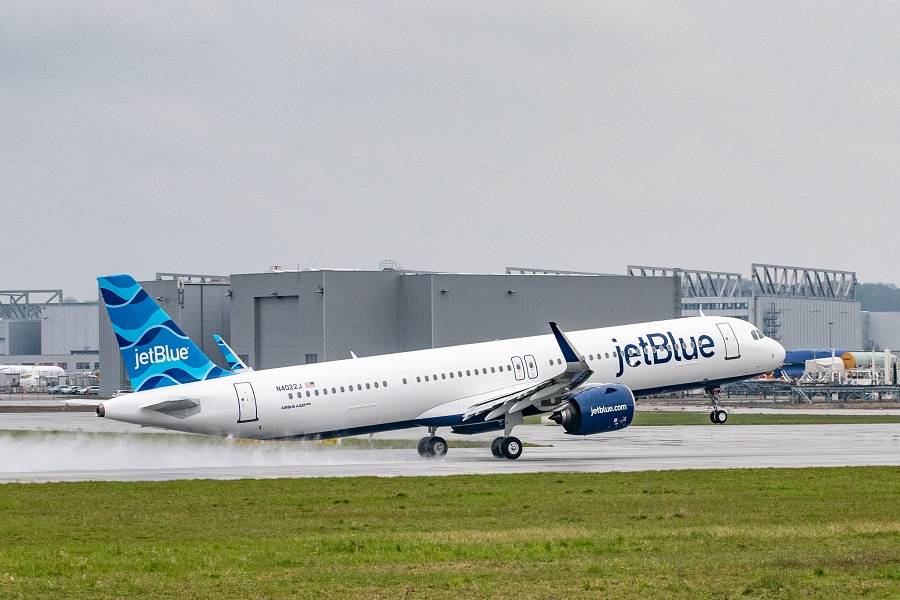 JetBlue will likely not be the first airline to use its A321LR in transatlantic crossings. Aer Lingus will probably beat them to that – but flying from Manchester in the UK, not London. However the two airlines are offering different services. Aer Lingus operates its long-haul flights as a traditional flag carrier. While we don't know what kind of layout its A321LR planes will have in their transatlantic crossings, it's bound to be more conventional than JetBlue's.
This transatlantic A321LR has JetBlue's new Mint cabin. It is not the first Airbus that the airline receives with the Mint layout, but it is the first A321LR. It also combines the Mint cabin with Airbus' Airspace interior. This comes with newer lighting and subtle styling changes – plus bigger overhead bins. Not a bad idea for passengers travelling between continents.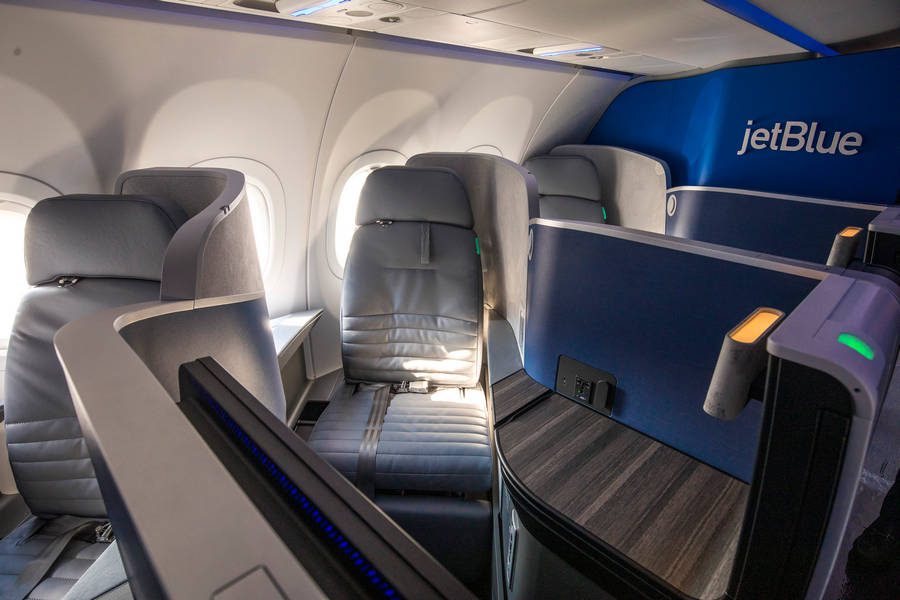 The Transatlantic A321LR – A JetBlue Distraction?
Airbus is now making aircraft in Mobile, Alabama, but this A321LR had to make a transatlantic crossing for its delivery. Under the circumstances, perhaps this is appropriate! Many single-aisle jets can only cross oceans when they carry no passengers, but for this aircraft, this crossing was the first of many.
JetBlue also took delivery of another Airbus, that didn't make a transatlantic crossing to get there. Although if it needed to, it could actually cross the Atlantic. This was the airline's second A220, and the 10th to come out of the Mobile factory. These aircraft have 140 seats in an all-economy layout, with extra legroom for some seats.
The A220 might not attract as much attention as JetBlue's new transatlantic A321LR, but it arguably has more significance. The airline is getting 70 of these ultra-efficient aircraft. By comparison, they will only get 25 A321LR/XLR models. It will be interesting to see how JetBlue will evolve from here. Few airlines have both these jets AND newer A320neo-family aircraft.
On the 26th, the airline made the first revenue flight with the first A220 – from Tampa to Boston. Nominally, the A220 is there to replace the E190 fleet. But some of the older, bigger Airbuses could be looking over their shoulders, too…