A Delta Air Lines flight departing JFK had to abort its takeoff at high speed, after a runway incursion by an American Airlines flight.
This incident happened on Friday the 13th of January this year. It involved two flights, both of them departing from New York's John F. Kennedy Airport (KJFK). One of them was American Airlines flight 106, heading to London Heathrow Airport (EGLL) in the UK. This is a service that American performs daily, departing JFK at 8:30 PM. The aircraft involved was a 21-year-old Boeing 777-200ER, with tail number N754AN.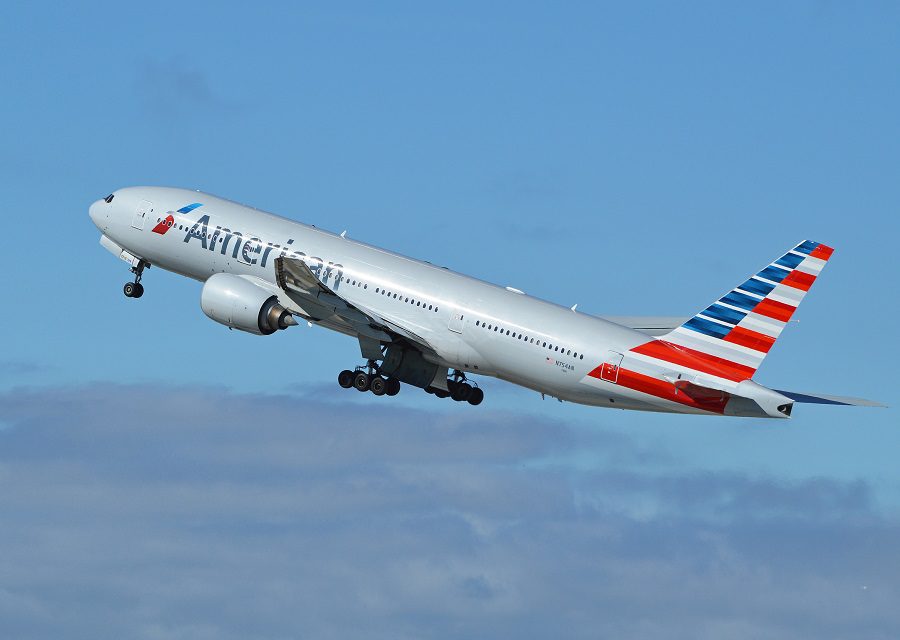 The other JFK departure in this runway incursion incident was Delta Air Lines flight 1943, heading for Santo Domingo Las Americas International Airport (MDSD) in the Dominican Republic. This aircraft, a 4-year-old Boeing 737-900ER with tail number N914DU, lined up with runway 04L for departure. Meanwhile, the American Airlines flight was still taxiing.
Several minutes before the runway incursion incident, the JFK ground controller that the American Airlines crew spoke with, gave them their taxi clearance, for a departure from runway 04L. Specifically, the controller said: " 106 Heavy Kennedy Ground 4 Left taxi left Bravo hold short Kilo".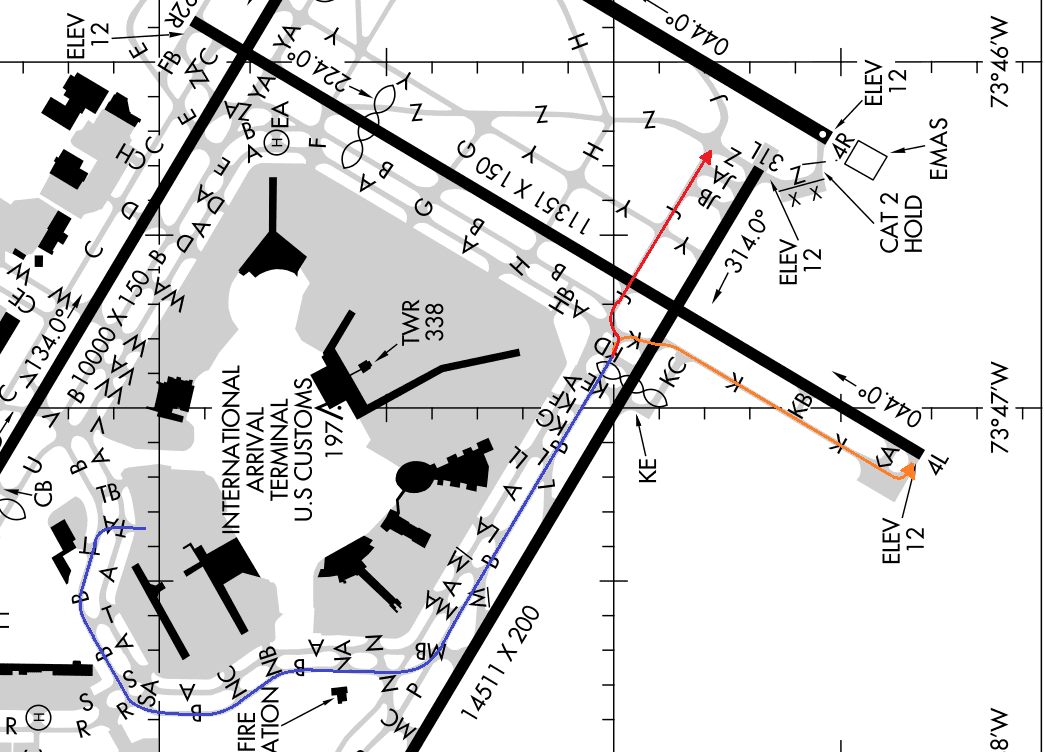 Runway Incursion At JFK
The crew read back these taxi instructions, but without acknowledging the departure runway. It appears that the crew planned to depart using runway 31L. This would involve taxiing on taxiway J (after leaving B, the blue line above) and crossing runway 04L, the actual departure runway. The controller expected the crew to use K to cross runway 31L.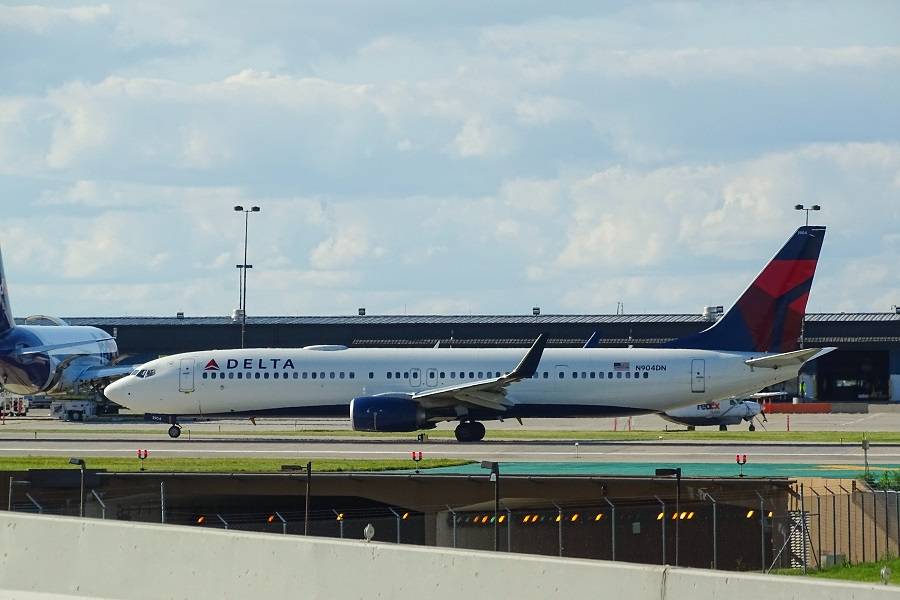 By contrast, the flight crew expected a clearance to cross runway 4L. This expectation may have played a role in the runway incursion when the JFK controller gave them their next instruction: "American 106 Heavy, cross runway 31 Left at Kilo". At this point, the aircraft was still some distance away from the point where they would have to cross either 31L or 4L. This time, the crew acknowledged crossing runway 31L.
American's incursion into runway 4L happened just after the JFK tower controller cleared Delta 1943 for takeoff. Taxiway J is approximately 1,200 meters (4,000 feet) down runway 4L. The tower JFK tower instructed the Delta flight to abort its takeoff. The Delta 737 stopped about 330 meters (1,000 feet) short of taxiway J.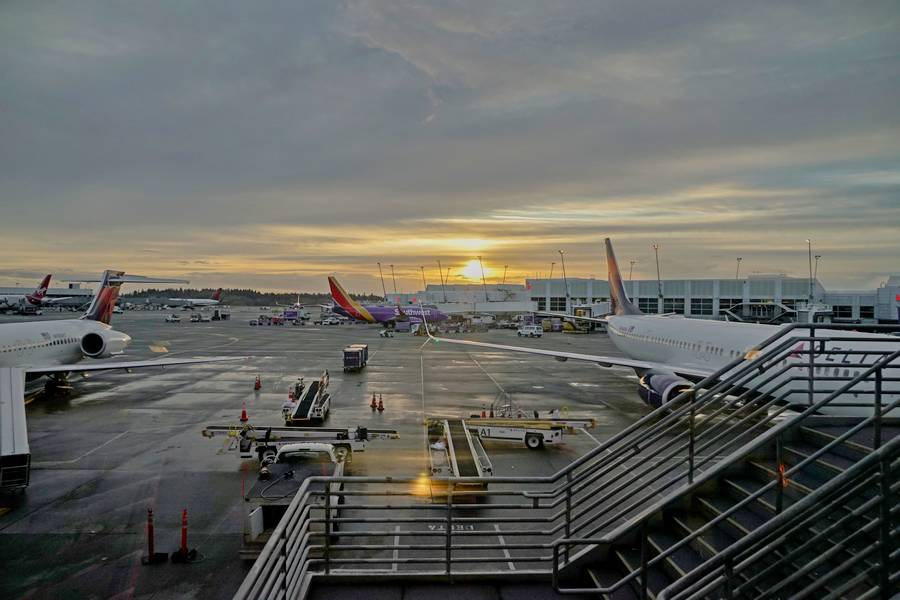 After the event, the Delta 737 exited runway 4L using taxiway J. The flight eventually returned to the terminal and did not depart for Santo Domingo until 15 hours later. We don't know the reason why the Delta flight delayed its departure from JFK after this runway incursion.
About half an hour after the incident, the American Airlines 777 departed for London Heathrow, using runway 31L. The FAA and the NTSB are both investigating the event.
Check out these latest videos from Mentour Pilot and Mentour Now on YouTube!