It looks like Breeze Airways is really serious about extending the range of its A220-300 fleet, and could even fly it to Europe – really!
They say that extraordinary claims require extraordinary evidence. The phrase pops up naturally whenever someone expresses some unusual, perhaps 'lofty' goals. But this is not really the case with someone like David Neeleman. Launching an airline is fraught with risk, but the founder and CEO of Breeze Airways is on his fifth one. Three out of the previous four are still doing fine – or better. Southwest bought the fourth.
Neeleman wants more range out of the A220-300 that Breeze is buying, to fly them to far-flung destinations – including Europe. Airbus has already boosted the gross weight of the A220-300 a couple of times, making for a better range. The plane can now go as far as 3,550 nautical miles. Not bad for an aircraft that many mistook for a regional airliner.
Breeze – The Way To Fly To Europe And Beyond
But Neeleman wants a range of at least 4,000 nautical miles. This would allow Breeze to fly these jets not only to Europe but also to more destinations in South America. The range would also put Hawaii within reach from more airports, away from the US west coast. Remember, Breeze is all about unserved destinations. Neeleman doesn't care about reaching Hawaii from Los Angeles or San Francisco – something the A220 can already do.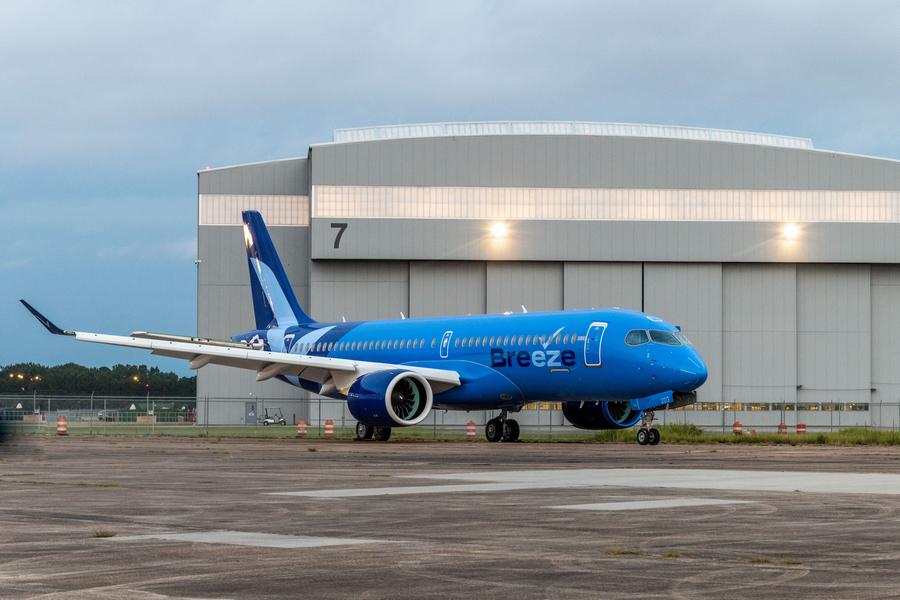 Equally, Breeze wouldn't fly popular routes to and from Europe. We saw that JetBlue (one of Neeleman's older airlines) is now flying from JFK and Boston to London. Breeze would certainly look elsewhere, but we're jumping ahead here. The question is, how could the A220-300 get the necessary range, to make such routes possible?
What Neeleman has his eye on are the auxiliary fuel tanks that Airbus is developing, for the business jet version of the A220. Airbus is basing this one on the smaller A220-100. But despite its shorter length, Airbus will fit up to five auxiliary fuel tanks in it. Its range is 5,650 nautical miles. Neeleman believes that Breeze could fly to Europe and elsewhere with just one of these extra tanks.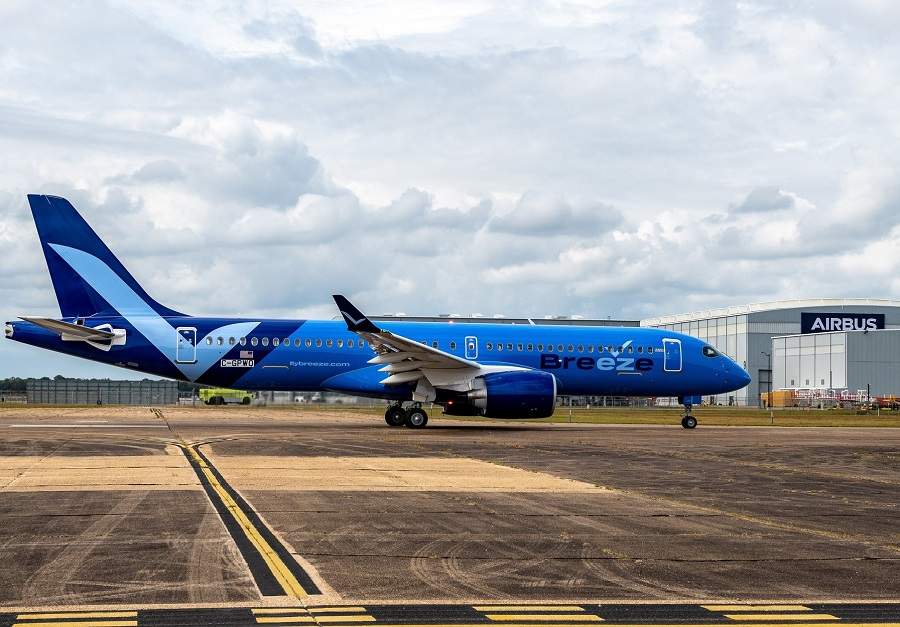 But it's probably a bit more complicated than that. The A220 bizjet (ACJ220) will obviously carry a small number of passengers. So even with a generously appointed cabin, its weight will generally be on the low side, compared to the airliner variants. However, weight will be a factor when fitting such a fuel tank to a Breeze A220-300, so it can fly to Europe.
How Many People Would Breeze Fly To Europe?
And this is where things get more interesting. Obviously, the next question is, how many people will Breeze's A220s seat? We already have an answer to that, from the airliner's first A220. Other A220-300s in service worldwide have 140, or even 145 seats. The first Breeze Airbus has 126. Of these, 36 are of a premium variety, that the airline calls "Nicest". There's also "Nice" (economy) and "nicer" (premium economy).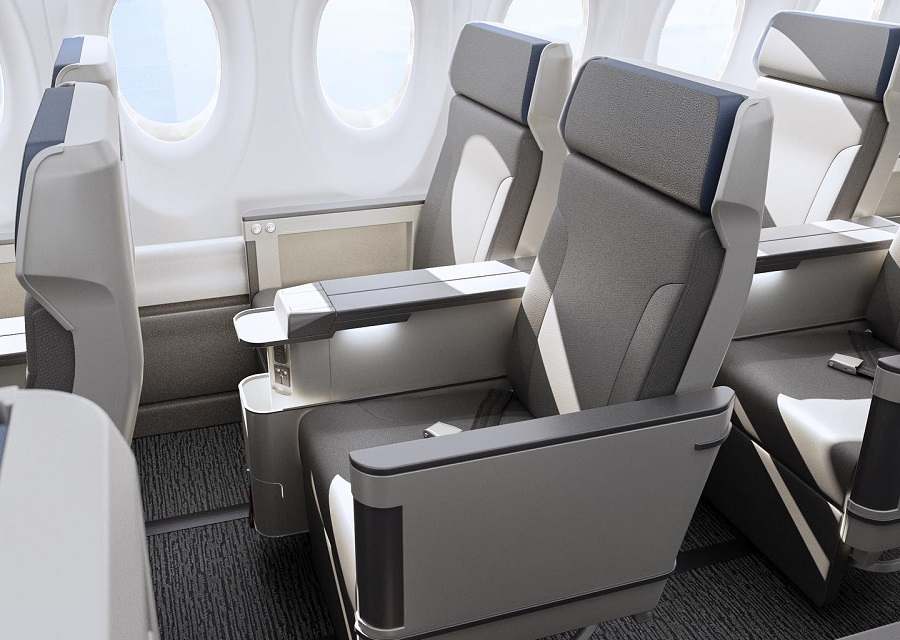 And that's not all. When it chooses to fly to Europe, Breeze could have an even less dense cabin. The front section could have 20-21 lie-flat seats, in place of those 36 "Nicest" seats. The airline describes this front aircraft section as "quick-change". This will allow them to change between these premium variants, or even into an all-economy layout.
So, the layout that Breeze could fly with when going to Europe, would have 90 economy and 20-21 lie-flat seats. Are the 35 missing seats (compared to an all-economy A220-300) enough, to allow for one of those auxiliary fuel tanks? If the answer is "No", then Airbus would need to increase the aircraft's maximum take-off weight – again. And at some point, Airbus may need more power from those P&W geared turbofan engines.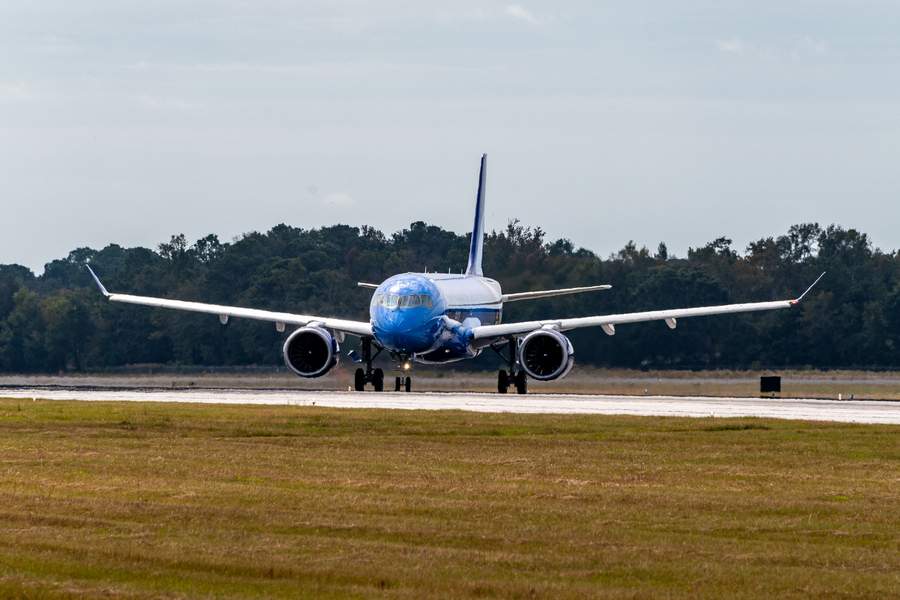 Extraordinary Claims – And Evidence
The Airbus A220 likely still has plenty of untapped potential. Bombardier had an even longer version in mind when they designed it, as we've seen. So the aircraft's wing, for example, could cope with such a stretch. And of course, Bombardier intended the plane to do exactly what Breeze is after: connecting smaller airports that are a long way from one another.
But more work is necessary before Breeze can fly to Europe or South America with its A220s. The airline hasn't begun operating these jets yet and expects to have to train its pilots for them. Breeze hired pilots for its Embraer fleet that already had experience on the type. Then there's the matter of getting approval for ETOPS operations. This could take additional time, too.
But these plans give us some perspective into the way that Breeze could evolve, over time. Breeze is VERY unusual. Startups usually start slow and expand gradually. Good funding often speeds things up, yes. But Breeze started up with over a dozen Embraer E190/195s (more coming) and orders for 60 new A220s. And before they got even one of those, they ordered 20 more!
However, it's now clear that the airline's operating model could have applications on plenty of destinations. With enough range, Breeze could fly unserved routes to Europe and Central and South America. With a quick-change cabin, it could still connect many transcontinental city pairs. All in all, it seems Neeleman's plans (and evidence?) could well match his claims.