Despite the restrictions of the times, Airbus China delivers the 500th aircraft and celebrates the occasion. The Airbus A320 was delivered to China Southern Airlines, in a ceremony at Airbus' Final Assembly Line Asia (FALA) in northern China.
China Southern Airlines is one of the country's large national carriers. These carries are not quite the main driving force in the resurgence of the Asian aviation market. Low-cost carriers, like Spring Airlines (also with Airbus A320 family jets) have recovered faster, doubling their market share. But unlike other markets, these low-cost carriers still make up only 10% of the market.
This means that the manufacturer is keen to see the big players picking up Airbus A320 aircraft. The manufacturer has a backlog of sitting airliners, which it hopes will continue shrinking. It has already told suppliers to prepare for increased production from around mid-2021.
Airbus A320 Driving Domestic Revival?
With aviation in Asia showing the strongest signs of recovery so far, the manufacturer places a lot of faith in the Chinese market. China accounts for roughly one fifth of Airbus' deliveries worldwide. Most of these are for Airbus A320 family of aircraft.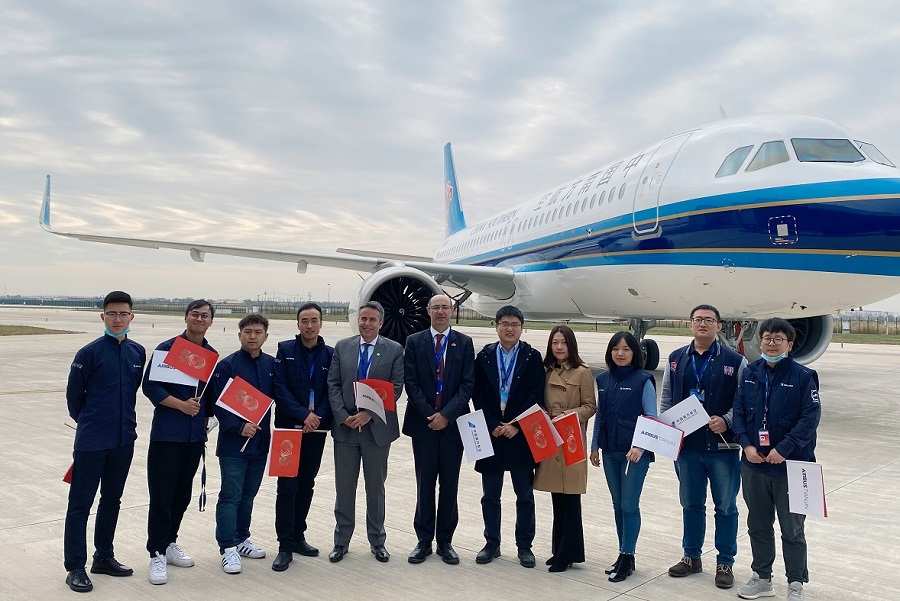 According to the Civil Aviation Administration of China (CAAC), the number of passengers flown domestically this September is already at 98% of last year's volume. Cargo is also recovering, at 96% of last year's volume, in the same period. Impressive numbers indeed.
And the size of this market is attracting interest from abroad. Also attending the delivery event was Toon Balm, general manager of Air France KLM Greater China. "China is the second-largest overseas market of Air France KLM and the largest in Asia. We are delighted and honoured to resume our passenger flights to China, which marks a big step in rebuilding our global network", said Balm.
Airbus has factories in Europe (in two locations), Asia and the United States, the latter two for Airbus A320 family aircraft. Before the pandemic made aviation grind to a near standstill, the manufacturer was well-placed to improve its position against Boeing, in the single-aisle market, thanks in large part to the MAX's woes. Unless it flies soon, this is set to continue.

With resurgence slowly appearing in Asia, and the MAX still not in the air, they continue to have the advantage. Airbus China was one of the first companies to resume operations in China's Tianjin province, after the coronavirus lock-down.
Image: Safran