A regular NHS service where drones carry Covid-19 samples and test kits has began in Scotland. The service operates in rural parts of Argyll and Bute.
This is a first. We have seen test runs where drones make deliveries before. But now Scotland has a scheduled and on-demand drone delivery service, for the National Health Service (NHS). Drones will carry Covid-19 samples, other medical samples, medicine, PPE and Covid-19 testing kits. The project serves island communities, and areas where the terrain means that the roads don't go "like the crow flies". In many settings, a straight line between two points can be half the distance by road. And that's assuming there is no body of water in the way.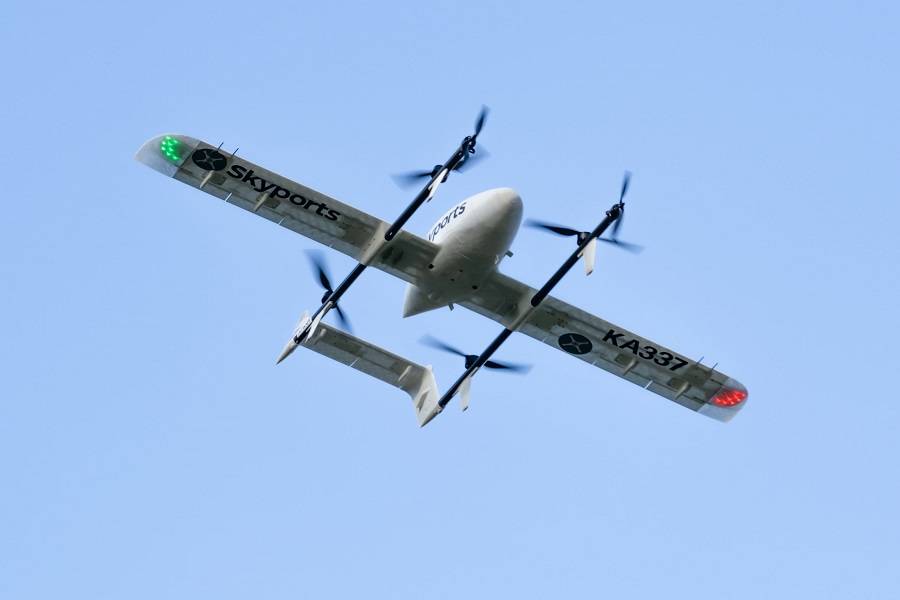 The drones carrying kits and samples for the NHS in Scotland, can travel up to 40 miles (64km) away. This is an impressive range for an electric drone of this size. Especially considering their payload. The drones can carry up to 3kg. They can take off and land vertically, but have a fixed wing, to give then the necessary range and endurance.
Skyports, Operators of the NHS Drone in Scotland
The company operating the drones is Skyports. The drone they use for the NHS operation in Scotland is the Swoop Aero. It carries its cargo in a central pod. Skyports is using a 4G network and satellite communications, to ensure the safe operation of the drone in large distances. It employs four propellers in a lift configuration, and two propelling the drone forward in horizontal flight. The company also has other drone designs, that it uses with similar partnerships with the Royal Mail!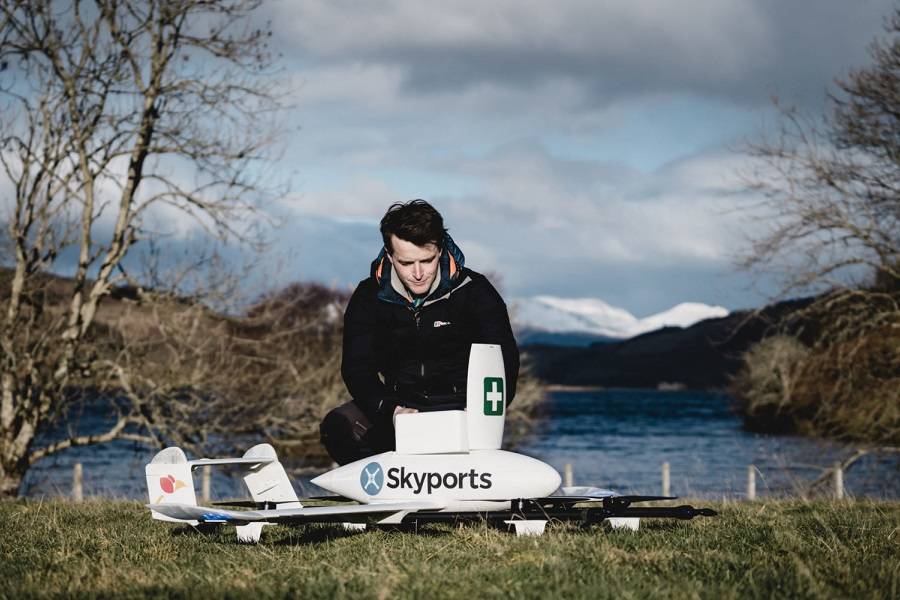 The Argyll and Bute drone project is working in cooperation with NHS in Scotland. Doctors and medical staff can request drone deliveries on-demand. But there will also be regular services between hospitals and test centres in the area. 3Kg might not sound like much. But to carry the same load any other way would often involve a ferry, a long drive or both. And logistically, there are other, very important implications of the availability of such a service.
Skyports quote an NHS Practice Manager, to illustrate what this flexibility means, in practice:
"I can't take blood tests after 1pm because the van courier picks up the daily pathology samples at 1:30pm. With a drone I could collect blood samples all day, giving my patients so much more flexibility and getting results to them sooner".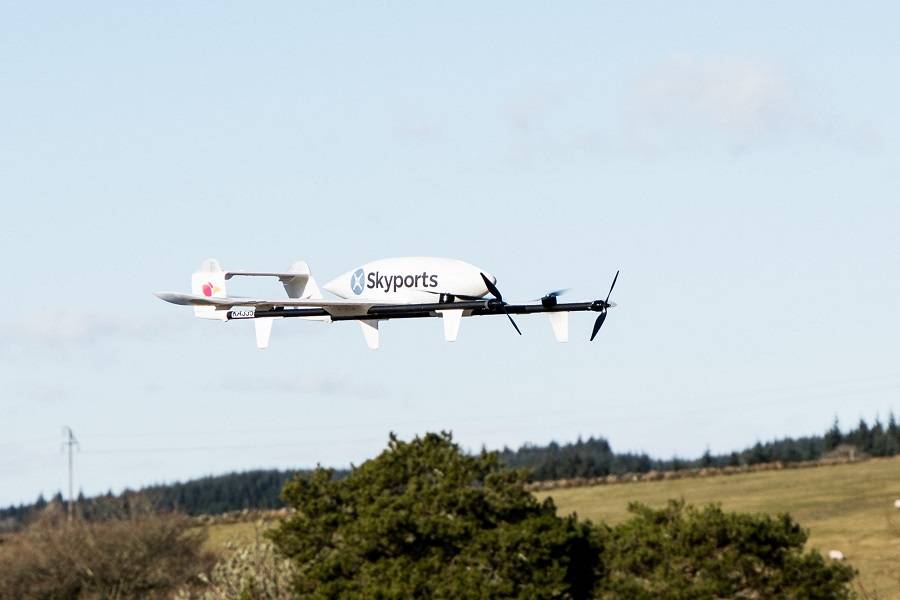 Results come sooner because drones solve NHS' supply chain problem on the other end, in Scotland's pathology test centres. Previously, they would receive all of the days samples in one go, having to run them at the same time. Now drones can deliver them in stages, throughout the day.
The Shape Of Things To Come?
We recently saw a project called Windracers. This initiative uses fixed-wing drones to deliver vital supplies to isolated communities, or areas with poor transport links. But the emphasis on that drone is the ability to cover great distances, with a large load capacity. So, it needs a runway – albeit a short one. It also uses internal combustion engines. The Skyports drone is more about quick turnarounds.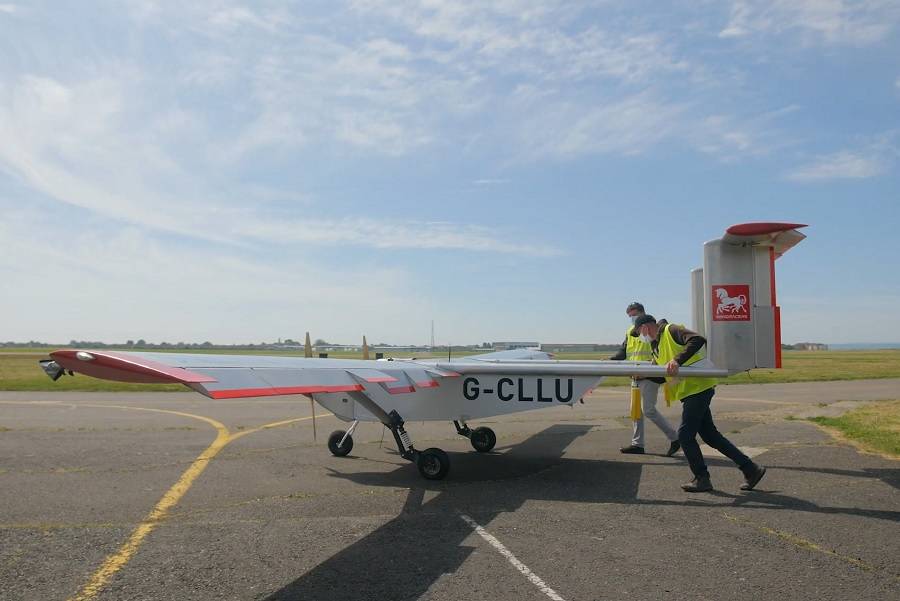 Projects like these, give vital flexibility in areas that need it. They also show what is possible with drones, in areas with similarly challenging terrain to Argyll and Bute in Scotland, for the NHS and beyond. Equally importantly, these initiatives showcase the need for aviation regulations that accommodate the use of drones. Stephen Whiston, from the Argyll & Bute Health and Social Care Partnership, said:
"Argyll and Bute HSCP is delighted to once again be at the forefront of using this innovative technology to assess how unmanned drones can enhance our logistics operations and improve services for patients and clinicians in some of our most remote and island communities. This three-month project working with Skyports will provide critical evidence on the real benefits this technology can bring to the NHS not only in Argyll and Bute but across Scotland."
With our thanks to Dale Joseph Ferrier, who brought this topic to our attention!