Hi my friends!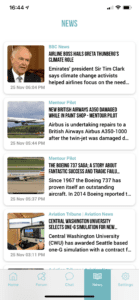 By now you have hopefully noticed that the app has been updated and a new Aviation NEWS function has been added. I have always wanted the Mentour Aviation app to be a hub for aviation enthusiasts and a One-stop-shop for anyone interested in aviation. The addition of this feature will bring me and my team one step closer to that goal. The NEWS function will give you an overview of everything we find interesting on a day-to-day basis in the aviation industry mixed up with my own opinions about it. There will always be links attached, to the original articles if you are interested in digging deeper into the news but the app will tell you what you need to know.
You will also find a SHARE function in the app, next to the headline of the story. That will send a copy of the attached link to any of your friends that you choose to share it with. Feel free to tell them about the app so that they can keep up to date as well.
What are the "Collections"?
I have created instructional videos in 360 format from the cockpit where I instruct YOU in how to do several manoeuvres in the Boeing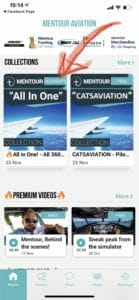 737NG. Everything from a Full setup of the Boeing 737 from "Cold and dark" until we are ready to taxi to the Wind-shear escape manoeuvre, Engine failure after takeoff and much much more. The reason I elected to film these videos in 360 is because it gives YOU, the student, a way to see the whole picture. You can concentrate on what the Captain does first, then the First Officer and it gives you a unique way to look around in the cockpit. If you have a "Google cardboard" headset, it will feel like you are sitting on the Jump-seat with me as I fly these manoeuvres. The collections costs money to buy and that money is being used to keep updating the app and make it a better, more relevant, tool for YOU to use. I
have decided to keep the app FREE for anyone to download and instead sell these things inside to make any purchase completely voluntary. To buy Collections in IOS, you first have to buy credits which you can find in SETTINGS.
What about the "Premium" membership? 
The PREMIUM membership is a new feature that I have implemented. For 5$/month you can subscribe to this and it gives you access to special videos that I create exclusively for the app. It might be videos that are a bit sensitive or that I am keeping away from the Youtube channel for one reason or another. The Premium videos are streamable from the app so there is no need to download them. Just click the videos and wait a few seconds ant they will start. If you are NOT a premium member, a fault message will appear.
As a Premium member you will also be able to ask questions in the app during the in-app live streams I do from time to time. I try to do around 2-3 live-streams per week in the app and they tend to be more relaxed than my Youtube streams due to the more intimate setting. Everyone who have the app downloaded is able to see the streams but only Premium members can ask questions. As a premium member you can also watch other users full profiles (including mine)
I am planning to add more Premium features as the app continues to grow, Feel free to come with suggestions!
I really hope that you are enjoying the app and that ithas become the positive and constructive safe-haven that I intended it to be. Everyone are welcome in the app and there are no stupid questions. If a question is asked in an honest and respectful way, it deserves an equally respectful answer and thats what I am enforcing in the app. Anyone not behaving according to these guidelines run the risk of being kicked out of the app. You can always use the "submit feedback" function in the app if you have any concerns and I will look into it.
Please enjoy the app and make full use of its many video collections, discussion forums and features. If you like the app, I would love for you to give the app a rating and review in the app-store. I would love for this wonderful community to continue to grow so you always find someone to discuss aviation with or get your questions answered.
See you all in the Chat or in a live-stream very soon!
//Petter – Mentour Pilot