Early on Saturday morning, a DHL Boeing 757 Freighter made an emergency landing back at its origin airport, after its main cargo door opened in flight.
The incident happened in Leipzig Halle Airport (EDDP), in Germany. The aircraft, a DHL Air Boeing 757-236PCF (passenger converted freighter) had just departed runway 26L. It was performing flight QY-126, to Frankfurt/Main Airport. Departure time was 5:31am local. But the crew soon stopped their climb, at 5300 feet. The main cargo door of the aircraft had swung open.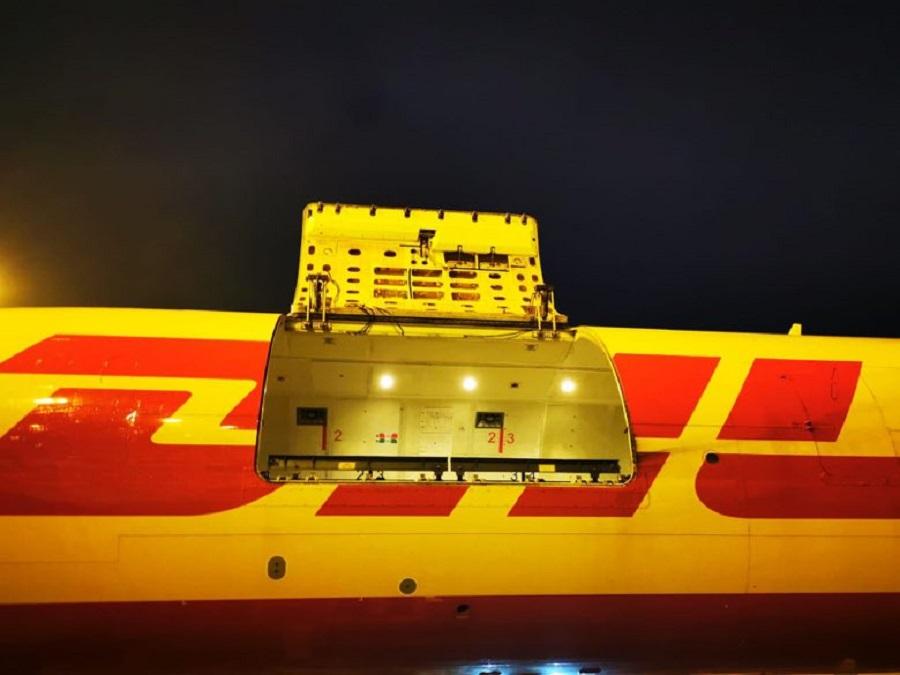 Various parts reportedly departed the aircraft, landing at a power plant on the ground. These parts very likely are internal panels, from the door itself. No actual freight ejected the aircraft. The crew of the DHL 757 freighter declared an emergency and made for an immediate return back to Leipzig. Rather than go around the pattern, the crew elected to return for landing at runway 08R, i.e. the opposite end from where they took off.
Weather doesn't appear to be a factor in the incident. Wind was only 4 kts straight along the runway. This explains the DHL crew's decision to land their 757 freighter at the opposite direction. The aircraft rolled to a stop about 1,500 metres down the 3,600 metre-long runway. Their flight had lasted approximately 17 minutes. The DHL 757 freighter remained on the runway for 40 minutes, before a push-truck moved it to the apron.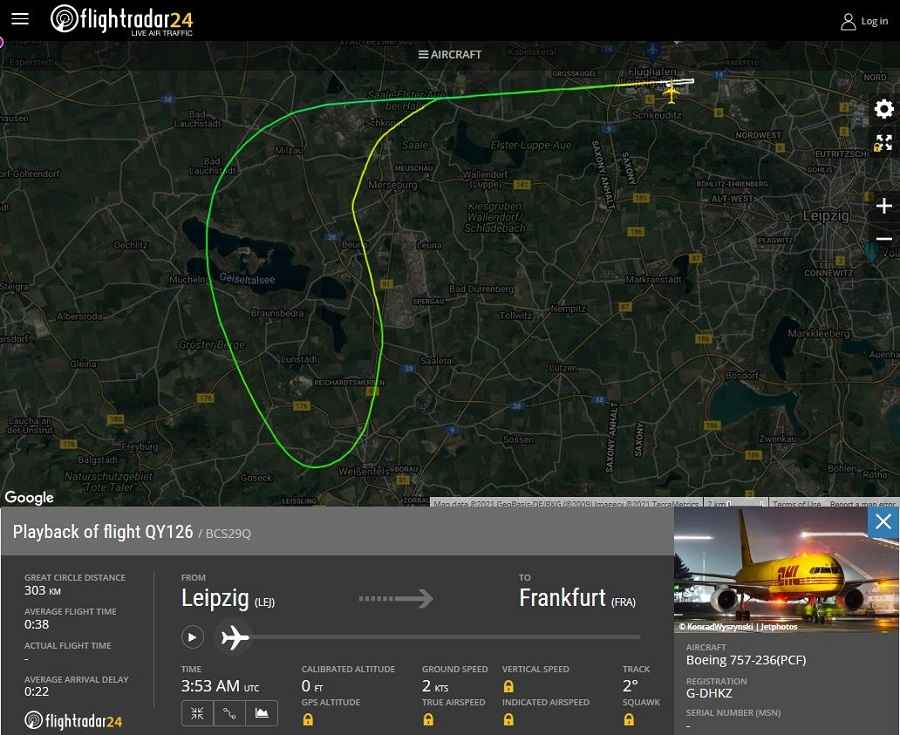 Aftermath, And A Look At The DHL 757 Freighter's History
It is not clear how serious the damage to the aircraft is. But it has remained on the ground ever since. The door of the DHL Boeing 757 freighter appears swung open, possibly more than it ought to be. There is also a distinct pattern, resembling an oil stain, on the side of the fuselage. It begins immediately behind the door, extending over the wing, to the rear.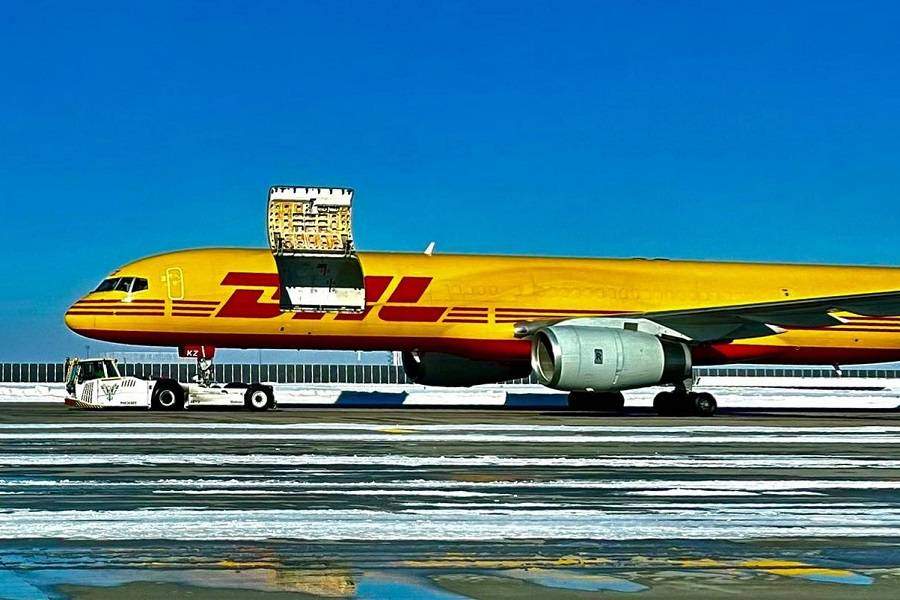 The aircraft involved in this incident is nearly 29 years old. And it has been around a bit. DHL's Boeing 757 freighter began life as a passenger jet, in 1992. Its first owner/operator was Inter European Airways, in the UK. Subsequent owners included Airtours and Greenlandair (later Air Greenland) until 2011.
2011 is when the aircraft underwent conversion to a freighter. After CargoBIS (Brazil) failed to pick it up, its next owner was DHL Air. But initially they operated it on behalf of Tasman Cargo Airlines, who eventually brought it to their fleet. The 757 freighter reverted back to DHL, in October 2018.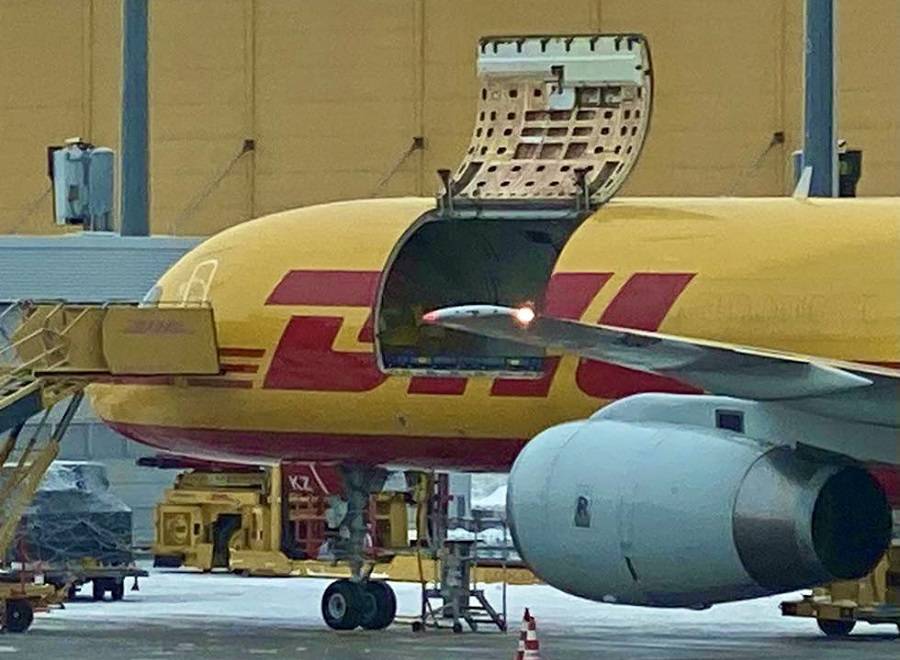 BFU, Germany's accident investigation authority, is already looking into the accident. It certainly looks like quite a scary event for those involved. Thankfully, there are no reports of any injuries, among the crew or on the ground. And while damage to the aircraft could be serious, it's not as extensive as some others we saw recently.
Source: AvHerald