Boeing recently issued its latest World Air Cargo Forecast. Reviewing the pandemic's shake-up of the sector, Boeing still expects a healthy demand for new freighters.
This latest report is an update, as Boeing attempts to track projected demand over the next two decades. The manufacturer's statistics show a steady increase in air cargo demand. It also shows how the pandemic affected the industry, when passenger operations tumbled down last spring.
With lock-downs taking hold everywhere, passenger airliner traffic was down 90% or more at the start of the pandemic. A significant proportion of air cargo capacity relies on the cargo holds of airliners. So the lock-downs caused a substantial reduction in cargo capacity. It has since recovered somewhat, but Boeing still estimates it is down 25% cumulatively, since January.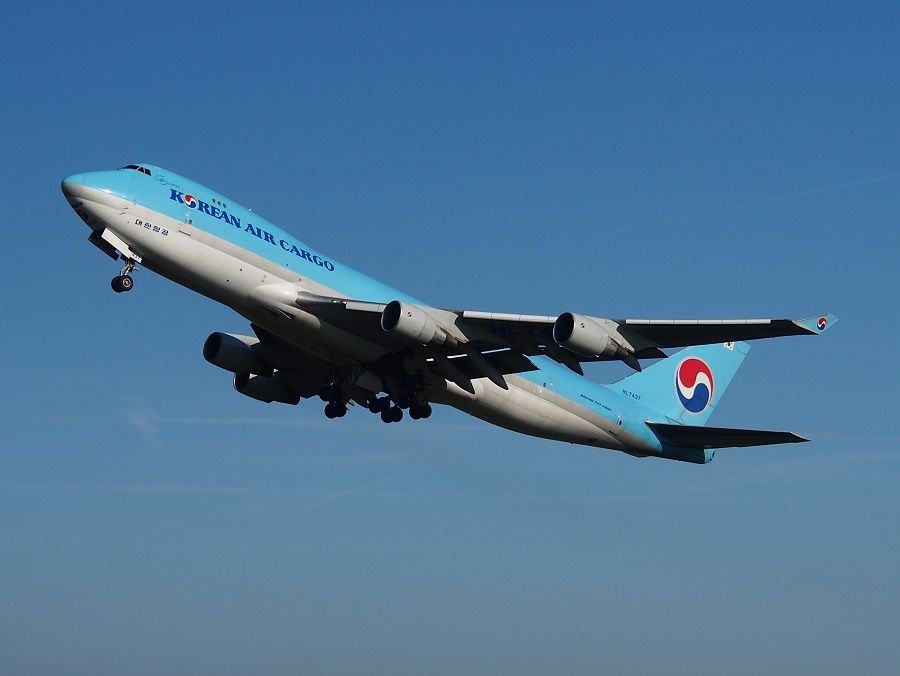 When supply goes down, demand goes up. So in the same period, cargo revenue is up 16%, and yields up 42%, according to Boeing. This helps explain how airlines cut their losses or even have some profit, by running cargo-only flights in passenger jets. It even got airlines with no prior cargo operations, to start offering such services.
The spike in cargo demand also drove the expansion of conversions of Boeing and Airbus aircraft into freighters. These aircraft will likely enter service late, to capture the peak of this demand. However, the current situation helps fund these programs. The long-term demand of these aircraft is what drives the decision to convert them.
Boeing's Cargo Forecast Implications
And this is where Boeing's 4% per-year increase in cargo demand comes in. The company's data shows that demand suffered during events like 9/11 or the 2008 market slowdown. But overall trends show a steady increase over the past three decades. This increase mirrors aviation's trends in passenger traffic as well.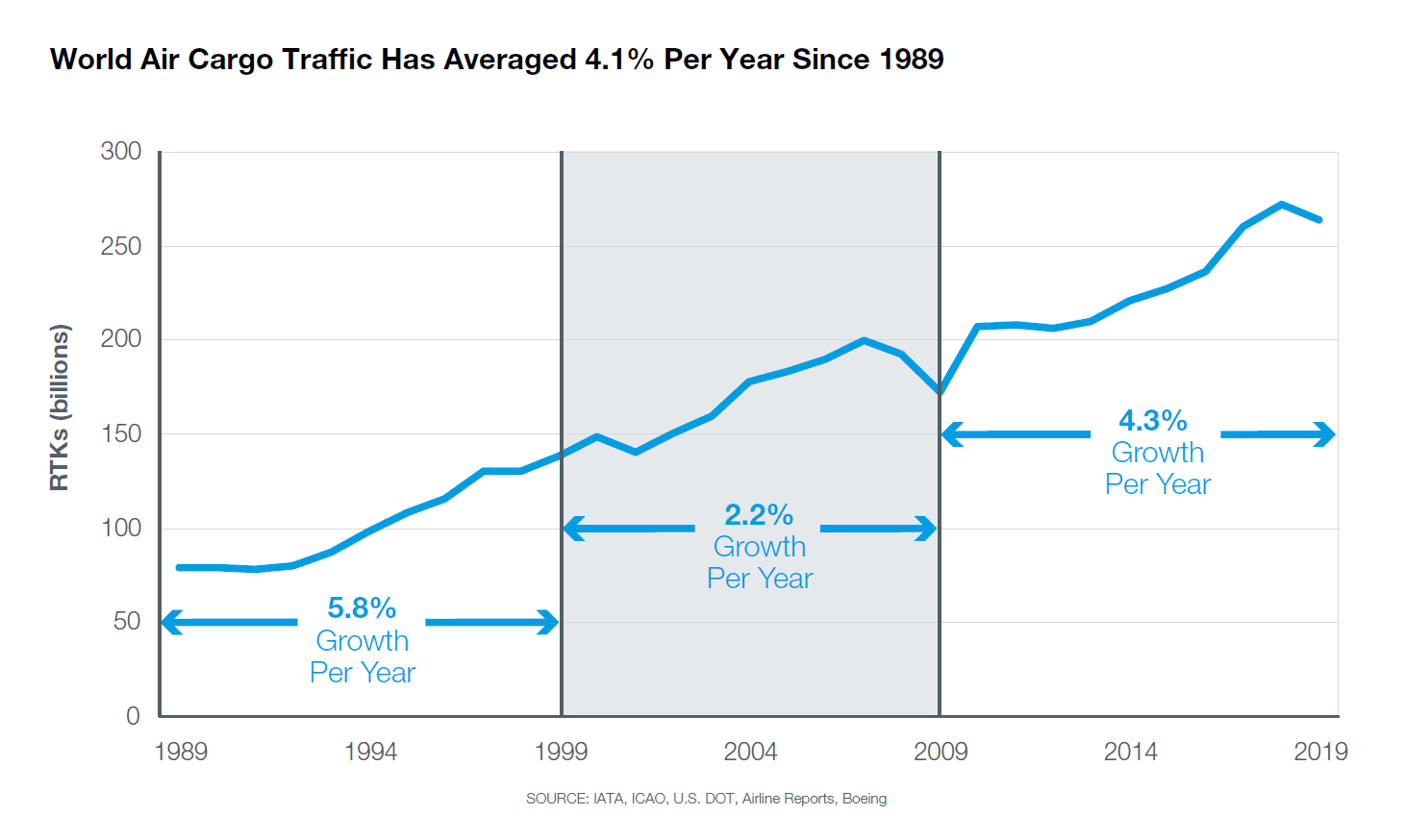 Boeing believes that this picture shows a healthy future market for dedicated freighter aircraft. Even before 2020, freighters were responsible for over half of all air cargo. This is despite passenger aircraft outnumbering cargo models many times over. Passenger airlines like to use their planes for cargo, especially if they have substantial long-haul routes. But this isn't always practical, for multiple reasons. Many passenger routes don't suit high-volume cargo operations. The timing of passenger flights may be inconvenient.
Adding to the above, sometimes to use the entire volume of a passenger jet's hold, the flight would need to be shorter, due to range limits. That would not be acceptable in many passenger flights. And also, some air freight involves hazardous materials. Passenger flights can't include such materials, for safety reasons. Finally, a lot of the passenger hold capacity is from smaller aircraft like Boeing's 737, that can't carry palletized cargo.
Cargo Aircraft Market
All this has some interesting implications about Boeing's future plans regarding its cargo aircraft offerings. We've already looked at how freight operators like Cargolux will eventually need to change aircraft. They'd like to keep using their 747-8Fs, but Boeing stops production of its iconic freighter in 2022. And with few options for large-volume capable freighters, Cargolux could buy converted Boeing 777s.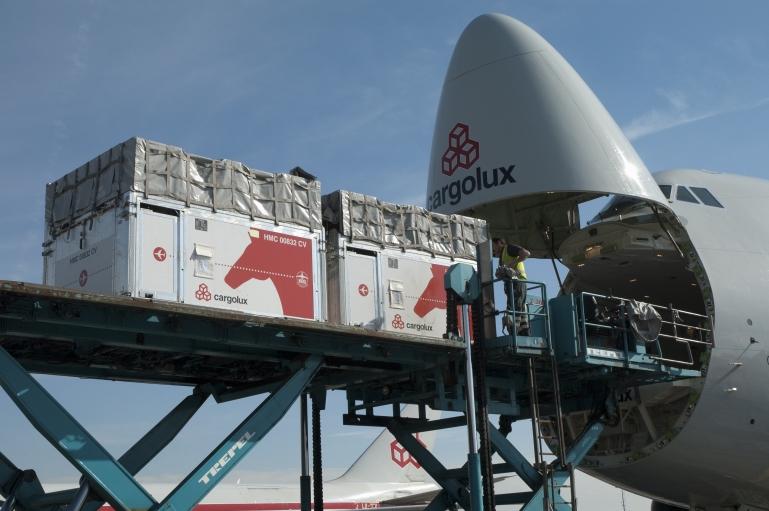 That's unless Boeing goes ahead with a cargo variant of the new 777X. There is no word on that yet, but these latest numbers will be a factor in Boeing's decision. Meanwhile, there is a large number of retired passenger 767s and 777s out there, especially post-pandemic. Conversions for 777s are already available, with 767 conversions being plentiful. And in case you didn't know, the 767 is still in production.
Not only that, the 767 will stay in production for some time. Boeing still has orders for 49 cargo 767F variants, plus at least 30 more. The rest of these orders are for Boeing's KC-46A air tanker program. There is a strong chance for more orders of this plane from the USAF. These would keep the 767 production line going beyond 2027. By then, the 767 will have been in airline service for 45 years!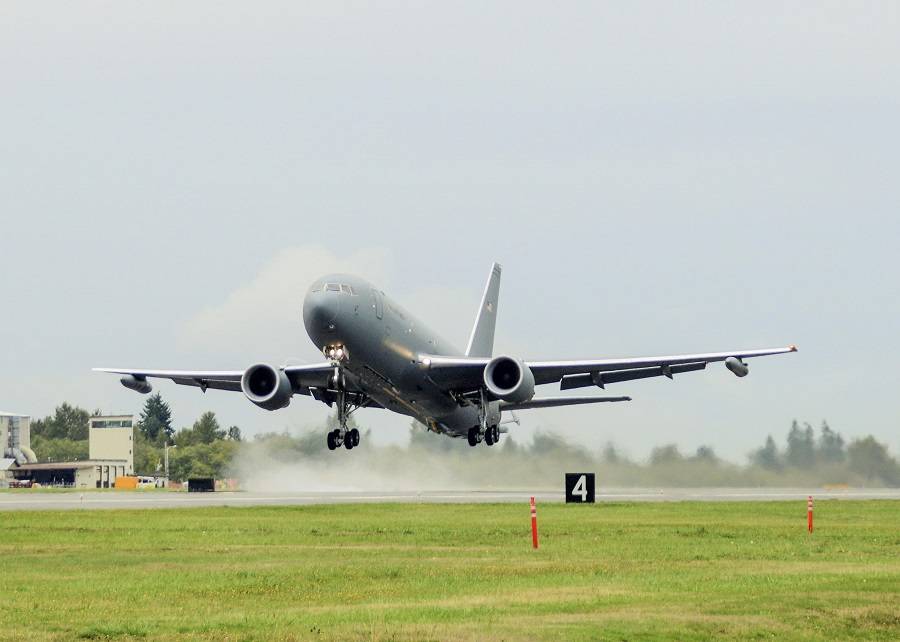 For Boeing's air cargo summary, and to download the full report, go here. More from here