Last week, Boeing announced that its MQ-25 test aircraft became the first uncrewed aircraft to refuel another aircraft, a Navy fighter jet.
Uncrewed aircraft are inching their way into aviation. Of course the military has been using drones for many decades already. At first they only had limited roles – mainly reconnaissance, battle damage assessments, etc. Then they started carrying weapons. But for the most part, most of these drones kept their distance from other aircraft, for safety reasons. Boeing's MQ-25 is changing that.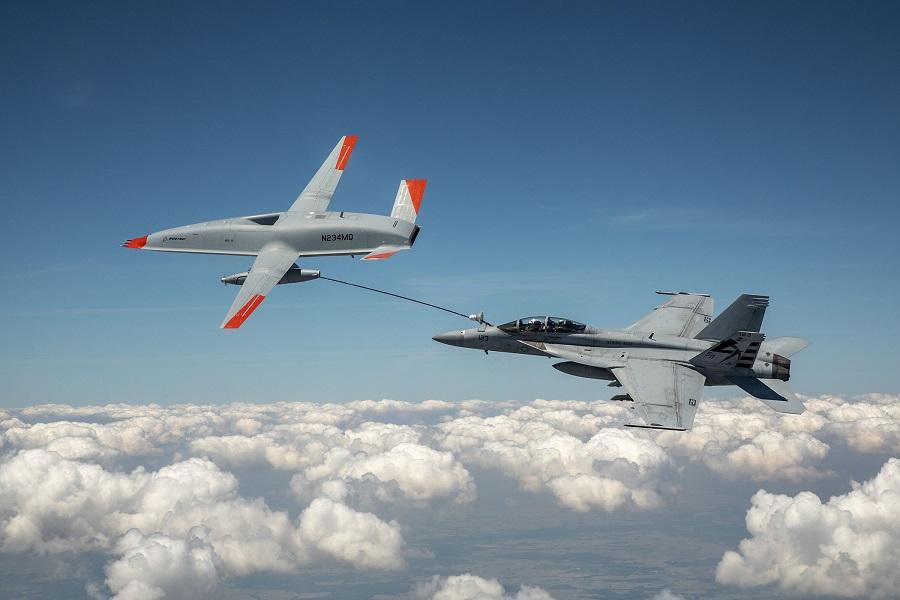 The Boeing MQ-25 is an uncrewed aerial refuelling drone, that made its first flight in September, 2019. It may look small, but it's not – at 16m/51ft long, it's almost a metre longer than an F-16 fighter jet! The aircraft should be carrier-capable, hence the long, thin wing. Testing on board a carrier is next on its to-do list. Carrier landings are something that those reconnaissance drones haven't been doing.
To power the MQ-25, Boeing chose the Rolls-Royce AE 3007 engine (military: F-137). This engine also powers the Cessna Citation X and the Embraer ERJ family, plus some other military drones. In this application, the engine intake is on the upper side of the fuselage, for a low-observable airframe design. And this is why a drone like this makes a lot of sense, compared to larger, conventional air-refuelling tankers.
Role Of The Boeing MQ-25
Fighter pilots often need fuel for their jets when they are over very unfriendly areas. Getting a big, slow KC-135 or KC-46 over those places, often isn't a good idea. The US Navy often straps extra fuel tanks and a small refuelling pod on a fighter. Then, this fighter would top up the rest of the fighters as they reach harm's way, and return home.
So having a smaller, somewhat agile and nearly invisible tanker, would come in quite handy. This is the role the Boeing MQ-25 will have, once it's operational. It will probably use a different refuelling pod then, though. The one in these pictures is 'borrowed' from an F/A-18 fighter. The drone also saves the US Navy the wear on the fighters it would otherwise use for refuelling purposes. And it keeps the crews of these fighters from going in harm's way, too.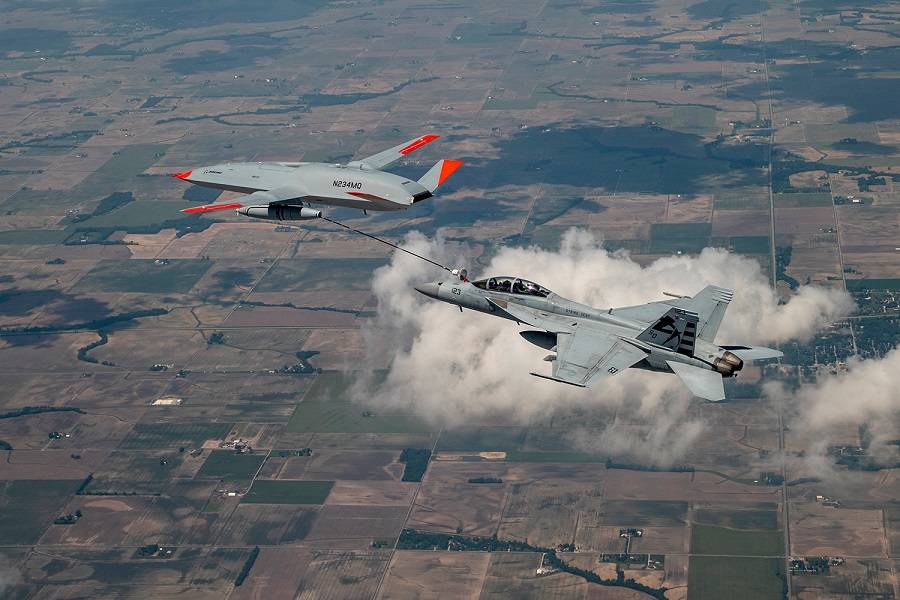 But the novelty of the role for a drone isn't the only reason that Boeing's MQ-25 is interesting. By its very nature, its role means it will fly together with crewed and (in the future) other uncrewed aircraft. This requires higher standards of operation, control and safety. And this, in turn, could have implications in current discussions, on how to operate drones near (or along?) manned aircraft.
What's more, the Boeing MQ-25 is not the only drone design that will soon operate near manned aircraft. That's because in March this year, we also had the first flight of the Boeing Loyal Wingman. As its name suggests, it will also spend a lot of time being up close and personal with crewed aircraft.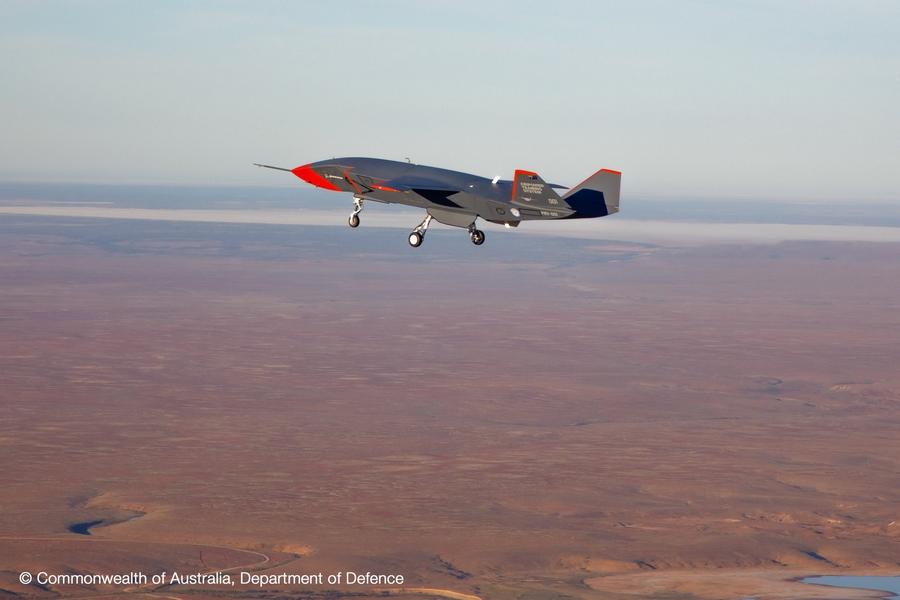 A Constant Companion
The Loyal Wingman is a project between Boeing Australia and the Australian Air Force. Unlike the MQ-25, this Australian-built Boeing will carry weapons and other combat sensors. The idea is that a pilot in a combat area will control one or more of these drones, assigning the riskiest missions to them. But crucially, these aircraft will rely on artificial intelligence, both for communication/data transfer and for flying purposes.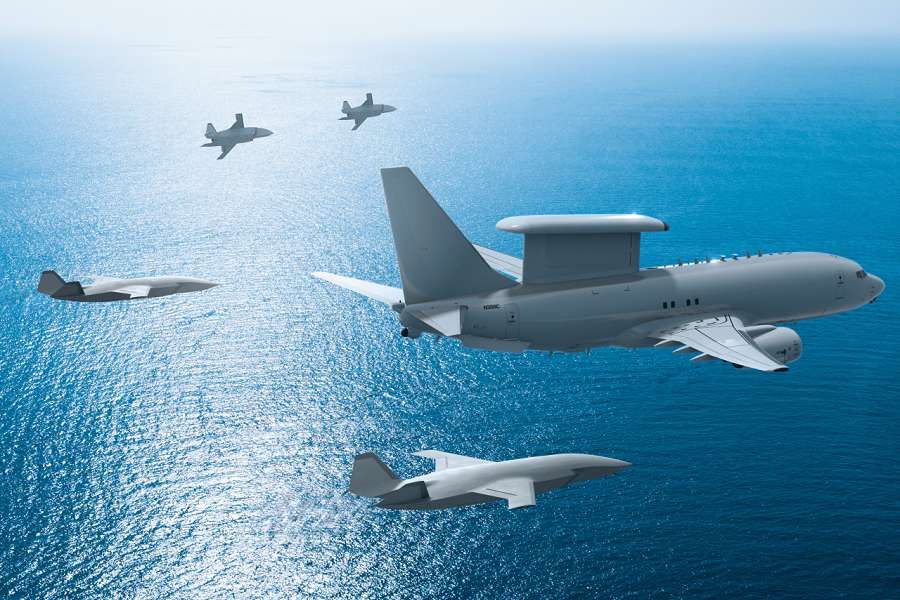 At 11.7 metres (38.4 feet), Boeing's Loyal Wingman is smaller than the MQ-25. This aircraft is still early in its development. "Teaming" flights with crewed aircraft will be the next step. More Loyal Wingman jets are under construction. Also, other similar projects are underway, including the Kratos XQ-58. These aircraft won't necessarily operate as fighters. They may also work as "weapons' trucks", carrying extra ordnance for the crewed fighter.
In general, technological developments in the military often make it in civil aviation. Uncrewed aircraft will likely be one of them – eventually. However, at this point it's probably fair to say that the challenges on the civilian side are less on the technology side, and more in certification and the supply chain. But this is probably a topic for another article.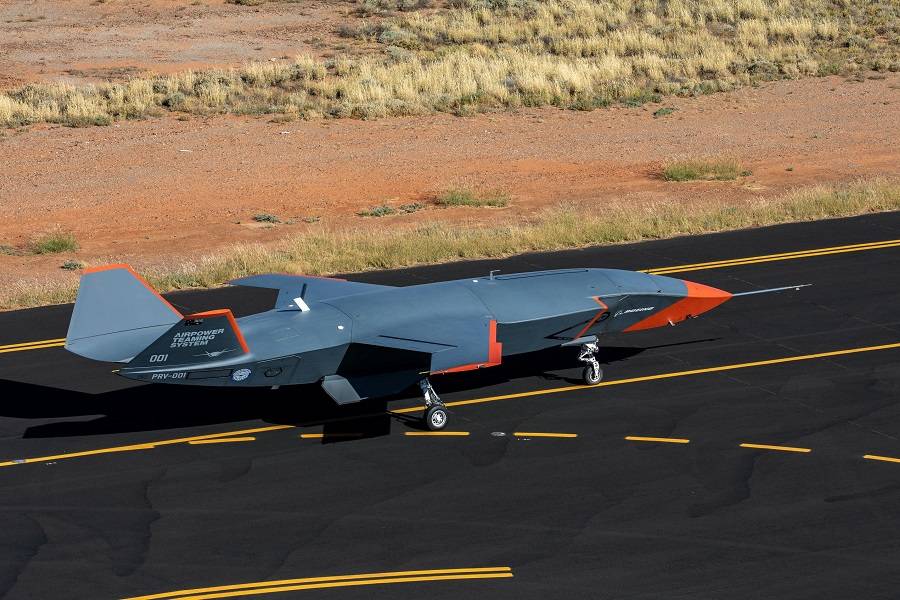 The Boeing MQ-25 aerial refuelling drone is the first test aircraft of the type. It will stay with Boeing, while another seven examples, now in construction, will go to the US Navy for evaluation.