Authorities in Belarus appear to have forced a flight to divert to the country's capital, to arrest an opposition journalist, headed for Lithuania. The incident is causing strong international reactions.
Ryanair Flight FR4978 from Athens (LGAV), Greece, to Vilnius (EYVI), Lithuania, diverted to Minsk (UMMS) in Belarus. The airline initially stated that Belarus notified the plane's crew of a potential security threat on board and instructed them to divert to Minsk. The aircraft subsequently landed at the Belarusian capital.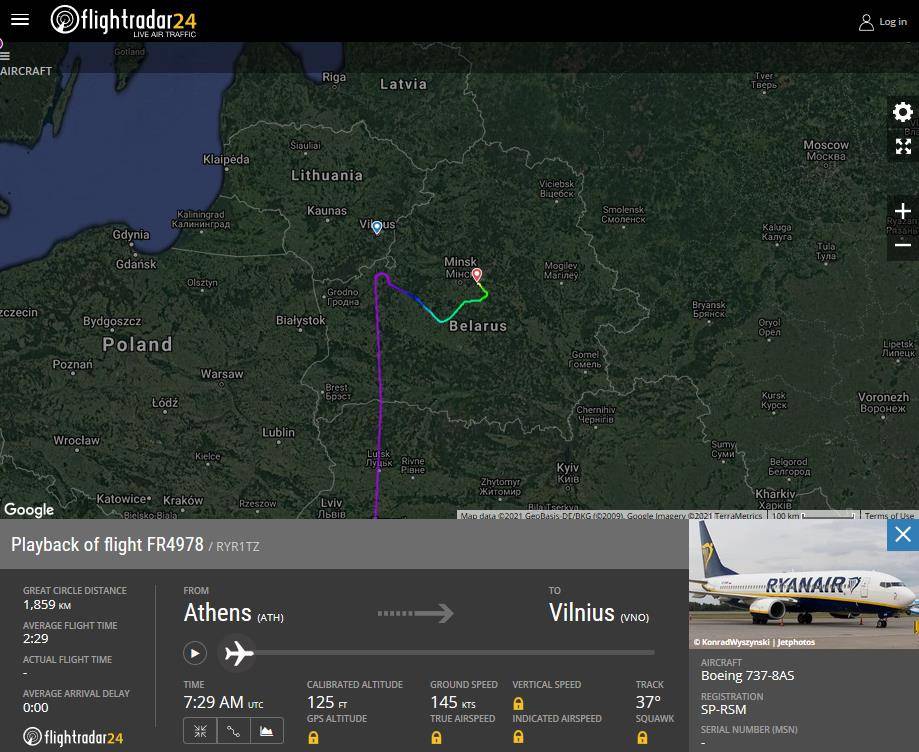 After its apparently forced landing, the flight spent a bit over seven hours on the ground in Belarus, according to data from flightradar24.com. However, information about the exact circumstances of the diversion remained unclear for several hours. The same flight tracking website showed that the aircraft was closer to its actual destination, when it initiated its diversion. Also, it had remained at its cruising altitude (FL390) until shortly before diverting, just 45nm away from its destination (EYVI).
Why Belarus Forced The Flight Into Minsk
On board the flight was journalist Roman Protasevich. The Belarusian national used to work for a Poland-based, on-line news service called NEXTA. This is a channel that broadcast protests against Lukashenko, the Belarusian President. And last year, Lukashenko won a presidential election, amid widespread claims of electoral fraud. Having reported extensively on post-election protests, Roman Protasevich was wanted in Belarus on charges of extremism.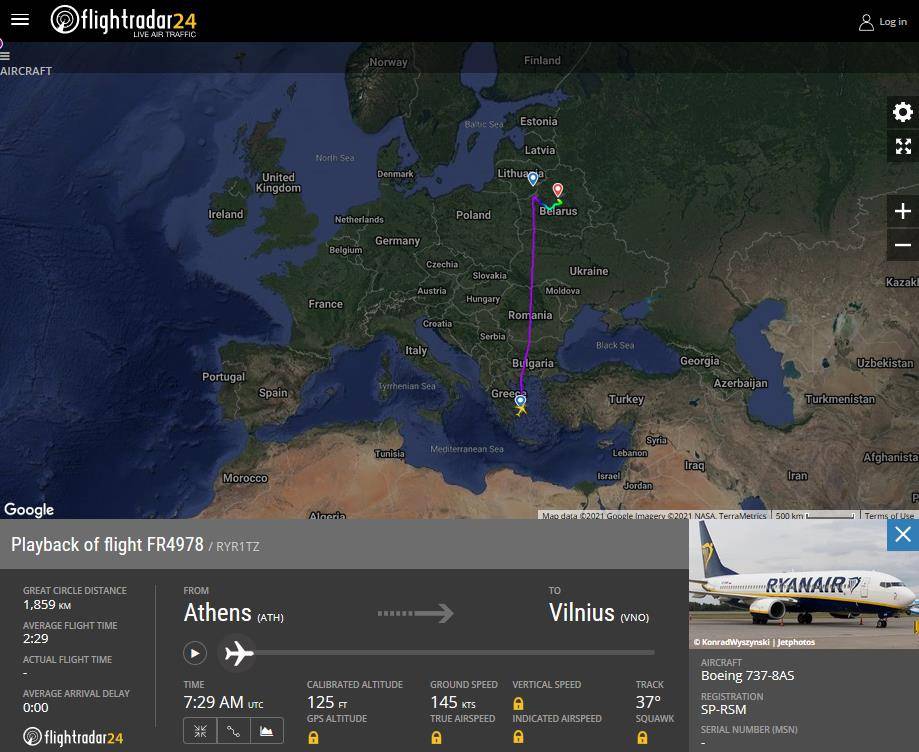 According to Belarusian state media, Lukashenko personally ordered the MiG-29 fighter to escort the flight into Minsk. Authorities arrested Protasevich after the flight's landing. This appears to support accusations that Belarus forced the airliner to divert and land for political reasons. According to Lithuanian authorities, flight FR4978 departed Athens with 126 passengers and 6 crew. But 5 individuals remained in Belarus after the flight's forced landing. The plane eventually landed in Vinius with 121 passengers and 6 crew.
On Monday, Ryanair CEO Michael O'Leary stated that the flight's forced landing in Belarus, was a political event:
"This was a case of state-sponsored hijacking… state-sponsored piracy. I can't say much about it because the EU authorities and NATO are dealing with it at the moment. We're debriefing our crew, who did a phenomenal job to get that aircraft and almost all the passengers out of Minsk after six hours.

"It appears the intent of the authorities was to remove a journalist and his travelling companion… we believe there were some KGB agents offloaded at the airport as well."
More International Reactions
Political readers from several European countries have reacted strongly, following the forced landing of flight FR4978 in Belarus. Many stated the possibility of sanctions towards the country, at a previously-scheduled EU Commission meeting on Monday evening.
https://twitter.com/vonderleyen/status/1396566441370001413?s=20
airBaltic, who frequently need to fly close to or over Belarus airspace, also reacted to the flight's forced landing. The airline announced that they immediately instructed their crews to avoid entering Belarusian airspace. According to the airline, the European Union Aviation Safety Agency (EASA) recommended that airlines exercise caution when operating within or over FIR Minsk (UMMV). Mr. O'Leary stated that Ryanair would follow EASA guidance on the matter. Some airlines already appear to be avoiding Belarus airspace.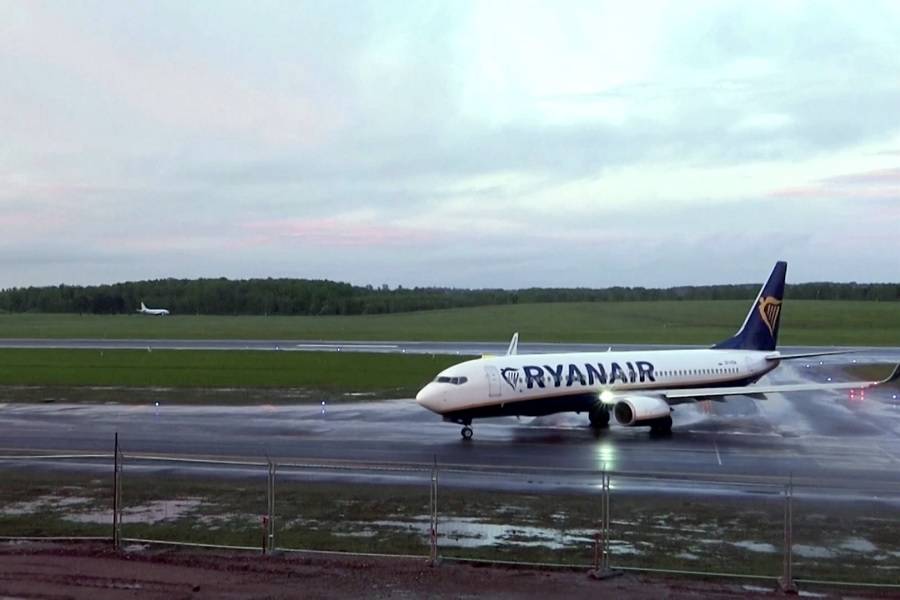 ICAO officials also expressed concerns about the incident, saying it might have breached the Chicago Convention. This convention led to the creation of ICAO and the rules that govern civil aviation. Also, the International Air Transport Association (IATA) called for an investigation into the incident.
After its forced landing in Belarus, the Ryanair flight took off again at 17:48 UTC, reaching Vilnius after 39 minutes. Later, other passengers said that Protasevich remarked: "I'll get the death penalty here". Authorities eventually led him off the aircraft.