Rescue services in Miami International successfully put out a fuel-fed fire, after an MD-82 went off the runway, suffering a gear collapse.
This incident happened at 5:37 pm local time. It involved flight LS-203, a daily afternoon service departing from Santo Domingo Las Americas International (MDSD), in the Dominican Republic. Its destination was Miami International Airport (KMIA) in the United States. This flight was by Red Air, an airline based in the Dominican Republic.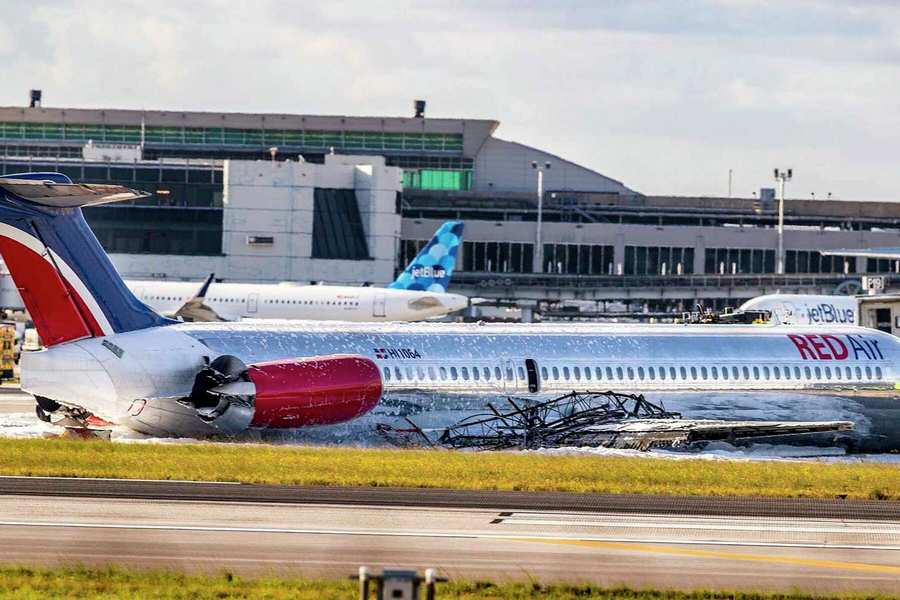 At this time, it is still unclear how many people were on board the MD-82 when it landed in Miami. Some sources say that there were 126 people in total. But in a statement, the airline said that there were 130 passengers and 10 crew. In any case, they all evacuated the aircraft successfully. However, the authorities took three people to the hospital, due to injuries relating to the evacuation.
An Otherwise Uneventful Flight?
The flight had departed Santo Domingo with a half-hour delay, using runway 17. Its take-off and climb were uneventful, the crew levelling off at FL320. After a two-hour flight, the Red Air crew prepared their MD-82 for a landing at runway 9 in Miami. We don't know if the weather was a factor in this accident:
KMIA 211753Z 04014G19KT 10SM SCT030 SCT085 BKN250 30/22 A3013 RMK AO2 LTG DSNT SE SLP201 CB DSNT E-SE-SW MOV S 60021 T03000222 10311 20261 58001 $=

KMIA 211653Z 07011G20KT 10SM SCT028CB SCT065 BKN085 29/24 A3013 RMK AO2 LTG DSNT E RAB15E34 SLP204 CB E-SE-SW MOV S P0021 T02890239 $=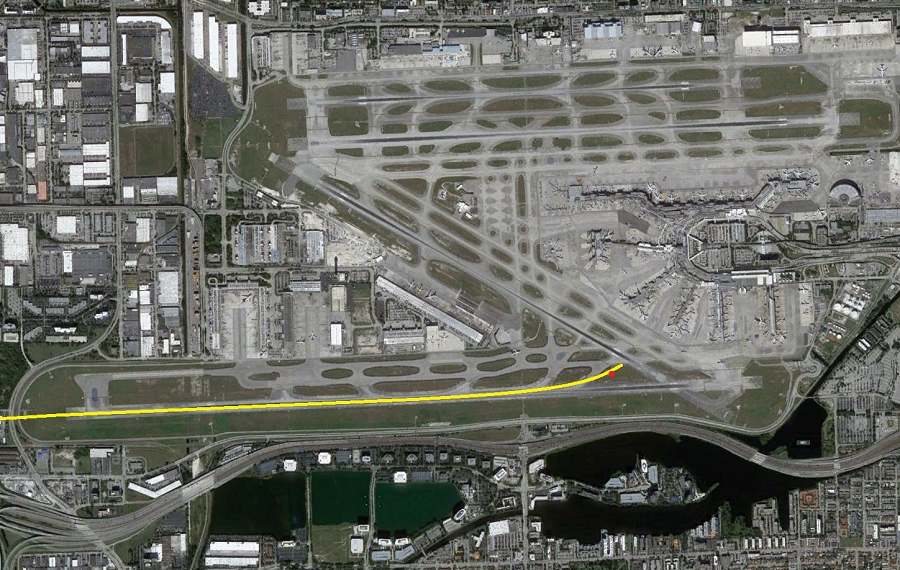 The MD-82 crew did not enter a holding pattern or have any non-routine ATC communications, before landing in Miami. It is not clear what the nature of the problem was. But it appears that the aircraft began to veer left, in the last third of the runway. This was after the aircraft slowed below 80 knots (over the ground).
MD-82 Has Runway Excursion In Miami
Afterwards, the MD-82 went off runway 9, just after taxiway T8 at Miami. It then hit a glideslope antenna, between runways 9/27 and 12/30. The aircraft finally came to a stop just before reaching runway 12/30. Its front half rested on taxiway 8, which is parallel to runway 9. All of the aircraft's landing gear collapsed.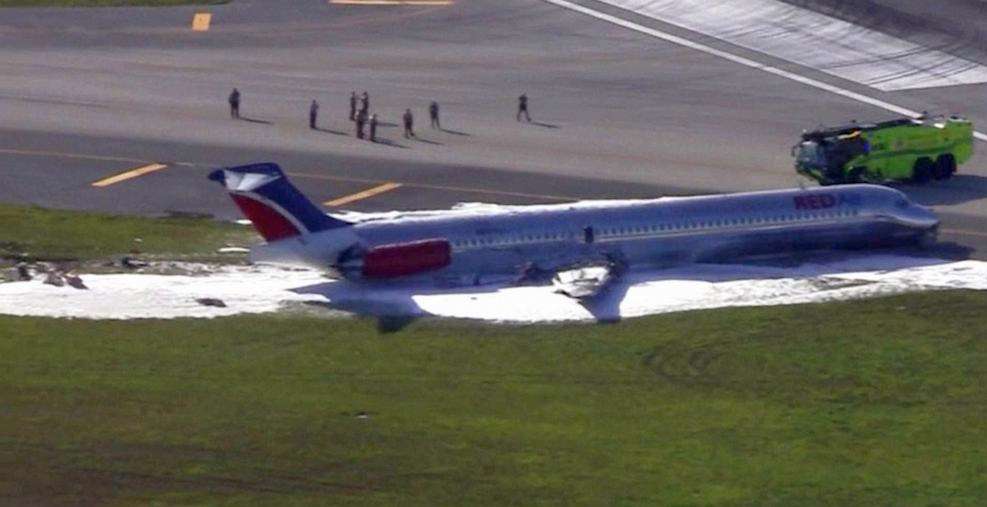 Also, the impact with the glideslope antenna appears to have ruptured a fuel tank on the right wing. Video of the accident shows that the evacuation began almost immediately after the aircraft came to a stop. Thankfully, it took a few seconds for the fire on the right wing to flare up, once the gear collapsed. The aircraft dragged what remained of the glideslope antenna with it, until it came to a stop.
The accident aircraft is a McDonnell Douglas MD-82 (DC-9-82), with registration HI1064. It is thirty-one and a half years old, first entering service in 1990 with American Airlines. American put it in storage in 2014. After spending some of that time stored in Miami, the MD-82 would return to service in 2017 with LASER, in Venezuela. Red Air picked it up in February 2021.
https://twitter.com/NotheOtherSide1/status/1539414916792209408?s=20&t=6BCZpoIwVcpoXhx-xDGsGw
Red Air started operations in 2021 and has four aircraft, including the one in this accident. One of the aircraft is an MD-81, the others being MD-82s. These two types differ only in their engines. The airline stated that the accident aircraft's crew faced technical difficulties after landing. The NTSB has already sent an investigation team to Miami.