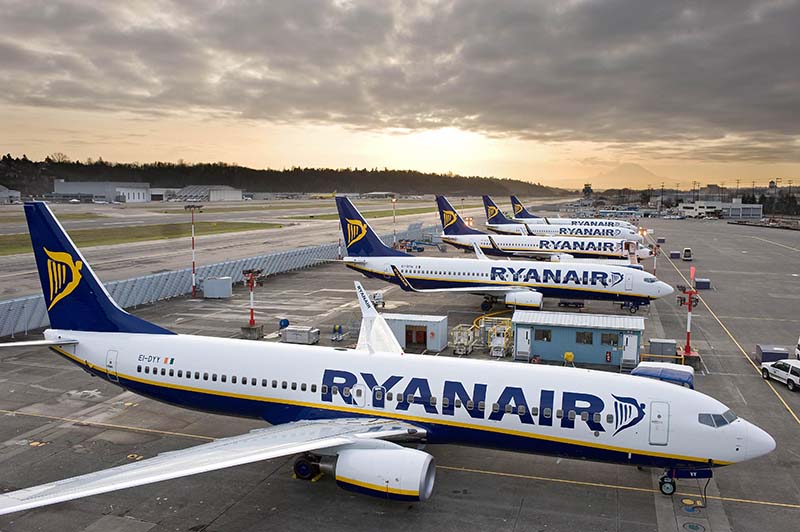 Dublin-based Low Cost Carrier (LCC) Ryanair, has been forced to cut its capacity in October by a further 20% and may have to do the same for the rest of the winter unless European Union (EU) governments ease their Covid-19 travel restrictions, the airline said in an announcement today.
Why Ryanair is cutting back…
The airline said it would fly about 40% of the capacity it flew last October, down from a previous target of 50% of that of last October.
The capacity reductions, it said, were required because of :
"damage caused to forward bookings by continuous changes in EU government travel restrictions and policies, many of which are introduced at short notice".
With the airline calling for a proposed coordinated EU system of restrictions to be implemented immediately alongside enhanced testing: Something rejected by the UK Government in particular. Airlines across Europe have blamed an uneven patchwork of travel restrictions and quarantine rules for a stop-go recovery that has proven tougher than many expected.
The airline operated capacity of about 67 million seats last winter and a 60% cut would leave its capacity around 27 million in the final six months of the current financial year, which ends on March 31. The Ryanair statement said it expects fewer than 30% empty seats on its October flights after the capacity cut, against an average of 6% empty seats on flights last winter.
Ahead of the latest cuts, Michael O'Leary last week said that he expected to fly about 50 million passengers in the financial year to March, one third of the previous year's volume. It did not provide an updated forecast.
With turbulent times for aviation, do you think now is the time for a unified EU travel program/testing? Let us know your thoughts (and experiences of the current restrictions) below.
This content was provided to MentourPilot by provider, Travel Radar Media. Travel Radar offers high quality content in partnership with Mentour