Yesterday was one of those flights you remember because of the shear greatness of it. 
We started off in Girona where the weather was absolutely beautiful. The only real concern was a forrest fire that was raging around 3 nm south west of the runway. The fire in itself did not pose any threat but the 4 helicopters who was fighting it, did.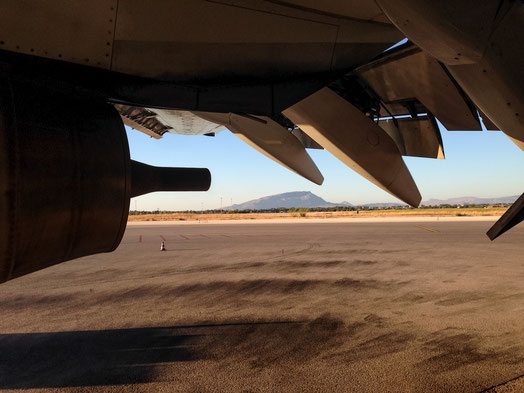 Another concern was the pillar of smoke the fire was creating. The wind was southerly which meant that the smoke was coming quite close to the runway and departure direction. If we were to fly through the smoke it would create a smell of burning inside of the cabin and that might scare the passengers and crew. I briefed my crew of the possibility and included this info in my PA to my passengers as well.
These are one of those instances that I was talking about in my video about "How to make a PA". Its always important to keep the passengers and crew informed about what is going on to try and minimise the discomfort for everybody.
Once we got airborne the air was completely still and it was like flying in a simulator with a sim-instructor with very poor fantasy. No clouds and no turbulence with visibility for miles and miles.
During the route to Trapani we saw the Balearic islands on our right side and Sardinia straight ahead. Once we had passed Sardinia we started seeing Sicily and started preparing for our VOR approach into runway 31L in Trapani.
The approach was great with excellent views over southwestern Sicily.
During the landing we saw a bird pass by the aircraft on our left side. We were not sure if it hit or not so I had to conduct a "birdstrike inspection". This has to be done by an engineer or a trained captain if there is no engineer availible. We asked ATC to do a runway inspection and I performed the birdstrike inspection. The inspection is very similar to a normal walk-around but there is more emphasis on certain areas and it has to be done in the same flap configuration as the aircraft had when we saw the bird. In our case we landed with flaps 40 and hence the inspection was done in that configuration. (See picture) 
There was no sign of any bird so he probably managed to escape this time. 🙂
We completed the turnaround and started the flight back to Girona. We were taking off in the sunset and since we were chasing the sun westwards we had a beautiful looooooong sunset. It took around an hour for the sun to set. Yet another perk with this job. (See the pic below)
Now I only have 2 more sectors to go before my summer vacation.
I hope you are all having a fantastic time and that you have ahd a chance to try out my app.
If you have, it would be great if you could write a review and rate the app in the appstore where you bought it.
Fly safe everybody!!