Authors: Captain Andy O'Shea FRAeS and Captain Petter Hornfeldt 
"My biggest dream is to become a pilot, but my parents don't have much money, so I can't get a loan to start my training"  How often are these words spoken or conceived by so many young people throughout the world?
The pilot training concept in Europe and large parts of the world is deeply flawed. We are not talking about the quality of the training being provided, nor about the organisations that are working in the sector (even though these can be a problem).
What we are talking about is the way that pilot training is being funded.
To become a professional pilot in Europe today you will need to pay anything between €50 000 and €120 000. That is only the course fee. On top of that accommodation and living costs as well as mandatory material like a personal headset, computers etc must be funded. The training can take anything from 18 months, in the case of an Integrated ATPL, to several years if the student chooses to go the Modular route.
This financial barrier effectively turns away a HUGE number of potentially great pilots that the industry cannot afford to reject.
For the few people who have access to debt-free funding there are very few entry requirements to the flight schools. All that is needed is cash-in-bank and the ability to get a Class One Medical Certificate. These people are attracted to the industry by excellent salaries and a truly rewarding career. But why are these opportunities not open to all the people that have the ability and aptitude to be a Pilot? How desirable is this crass and vulgar entry barrier from any perspective? Certainly not from the airline's point of view – they would like a training system that presents industry ready pilots straight out of professional pilot training. From a social mobility and equality perspective this financial barrier should cause outrage.
For the students that either have the cash or can raise the cash for pilot training what can they expect from the pilot training industry? Well, the only mandatory requirement to commence training to become a pilot currently is the ability to pass the medical. That's it. This leaves the way open for people who are entirely unsuited to the airline pilot career to spend large amounts of money on a professional pilot's license that they will never get to use in an airline. They might hold a valid license, but the airlines won't touch them.

So how do these unfortunate people qualify as professional pilots if they are not suited for an airline pilot job?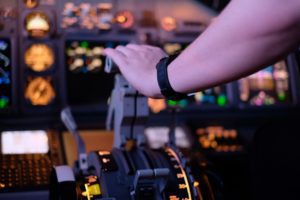 Every training organisation will tell the student that theirs is the best organisation and that if they choose their school, the students will have a better chance of landing one of those coveted jobs once the training is completed. Since all the schools are saying the same thing, and the school fees can vary by several tens of thousands of Euros, it will be up to the students themselves to figure out which is the school on which they should bet their hard earned money. The fact is that in such circumstances most students will default to the cheapest option. And how can you blame an ATO for not turning away a student even though from "effects of controls", it is obvious that this person will struggle and will most likely not get an airline job. An ATO is a business after all and needs to make money!
Now there are many ATOs, and their number is growing, that are conscientious about applying an assessment and selection process prior to allowing a pilot to commence training. These ATOs should be applauded because this is an area that has a deep impact on the overall system. A failure to convert high numbers of licensed pilots into successful airline careers is a major drag on the industry and deters bright people from entering our profession. After all, successful training is no real guarantee that the student pilots will find a job. So much depends on the personality traits of the pilot candidate – more on that later.
Further, there are no requirements for the training organisations to offer support to the students after they graduate. Some schools have taken it upon themselves to provide support and job-searching courses after the course is finished, but many more haven't.
This is where we come in.
I have been active in the airline training industry for the last 14 years and during the last 4 years I have been running my Social media company Mentour 360 SL. My idea when I started was to provide a positive and constructive insight into my job as a professional pilot and give everybody a chance to be able to ask the questions they wanted in a safe and supportive environment. I have done so by creating a mobile app called Mentour Aviation where thousands of aviation enthusiasts from all walks of life come together every day to ask and answer each other's questions. I am also running a Youtube channel called Mentour Pilot which reaches around 1M individual viewers every month.  In my work with the app and with my Youtube channel, I have had the pleasure to meet and talk to thousands of prospective pilots during these last 4 years and the picture being painted is not very good.
Andy O'Shea has huge experience in turning CPL qualified pilots into type-rated airline pilots – well over 10,000 of them during the time he was Head of Training in Ryanair. (Europe's favourite airline for aspirant pilots). Through his company, Aviation Partners and Specialists, he now works with leading players in the aviation industry. He volunteers his time to be active on Committees and he Chairs the ATPG, a Group of professionals in the pilot training industry dedicated to improving safety and standards in Commercial Air Transport.
With my reach into the aspirant and young pilot population and Andy's experience and insight into how the professional pilot training system works we want to make a difference to how pilot training is managed and executed.
There seems to be 4 major problems:
1: FINDING THE RIGHT PEOPLE. As described above it is absolutely critical to apply an effective pilot aptitude screening process before pilot training commences. Aspirant pilots should undergo an assessment process and a selection process. An effective screening process will dramatically increase the individual's chance of finding a job after successful training and will greatly reduce disincentive for bright people to join our industry. Many other common sense improvements will flow from this such as better use of scarce resources like instructors. In a future where pilot training will be based on Competency training and assessment, having the correct people in the training system will assist this paradigm shift in how pilots are trained. It will also improve the overall safety in the airline industry over the long-term, which is crucial given the levels of expansion forecast for the industry. As an ATPG colleague said recently "it is not acceptable to double the number of flights and think it is ok to double the number of accidents."
2: FUNDING. Unless you are lucky enough to live in a country that offers government sponsored pilot training, there is no feasible way to fund your pilot training unless your parents can produce the money in some way. Even in these rare and lucky countries, such opportunities are limited. This means that thousands of potentially very talented young girls and boys have their dreams squashed at a very early stage unless they deal with the reality of having to save up the required money. There are very few airlines that run sponsored pilot training. We think that equal opportunities should be given to everyone. The industry needs all the talent it can get.
3: WHICH FLYING SCHOOL? If you manage to get your hands on the money, you now need to choose which school you should bet on. In Europe there are literary hundreds of approved flight schools. Each one will get you to the same level of qualification after training is finished. The difference in price is astonishing and that must make you wonder; How do I differentiate between a good school and one that is just "compliant" with the regulations and gets a visit from its Competent Authority once every year or two (or three, believe it or not)?
In fact, there really is no way of knowing which school is better without doing careful detective work. You need to research the different schools, talk to previous students and instructors and carefully evaluate the financial situation of the school. There have been horror stories about students paying for the whole training fee and then finding out that the school has gone bankrupt a week later and taken their funding with it.
4: GETTING AN AIRLINE JOB. Once you have found the right school, paid the money and completed the training there is no guarantee that you will get a job, even if there are plenty of airline jobs available.  This is because of the very nature of the airline pilot job. You must have the ability to develop the clearly identified Competencies that an airline pilot simply must have. So, in order to become a good commercial pilot you need to have some very specific personality traits. You need to be able to work well in a group environment under potentially very high (or very low) stress-levels. You need to be a good communicator, manage workload, make good decisions, understand when to lead and how to follow and be aware of the multi-faceted situation that you inhabit as an airline pilot.
Unfortunately it is a fact that you can be the proud possessor of a commercial pilot's license and not have a hope of getting an airline job. There are thousands of "parked" commercial pilot licenses in Europe that have never been used in any type of commercial operation.  No matter how sad that situation in, it is still better than having a person who doesn't have the right personality traits getting an airline-pilot job because of a pilot shortage. This person now runs a much higher risk of becoming part of the regrettable "human factors" statistics that plague the industry. The EASA Aircrew Training Policy Group (ATPG) has highlighted this to EASA and the EC and are pleased to see EASA agreeing that proper pre-training screening of pilots is now "recommended industry best practice" –  but it is still not mandatory.
The point is that unless a student who has the right personality traits can be aligned with excellent training we are always going to have disappointment and a waste of time, money and valuable training resources on people who should never have started out on an airline career in the first place.
What can we do about this?
We want to open the training up to ALL the talented prospective pilots out there but also make sure that only the most suitable people get access to potential funding. There must be a clear guide as to which training organisations are good enough to instruct these carefully assessed and selected people. That ATO quality checking and legwork should be done by an organisation that is only interested in working with the very best schools. This means that not only the students need to be assessed, so too must the flight schools and to very clear and transparent standards. And the airlines must be involved as well in order to make sure that these highly vetted and trained pilots have a clear line of sight to a first job with an airline.
"We need to get the RIGHT people into the RIGHT schools and into the RIGHT seat!"
Would you like to join a Club that would provide solutions to the issues described in this article as well as many more additional benefits? If the answer is YES!, please complete the short form at the end of this post! By doing so you are not committing to anything, just showing your interest.
We will contact you when the time is RIGHT! 
Captain Petter Hornfeldt,  Captain Andy O'Shea FRAeS