skybook EFB will transform your flight operations, from take-off to landing and beyond.
This EFB app works for and with commercial, private and cargo airline pilots, and can be tailored to each airline. Whether operators have specific criteria for long-haul or short-haul flights, or certain regulatory requirements; skybook can be unique to your airline.
Signing in to skybook is secure and managed by an admin account that is initially set up via the skybook ground portal website. Once signed in you have the option to choose a new or load a flight sector briefing. This flight list can also be filtered to flights the pilot is rostered for.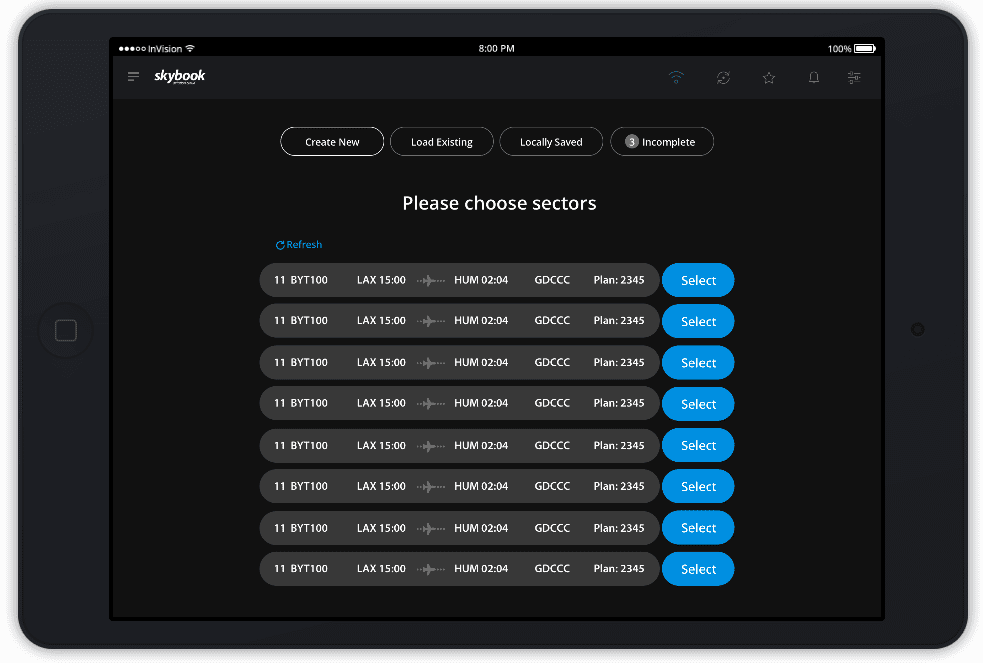 skybook is here to help you digitise your operation and leverage data for decision making and measuring your performance across a wide spectrum.
Digital briefing is the way forward
The digital briefing is where skybook starts to become a pilot's best friend. Immediately you can see the OFP with other interactive sections listed down the side; but the magic really happens when tapping onto the Map section! With a user-friendly interface, you have the option to toggle environment and weather factors on the map. I opted to show waypoints, labels, and airfields.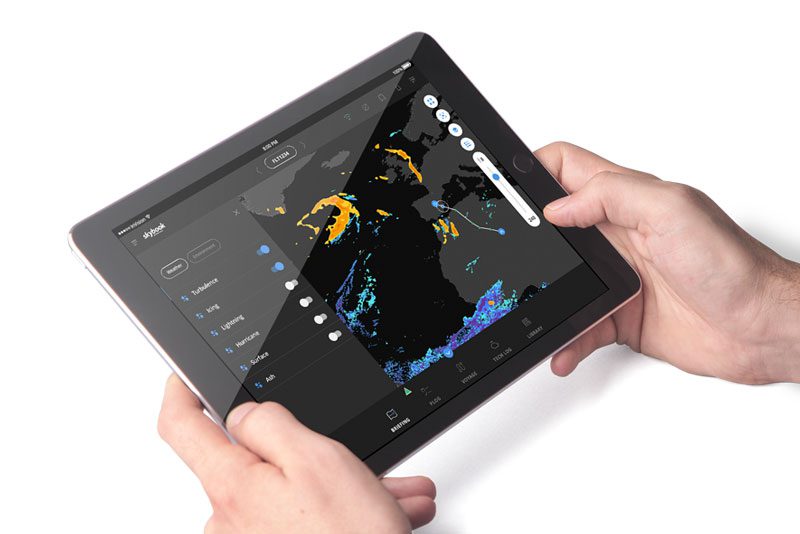 The Airfield tab shows real-time data of NOTAM and weather information for each airfield waypoint, nearest neighbour, and arrival destination. This section is full of easy to digest information and utilises quick navigation buttons at the top with a clear colour coding warning factor that is determined by individual airline minima settings.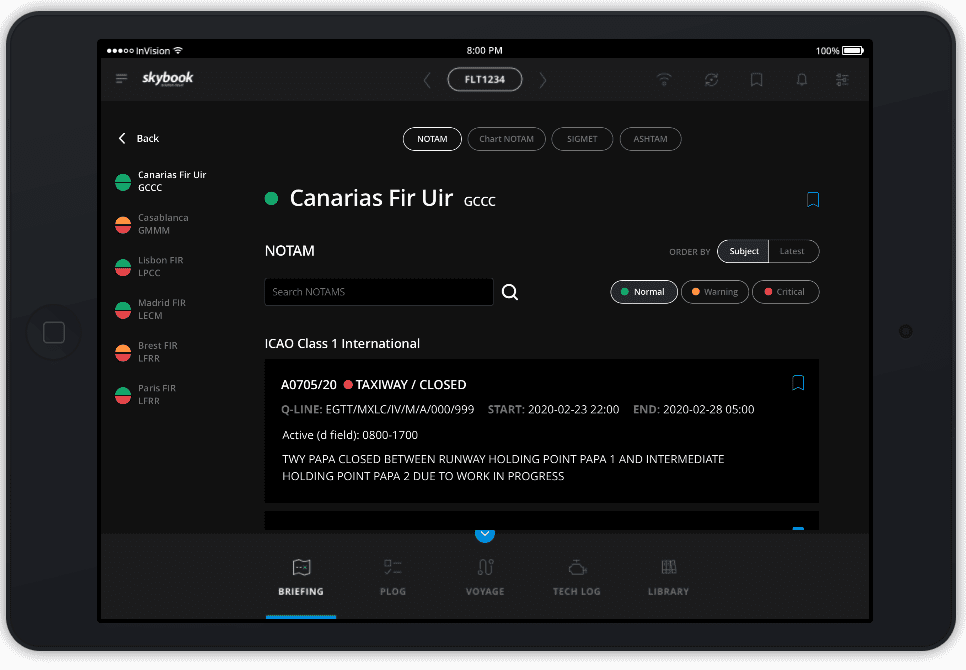 In order to navigate to each sector of the EFB, you have to first accept the sector via the flashing blue button at the top. This ensures that the pilot hasn't missed any critical information and notifies flight dispatchers when the pilot has completed the briefing.
This highly configurable solution provides a useful tool for pilots, as well as for Flight Operations and Network Control teams.
Plog for each flight phase
Now using the main navigation at the bottom of the interface it's onto the Plog section, also known as the journey log. This is a very detailed and interactive digital form which is usually for the first officer to fill in pre-flight, en-route, and post-flight. Here the pilots must input the fuel, weight & balance, performance data, and more. Just thinking about all this information in a paper-based format sure makes me appreciate how innovative an EFB really is!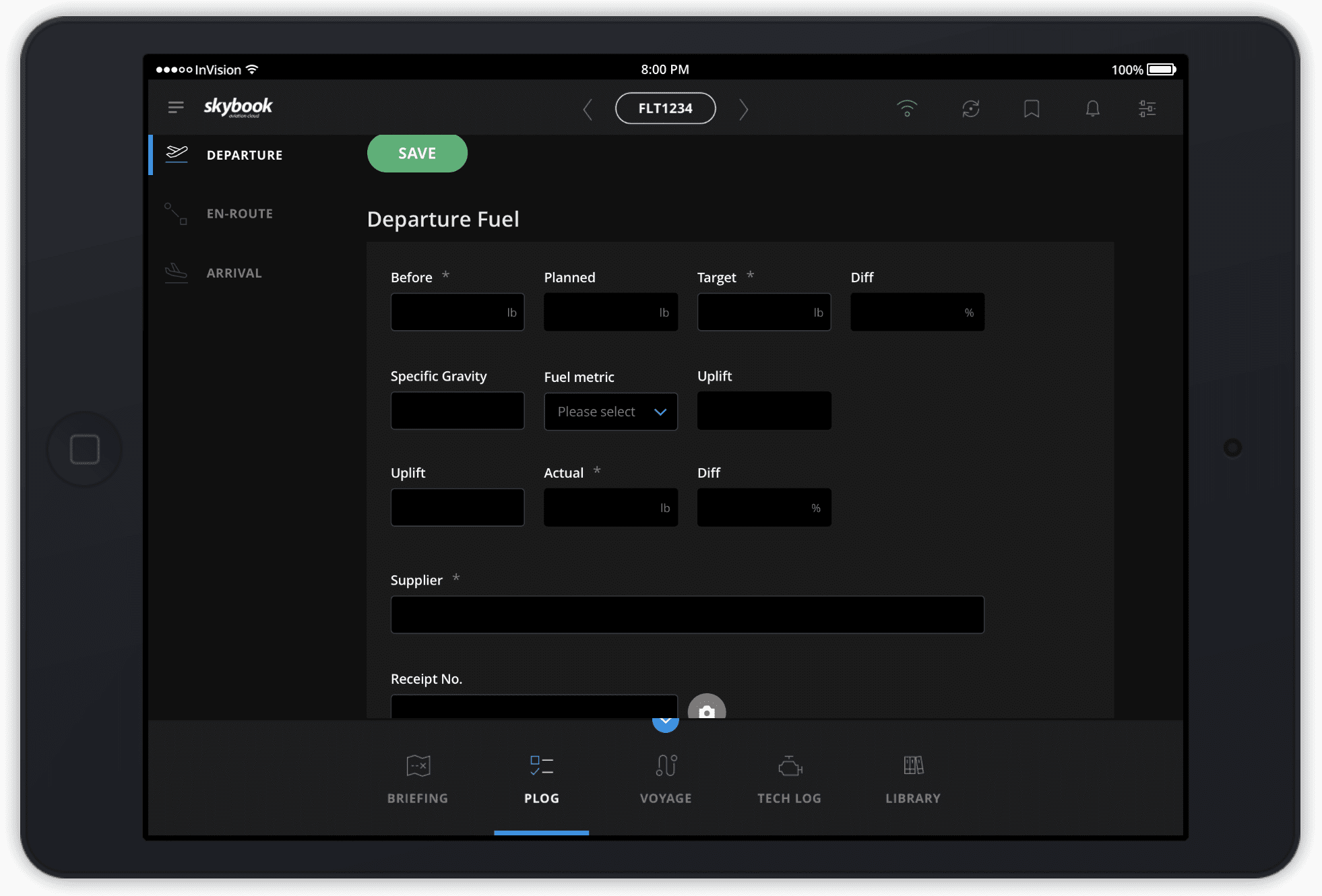 The airline decides which fields of data are mandatory for the pilots to fill in and more or less fields can be included depending on the data the airlines want to capture. This can indeed be very thorough and includes options such as taking photos with the device's camera and signing off data with a digital signature.
All this information is also synced over to the skybook ground portal for flight dispatchers to see status updates and for other airline departments to be able to report and analyse.
The final Voyage
Voyage is the final section that the pilot must complete after the plane has landed. It follows the same simple layout as the other sections, this allows the user to easily navigate and fill in important information such as crew members, ground services, de-icing or any delays to the flight. Once the EFB information has been logged, the voyage can then be signed off and the final data will be sent to the ground portal.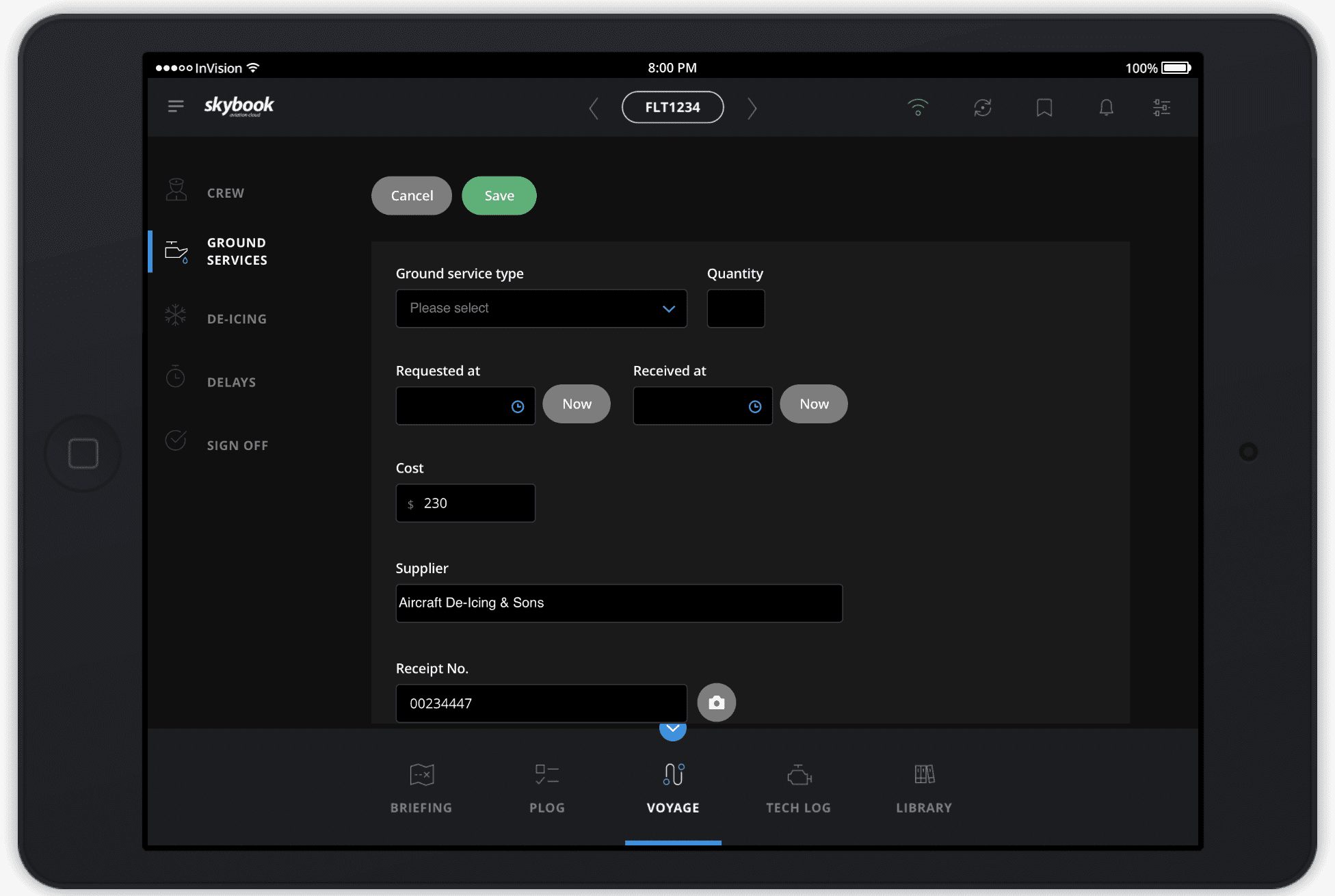 When I tried to sign off the voyage, because I forgot to input certain data within the Plog section, the app notified me exactly what was missing which prompted me to go back and input the correct information.
Other key features
Within the settings, there are features such as Day/Night mode and the ability to share voyage or synchronise with other devices.
The library section is a place for storing important aircraft documents and interactive forms which can all be sent across via the ground portal.
There is also a highly anticipated Tech log section which is due to be released in the near future and allows pilots to input certain information for when they complete a visual inspection of the aircraft before take-off.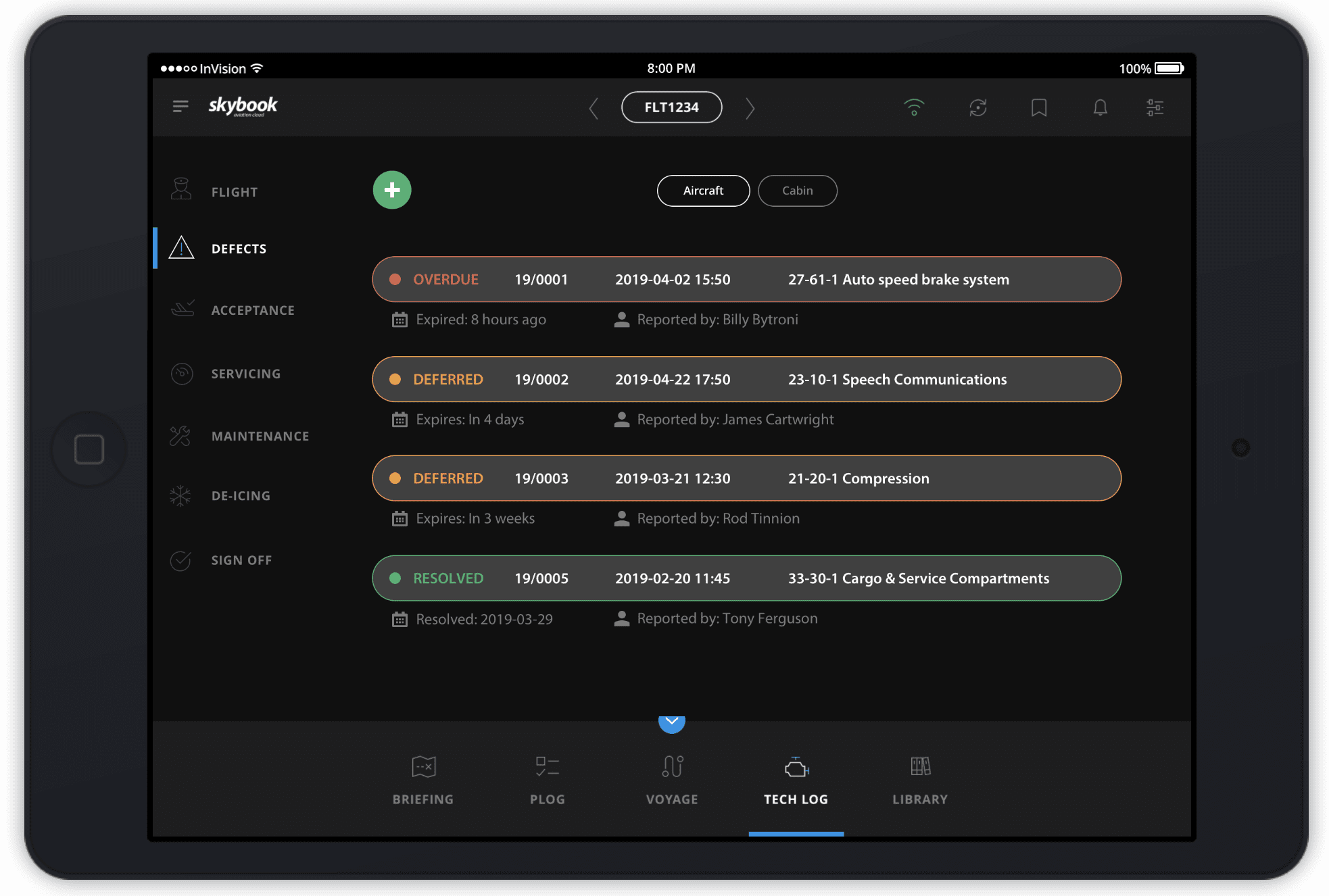 Flight summary of skybook EFB
One thing that really stands out above others, is their onboarding and customer service levels. You are provided with a dedicated account manager, training and 24/7 IT support team, should someone need assistance with troubleshooting or any issues. Bytron are also driven to innovate the EFB app with regular release notes full of updates and improvements.
It really is no surprise why Bytron Aviation Systems has an impressive 90+ operators and aviation companies around the world, such as Boeing, flydubai, AirTanker and AeroMexico; using their skybook software.
The company is dedicated to improving the workflow for airlines and pilots. Their EFB certainly ticks all the boxes for airlines, by providing an easy user experience, real-time information and helping pilots to save valuable time on the flight deck. Which helps to improve overall airline performance. I look forward to seeing what else is on the future roadmap for skybook.
To learn how skybook can transform your flight operations, visit www.bytron.aero/ to book your demo.